Published:
February 26, 2020
---
#OTOMTG20 Brings Otolaryngology Together
Each fall, the American Academy of Otolaryngology–Head and Neck Surgery Foundation welcomes 7,000-plus attendees from more than 80 countries and more than 250 exhibiting companies for the AAO-HNSF Annual Meeting & OTO Experience.
---
Each fall, the American Academy of Otolaryngology–Head and Neck Surgery Foundation welcomes 7,000-plus attendees from more than 80 countries and more than 250 exhibiting companies for the AAO-HNSF Annual Meeting & OTO Experience.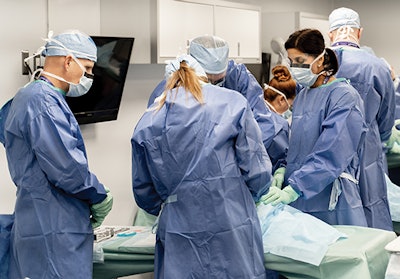 September 13-16, we head to Boston, Massachusetts, for the return of the largest gathering of otolaryngologist-head and neck surgeons to Beantown in 10 years. The 2020 Annual Meeting offers attendees the cornerstone of engagement and education. Over the course of the four days, attendees have ample opportunity to encounter groundbreaking science and discoveries, innovative and hands-on education, and social networking. In addition, the OTO Experience is a dynamic exhibit hall providing yet another way for attendees to immerse themselves and take full advantage of the latest in leading-edge tools and technology and education.
What makes the Annual Meeting so unique is the people who make up the specialty and come from around the globe bringing diversity of perspective and experience. This breadth of knowledge comes together under one roof at the Boston Convention and Exhibition Center, with scientific research being presented by world-renowned faculty, lectures held by otolaryngologist-head and neck surgeons who are leaders in their field, panel discussions on topics that are essential to practice management and patient care, hands-on simulation learning opportunities, and so much more.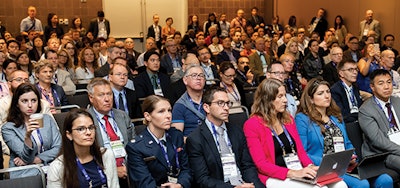 Learning opportunities are offered via multiple modalities to fit the educational learning style and area of interest of each attendee. From Lunch with the Experts and the Young Physician Pavilion, to the International Symposium and Simulation sessions, the networking and learning come together in so many facets of the Annual Meeting program, providing value-added benefit to every experience.
Boston is a nostalgic city for the 124th AAO-HNSF Annual Meeting. Not only does it hold the record for highest rating of satisfaction by attendees of all Annual Meetings, but it is the birthplace of a number of important components of the Academy: the Women in Otolaryngology (WIO) Section and the WIO Endowment, as well as the Diversity and Inclusion Committee, the Harry Barnes, MD Endowment Leadership Grants, and the Diversity Endowment.
Ten years ago, attendees of the 2010 Annual Meeting in Boston came together to foster positive change and growth for the specialty and the Academy. In 2020, we celebrate the 10-year anniversary of these efforts and the spirit and fortitude displayed by attendees taking full advantage of the facetime the Annual Meeting provides to work together and make a difference.
Plan to join our global community of otolaryngologist-head and neck surgeons at the AAO-HNSF 2020 Annual Meeting & OTO Experience in Boston, Massachusetts. We look forward to seeing you in September.
---
Boston in September
Boston is the epitome of the historical and the contemporary. The options that suit all personal preferences for entertainment and interests are virtually endless—from historical trails and artifacts to fringe theatre, from inspirational architecture to dining on local fare, from the old masters to the new brew masters. Each season brings its own specialties and favorites enjoyed by locals and visitors from around the globe. Some things to consider as you plan your trip to Beantown in September for #OTOMTG20: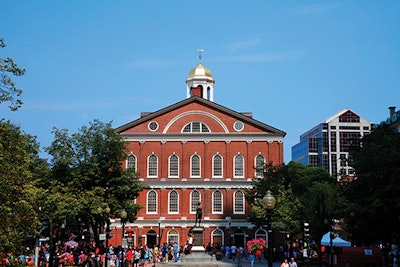 Theatre marquees
are lit year-round, and Boston's music scene hits all the right notes, with classical music, rock, and every genre in between.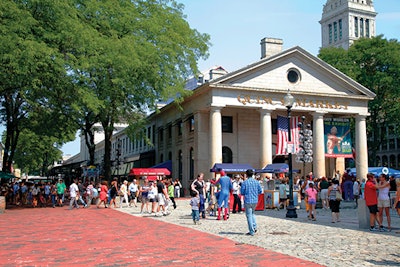 Boston's independent
boutiques, galleries, department stores
, and brand-name outlets offer options galore for either the bona-fide fashionista or whimsical window shopper.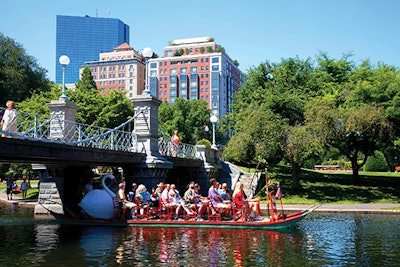 Boston Common
and the
Public Garden
provide inspiring tours and trails that can be enjoyed by foot, bike, boat, trolley, Segway, or "ducks."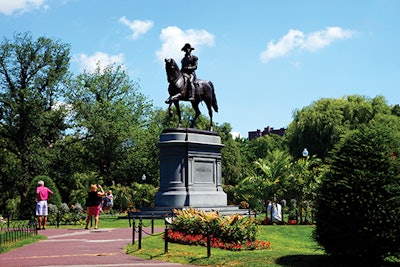 Recreational activities
are wide-ranging: from spectator sports, sailing and kayaking the Charles River, jogging along the Esplanade, or posing downward dog on the Greenway.
Boston's
dining options
are dynamic and delicious. New restaurants and old favorites cater to every palate and every budget.
Boston is truly a walking city, so there is no need for a car. Public transportation is accessible and convenient. Pedicabs, taxis, and bike rentals are also readily available. The best way to enjoy this compact, friendly, and delightful city is to take to the streets—walk, explore, peruse, and then relax with a cool beverage, cup of coffee, or, you got it, ice cream—no matter what time of year.