---
Board of Governors: The problem is trust
Several commentaries have been written recently that incriminate our diagnostic and procedural coding systems.
---
Lawrence M. Simon, MD, Vice Chair, BOG Socioeconomic and Grassroots Committee
---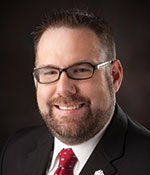 Several commentaries have been written recently that incriminate our diagnostic and procedural coding systems. These pieces argue that the complexity of the codes allows them to be manipulated to inflate and/or hide expenditures, and then to blame the codes outright for the high cost of and lack of transparency in the United States healthcare system. However, this accusation is unfounded. Neither the codes, nor their complexity, are the problem. Rather, these botherations are symptoms of a larger quandary: mistrust. Relationships among physicians, hospitals, and payers have changed from a culture of trust to a culture of mistrust. This must change.
A certain degree of mistrust is at the core of American political and economic systems. The Constitution works best if Congress, the Court, and the President don't entirely trust each other. The same is true in many capitalistic markets. Conversely, mistrust can be downright harmful in the healthcare sector. Unfortunately, the diminishing funds and increasing demands of recent times have moved this industry toward a damaging culture of mistrust. Instead of working together to solve problems, each stakeholder is constantly trying to police the others. The result of this mistrust is the expansion of auditing and utilization review programs and, more importantly, a lack of transparency in cost reporting. What keeps our industry from having an open and honest discussion about cost is everyone's desire to keep their true cards hidden. This discussion is vital.
Moreover, complex codes have some redeeming value. They give physicians and hospitals a mechanism to more accurately report what they do, which is not an inherently bad thing. Physicians and hospitals are the ones who actually bear the cost of providing care. More granular codes can facilitate more accurate reporting of the diseases treated and the services rendered. With luck, this will lead to more appropriate reimbursement.
Complex codes also allow for more precise reporting of diagnosis and treatment, and this increased precision leads to better data. This is one reason more specific ICD-10 codes can lead to higher Medicare DRG payments. Medicare is willing to pay more for better data, which will lead to better research and outcomes.
In conclusion, the U.S. healthcare system is plagued by an underlying quagmire of mistrust among its stake holders, leading to a lack of transparency that stifles any attempt to understand and/or contain cost. As such, any reform must begin with re-establishing a culture of trust.
Open discourse is a critical element to achieving such a change, and this is why the work of the Board of Governors (BOG) is so important. The BOG endeavors to work with the AAO-HNS health policy experts to establish lines  of communication with payers—both  at the national and local level. These relationships allow us to offer our input and expertise from real-world experience.
Any otolaryngologist can be a part  of this undertaking by joining their  BOG society. Over time, our hope is we can nurture some level of trust, and begin to effect the needed cultural shift.