Published:
November 2, 2016
---
Responsible recycling
Every surgeon has experienced first-hand the amount of medical waste that is generated with every surgical procedure. Countless numbers of paper drapes, gowns, gloves, tubing, gauze linens, and surgical instruments are thrown out at the conclusion of each surgery.
---
C. W. David Chang, MD, Patient Safety and Quality Improvement Committee chair
---
Reuse of single-use devices may become a part of managing healthcare costs and operating sustainably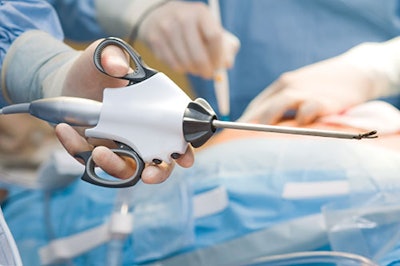 Every surgeon has experienced first-hand the amount of medical waste that is generated with every surgical procedure. Countless numbers of paper drapes, gowns, gloves, tubing, gauze linens, and surgical instruments are thrown out at the conclusion of each surgery. Multiply that by the number of other disposable supplies utilized throughout other parts of the hospital and pretty soon you have a voluminous and expensive trash problem. Medical waste costs five to 10 times more to properly dispose of than regular solid waste because of increased handling requirements, impacting the cost of care delivery. As physicians, hospitals, and payers look to manage healthcare costs—and operate in a green-conscious manner—responsible recycling of single use devices (SUD) may become part of the strategy.
History
Reprocessing of medical equipment is a common practice. Historically, most medical equipment was constructed and designed to be reused. Durable medical equipment approved for multiple use undergoes carefully validated disinfection and sterilization before its next patient encounter. However, the American medical industry has evolved toward increasing reliance on disposable items. First, disposable items, which are traditionally discarded, can save hospital labor costs by reducing reprocessing needs. Second, in the past, disposable costs could be passed on to third-party payers as hospitals would item bill for supplies used. Third, with increasing concerns and scrutiny of infectious disease issues, utilizing disposable items more easily assuaged fears of disease transmission. In this context, Original Equipment Manufacturers (OEMs) produced SUDs to cater to the disposable demand. However, utilization of disposable equipment creates a recurring expense for medical entities.
OEMs determine whether to pursue labeling of devices as single-use or reusable. For devices labeled as reusable, OEMs must demonstrate that the product can be properly cleaned, be durable enough to withstand the disinfection or sterilization process, and packaged with appropriate instructions informing the user of proper reprocessing methods. In contrast, OEMs do not have to demonstrate such for SUDs, reducing development and production costs. Therefore, an OEM may label a device as single-use because the OEM believes that it cannot or should not be reused, or that available studies are inadequate to demonstrate reusability.
With mounting economic pressures, hospitals began reprocessing SUDs initially on their own. As the complexity of equipment design increased and construction materials such as plastics became more common, device cleaning disinfection and sterilization became a more complicated task. Cottage industries arose to relieve hospitals of the task and responsibility for reprocessing equipment. Concerned stakeholders questioned the appropriateness of unregulated reprocessing SUDs in terms of ensuring safety and efficacy of the equipment.
FDA regulation
In 2000, the Food and Drug Administration (FDA) issued guidance that formally defined requirements that hospitals and third-party reprocessors have to follow if they wish to reuse SUDs.1 The Medical Device User Fee and Modernization Act of 2002 (MDUFMA) further tightened regulatory requirements of companies wishing to market SUDs. Under the current process, the FDA essentially considers SUD reprocessors to be device manufacturers and therefore must comply with all of the FDA statutory and regulatory requirements.
Currently, all risk classifications for devices are eligible for reprocessing, but class I and class II devices are the most commonly reprocessed devices. Class I is the lowest device risk category and includes items such as blood pressure cuffs and nasal cannulas. Class II is comprised of moderate risk devices, including many otolaryngology surgical devices such sinus microdebriders, harmonic scalpels, blades, bits, burs, and some laser fibers. Class III is the high risk category and includes devices such as heart valves and coronary stents.
To reprocess class I and II devices, third-party reprocessors must submit a pre-market notification, also known as a 510(k) marketing application, which includes the submission of validation data attesting to the cleaning, sterilization, and performance of the device. Reprocessors are required to closely monitor and check their cleaning procedures. Reprocessing personnel must be provided with appropriate and continuing education. Upon completion of the reprocessing, the device must remain substantially equivalent to the original device after the maximum number of times the device is intended to be reprocessed. In addition to these regulations, reprocessors are also subject to standard guidelines required of OEMs, such as device registration, quality reporting, and labeling. Class III devices require additional pre-market reporting to achieve approval. To date, no class III devices have completed requirements for reprocessing.
FDA oversight provides some rigor in the regulation of reprocessing SUDs. Daniel Schultz, former FDA Director of the Center for Devices and Radiological Health, in his 2006 statement to the U.S. House Committee on Government Reform, testified, the "FDA has carefully evaluated and conducted research to develop the scientific basis for addressing SUD reprocessing. We have inspected third-party reprocessors, evaluated and investigated reports of patient injuries, and reviewed numerous pre-market submissions. Taken together, the Agency believes that these efforts have provided, and will continue to provide, reasonable assurance of safety and effectiveness of reprocessed SUDs for patients."2
Are reprocessed SUDs safe?
To ensure patient safety, the FDA has implemented not only pre-market oversight (as described above), but also has engaged in post-market surveillance. Such surveillance includes inspection of reprocessing facilities as well as evaluation of event reporting databases. The FDA's Medical Device Reporting system requires end users (hospitals and practitioners) as well as manufacturers (including third-party reprocessors) to report deaths and serious injuries resulting from a device. Healthcare professionals can also voluntarily report incidences to the FDA through the MedWatch reporting system (https://www.accessdata.fda.gov/scripts/medwatch/index.cfm?action=reporting.home).
In 2008, the General Accounting Office provided a report to Congress titled "Reprocessed Single-Use Medical Devices: FDA Oversight Has Increased, and Available Information Does Not Indicate That Use Presents an Elevated Health Risk," in which they detail the current state of the SUD reprocessing industry.3 The FDA did admit that the available data lacked rigor for definitive comparisons: no adequate head-to-head trials had been performed and event reported data likely is an underrepresentation of reality. Nonetheless, from 2000 to 2006, only 65 reports involving reprocessed SUD had been filed, compared to 320,000 reports filed in 2006 alone for all other devices. In addition, the types of adverse events reported on reprocessed SUDs were found to be similar to those filed on original devices. Because the denominator (number of total number or reprocessed devices used per year) is not exactly known, incidence cannot be compared. Despite these limitations, the FDA concluded that the data "does not indicate that reprocessed SUDs currently in use pose an increased safety threat."
Peer-reviewed published research on the efficacy and cleanliness of reprocessed SUDs is variable.4-11 Some studies show concerns of contamination and loss of efficacy while other studies show the opposite. At this time, it is difficult to fully make conclusions from these studies. Variability may be in part due to differing degrees of instrument design complexity as well as differing time frames in which FDA regulations were in place. Some of these publications study experimentally measured outcome variables; some report more real world variables.
"It is important that we, as practitioners, be educated about the devices that we use," said Anand K. Devaiah, MD, AAO-HNS Medical Device and Drug Committee chair. "If we are going to use reprocessed devices in our practices, we should be informed about the OEM recommendations, FDA guidance on reprocessing, and ensure that any reprocessing is performed using qualified and FDA-compliant methods." Physicians and hospitals will make decisions on the use of devices based on a multiplicity of factors, including patient safety, treatment efficacy, systems complexity, and purchasing contracts. It is critical to recognize not only the importance of disinfection and sterility, but also the preservation of structural integrity to ensure delivery of the originally intended therapeutic result with no additional risk to the patient. This is an important concept even when using a SUD on the same patient. In order for physicians to provide optimal patient care, end-user transparency of reprocessed SUDs is needed.
What to tell patients
Commonly, physicians and practitioners wonder if there is an obligation to inform the patient of reprocessed SUDs. Typically, informed consent doesn't require discussing the type or brand of instruments used for a surgical procedure. In consenting to medical care, patients need to be made aware of appropriate reasonable risks, benefits, and alternatives to make a decision. Devices reprocessed using FDA regulated methodology may not subject patients to significantly higher risks. When reprocessed accordingly, the devices are "substantially equivalent" to original devices. If reasonably equivalent, the surgeon may decide, without obligation of disclosure, the type of instrument he or she uses in a procedure for the benefit of the patient.
Reusing a SUD from an FDA-approved third-party reprocessor is not considered "off label." The reprocessed device has passed all FDA statutory and regulatory requirements as a medical device and the reprocessor is now considered the manufacturer of the device itself. Specifically informing patients of the use of reprocessed SUDs may create the implication of compromised medical care and significant increased risk. Framed as thus, such knowledge may lead to decisions based on fear or prejudice.
In addition to medical judgment, transparency and fairness are key to the delivery and acceptance of any medical treatment. The direct benefit of incorporating reprocessed SUDs in healthcare is largely enjoyed by medical institutions, with less immediate direct benefit to the patient. Depending upon contracts, cost of materials used in the operating room may or may not be passed on to patients or third-party payers. Increasingly, procedures are reimbursed at a set fee regardless of disposable costs. Thus the cost reduction of using reprocessed SUDs is an immediate benefit to the facility. While reduction of medical costs has indirect benefits to the global cost of delivering medical care, the benefit may not be realized as tangible by the patient.
"The ethical issues related to the reuse of SUDs are complex and interrelated," said Susan McCammon, MD, chair of the AAO-HNSF Ethics Committee. "Patient safety and autonomy are often privileged over more utilitarian considerations of benefit, waste, and social justice. The transparency and translation of cost savings will be critical to the validation and acceptance of safe reprocessing of medical equipment."
Reprocessing of SUDs has evolved from a practice carried out by individual hospitals and operating facilities to a practice that is now regulated and overseen by the FDA, with the aim of ensuring public safety carried out by individuals, hospitals, and outpatient operating facilities.
Billing/reimbursement
FDA-regulated third-party reprocessed devices are reimbursed by Centers for Medicare and Medicaid Services (CMS) like any other FDA cleared "single-use" device. According to Pub 100-04 Medicare Claims Processing, "Hospitals may bill for transitional pass-through payments only for those devices that are 'single use.' Reprocessed devices may be considered 'single use' if they are reprocessed in compliance with enforcement guidance of the FDA relating to the reprocessing of devices applicable at the time the service is delivered."12 Conversely, devices reprocessed in a manner not compliant with FDA regulations may not be eligible for pass-through payments.
For surgical procedures, CMS does not generally reimburse operating room facilities for the use of individual devices. Rather, CMS reimburses hospitals for entire procedures, which subsumes the cost of equipment used. Although facility payments by commercial carriers vary, it is typical for most of them to reimburse by procedure also. Procedures performed in the non-facility or office setting have device costs factored into the practice expense portion of the Relative Value Units (RVUs) assigned to that service. Reprocessed SUDs meeting FDA regulations are eligible for reimbursement by payers.
'Green' savings: cost and environment
Third-party reprocessed SUDs on average cost 50 percent less to purchase than their new counterparts. This savings could add up. According to the Association of Medical Device Reprocessors (AMDR), a trade association of medical device reprocessors, a typical 200 bed hospital taking advantage of a reprocessor's full product line can save between $600,000 and $1 million a year, and divert between 5,000 and 15,000 pounds of waste from landfills.13 Real world cost savings certainly vary from one institution to the next depending upon facility volume and extent of reprocessing. In 2007, Banner Health, a large Phoenix-based healthcare organization comprised at that time of 21 acute care centers and eight outpatient surgery centers, reported nearly $1.5 million in savings.14 This does not include savings from medical waste disposal. Smaller entities such as surgery centers can capitalize on savings as well. Madison Surgery Center in Wisconsin reported nearly $60,000 in savings after the first year of implementation.15 However, real world savings calculations should also include additional labor costs to collect and store items and operative costs should reprocessed devices fail or not be adequate, potentially resulting in additional material and time costs. These variables were not reflected in the calculations above.
SUD reprocessing has the capability of increasing competition. Reprocessed SUDs on the market put price pressure on the original product line for OEMs to remain competitive. AMDR cites that in some circumstances OEMs have dropped their prices by as much as 50 percent to win contracts.13 The market for reprocessing SUDs has also attracted OEMs to enter the business as well. Stryker, a medical technology company, acquired Ascent Healthcare Solutions, a reprocessing company, in November 2009 for $525 million.16
Conclusion
Our current healthcare environment demands that we advocate for the best quality care delivered in a safe and cost-effective manner to our patients. As such, the AAO-HNS:
Supports FDA guidelines regarding the reprocessing of SUDs.
Encourages continued research and surveillance of reprocessed SUDs.
Promotes physicians and medical organizations to incorporate individualized patient care and clinical judgment in the consideration of using FDA-compliant reprocessed SUDs.
References
HHS FDA Center for Devices and Radiological Health. Enforcement Priorities for Single-Use Devices Reprocessed by Third Parties and Hospitals (August 14, 2000). http://www.fda.gov/downloads/MedicalDevices/DeviceRegulationandGuidance/GuidanceDocuments/ucm107172.pdf. Accessed Aug 6, 2016.
HHS FDA Center for Devices and Radiological Health. Statement of Daniel Schultz, MD, Director CDRH, before the Committee on Government Reform – September 26, 2006. http://www.fda.gov/MedicalDevices/DeviceRegulationandGuidance/ReprocessingofSingle-UseDevices/ucm121067.htm. Accessed Aug 6, 2016.
GAO-08-147, Reprocessed Single-Use Medical Devices: FDA Oversight Has Increased, and Available Information Does Not Indicate That Use Presents an Elevated Health Risk. 2008. http://www.gao.gov/new.items/d08147.pdf. Accessed Aug 6, 2016.
Ledonio CG, Arendt EA, Adams, et al. Reprocessed arthroscopic shavers: evaluation of sharpness and function in a cadaver model. Orthopedics. 2014 Jan;37(1):e1-9.
Sabler IM, Lazarovitch T, Haifler M, et al. Sterility of reusable transrectal ultrasound transducer assemblies for prostate biopsy reprocessed according to food and drug administration guidelines—bacteriologic outcomes in a clinical setup. Urology. 2011 Jan;77(1):17-19.
Mues AC, Haramis G, Casazza C, et al. Prospective randomized single-blinded in vitro and ex vivo evaluation of new and reprocessed laparoscopic trocars. J Am Coll Surg. 2010 Dec;211(6):738-743.
Lester BR, Miller K, Boers A, Harris DC, Gamble WG. Comparison of in vivo clinical performance and shaft temperature and in vitro tissue temperature and transection times between new and reprocessed harmonic scalpels. Surg Laparosc Endosc Percutan Tech. 2010 Oct;20(5):e150-159.
Darvish K, Shafieian M, Rehman S. The effect of tip geometry on the mechanical performance of unused and reprocessed orthopaedic drill bits. Proc Inst Mech Eng H. 2009 Jul;223(5):625-635.
King JS, Pink MM, Jobe CM. Assessment of reprocessed arthroscopic shaver blades. Arthroscopy. 2006;22(10):1046-1052.
Weld KJ, Dryer S, Hruby G, et al. Comparison of mechanical and in vivo performance of new and reprocessed harmonic scalpels. Urology. 2006 May;67(5):898-903.
Roth K, Heeg P, Reichl R. Specific hygiene issues relating to reprocessing and reuse of single-use devices for laparoscopic surgery. Surg Endosc. 2002 Jul;16(7):1091-1097.
CMS. Pub 100-04 Medicare Claims Processing (2015). https://www.cms.gov/Regulations-and-Guidance/Guidance/Transmittals/Downloads/R3425CP.pdf. Accessed Aug 6, 2016.
AMDR. The Business Case for Reprocessing. http://www.amdr.org/wp-content/uploads/2011/04/Business-Case-for-Reprocessing-for-web.pdf. Accessed Aug 6, 2016.
DiConsiglio J. Reprocessing SUDs reduces waste, costs. Mater Manag Health Care. 2008 Sep;17(9):40-42.
Becker's ASC Review. Dispelling the Myth of Single Use Device Reprocessing: How This ASC Saved $59k & Diverted 4.7k lbs of Waste. http://www.beckersasc.com/asc-turnarounds-ideas-to-improve-performance/dispelling-the-myth-of-single-use-device-reprocessing-how-this-asc-saved-59k-diverted-4-7k-lbs-of-waste.html. Accessed Aug 6, 2016.
Stryker. Stryker Announces Definitive Agreement To Acquire Ascent Healthcare Solutions (Nov 30, 2009). http://www.stryker.com/en-us/corporate/PressNews/139133. Accessed Aug 6, 2016.