---
OTO EXPOSM is the place to be
There are many ways to learn and our Annual Meeting & OTO EXPOSM presents many options to establish a connection to the knowledge you're seeking.
---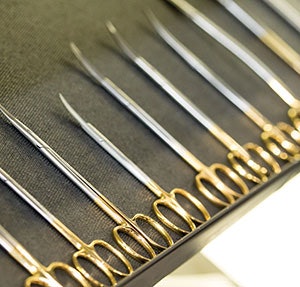 'Do you use this?' 'Have you tried that?' 'How do you do this?' See new tech and trusted resources in Dallas There are many ways to learn and our Annual Meeting & OTO EXPOSM presents many options to establish a connection to the knowledge you're seeking. There's education in the session rooms and developing professional relationships through networking in associated activities, but most exciting is the hands-on education you can experience by visiting the OTO EXPOSM show floor, where you can see how the products, devices, and services can be utilized to improve your practice.
We have learned that you were asking for more unopposed time to visit the show floor. This is clearly the place to be. Whether you're a loyal participant with many years of attendance or looking to explore our event for the first time, this OTO EXPOSM will be new for all parties involved. This year we have reformatted the schedule of the educational sessions to allow you more time to visit the OTO EXPOSM in order to see the products and technology discussed in those sessions. Imagine learning about advancements in throat surgery in one of our sessions and then easily heading to the show floor and seeing firsthand the products used in live demonstrations or hands-on for that surgery. With the OTO EXPOSM spread out from Hall C through Hall E of the Kay Bailey Hutchison Convention Center, here is a breakdown of what can be found throughout the halls.

Exhibit Hall C features
AAO-HNSF is always looking to enhance your Annual Meeting experience. This year your Academy has added a booth to help engage with our Members and display ENTConnect, the official online community of AAO-HNSF. Visit Hall C of the convention center to check in at the ENTConnect booth, start your profile, and have a free headshot taken by professional photographers. Join the conversation with ENTConnect. ENT Careers Live!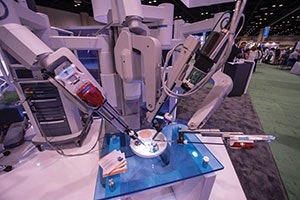 Residents and fellows-in-training: Don't miss ENT Careers LIVE! at Booth #339 in Hall C. Our partners at HealtheCareers are providing free CV reviews by healthcare professionals to benefit those entering the workforce. View more than 200 otolaryngology jobs and prepare for the AAO-HNS Career Fair on Monday, September 28, 6:00 – 8:00 pm to meet face-to-face with more than 30 employers hiring otolaryngology specialists like you. Posters Poster Presentations during the Annual Meeting provide a snapshot of the scientific research and case studies for our presenters to communicate to attendees with visual displays. This year's Poster Presentations are intended to engage attendees in dialogue while providing a summary of the presentation that will encourage attendees to learn more. Posters will be on display in Hall C, Sunday, September 27, through Tuesday, September 29.
Exhibit Hall E features
Hands-On Training In its debut last year, the Hands-On Training venue proved to be an incredible learning opportunity for attendees. Participating physicians receive product training in otolaryngology, led by company representatives and faculty who designed the instrumentation. These two-hour training sessions allow participants to preview the newest innovations in otolaryngology surgical tools on cadaveric specimens. Space is limited, so, make it a point to register for these sessions in advance of the show by contacting David Buckner at dbuckner@entnet.org. Product Theater Now in its third year, the AAO-HNSF Product Theater provides attendees the opportunity to extend learning beyond the session rooms with AAO-HNSF corporate sponsors. In various intervals you can review recent scientific studies and information or watch a live demonstration performed by a leader in the field of otolaryngology. Sessions are booked in conjunction with OTO EXPOSM hours and will be prominently displayed around the Exhibit Hall.
All Exhibit Hall features
Quality exhibitors You want to get your hands on the latest products to help you deliver better patient care. Throughout halls C, D, and E you will find quality companies that deliver innovative surgical instruments, scopes, electronic billing services, robotics, and an array of medical devices for our industry. It's imperative that you take a walk through these halls to get caught up on the latest advancements and catch great deals on many of the products you would like to use in your practice. The food You have to eat. Come to the exhibit hall to redeem your food vouchers and enjoy meals in the OTO EXPOSM. Every Full or Daily conference registrant will receive a $15 meal voucher for each day they are registered to attend the conference. Vouchers can be redeemed at any concession stand in the hall during OTO EXPOSM hours, Sunday through Tuesday.
Join us
Get ready for Dallas this September. When you arrive for the Annual Meeting remember to plan time to visit the award-winning OTO EXPOSM. Our exhibitors are there to showcase the products and services that can be used to enhance your practice. It's truly "the place to be" for an engaging experience that you will want to take full advantage of.