---
BOARD OF GOVERNORSThe latest and greatest: the commitment to keeping current
In the 18th century, the head mirror was new technology, allowing the physician to visualize areas previously inaccessible. Now, when I take out my head mirror, children snicker and adults comment, "I didn't know doctors used those anymore."
---
By Susan R. Cordes, MD, Chair, BOG Legislative Affairs Committee



In the 18th century, the head mirror was new technology, allowing the physician to visualize areas previously inaccessible. Now, when I take out my head mirror,
children snicker and adults comment, "I didn't know doctors used those anymore." The head mirror isn't the only otolaryngology staple that has been replaced by more sophisticated technology. Endoscopes and related instruments, in-office imaging systems, electronic health records—the list goes on and on. It can be daunting enough to try to keep up with the latest in medical knowledge, let alone with technological advances. Fortunately, the Annual Meeting combines these tasks by offering the OTO EXPOSM in addition to the myriad educational activities.
OTO EXPOSM is like Disneyland for otolaryngologists. Just walking into the expo inspires a sort of wonder and awe. OTO EXPOSM presents the opportunity to evaluate and experience advances in otolaryngology technology hands-on and to make side-by-side comparisons. Aisle after aisle, one can evaluate everything from textbooks to surgical instruments to nasal packing. It is an incredible opportunity not to be missed. As I reflect, some of the most valuable additions to my own practice are the result of my visits to the OTO EXPOSM.
'Do you use this?' 'Have you tried that?' 'How do you do this?'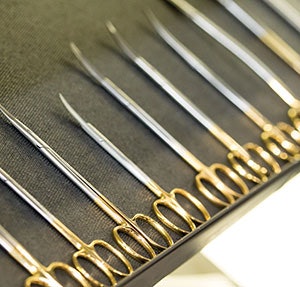 Newer is not necessarily better, though. Some technologies will not prove to be useful assets to our practices or our patients. As physicians, we have the responsibility of evaluating new technologies and determining whether they are safe, cost effective, and appropriate alternatives that will improve patient care. Our patients trust us to educate ourselves and make the best decisions on their behalf, and that includes the adoption of new technology. In addition to having products on display in the OTO EXPOSM, the Annual Meeting is the opportunity to hear from leaders in the specialty and to discuss tools and techniques with colleagues in order to make the best decisions. Between educational sessions, one often hears: "Do you use this?" "Have you tried that?" "How do you do this?" These exchanges are invaluable and part of what makes the Annual Meeting such an exciting and unique event.
Medicine is a science, an art, and a profession. As professionals, we have committed to putting the interests of our patients at the forefront and keeping ourselves educated in the latest advances in our field. Some technologies come and go, never to be heard again; others change our specialty and our lives forever. In this world of rapidly evolving technology, there will always be a need for a balance of the old and new, and there will always be a role for the physician using good, solid judgment to determine what is in the best interest of his or her patients. Though I have replaced my head mirror with a powerful electric headlight, at least for now I will keep my head mirror right here in my pocket, if for no other reason than to remind me of the art of being an otolaryngologist.