Published:
December 8, 2014
---
2014 Annual Report: Leadership Academy
In 2014, we combined several leadership activities into one all-encompassing weekend.
---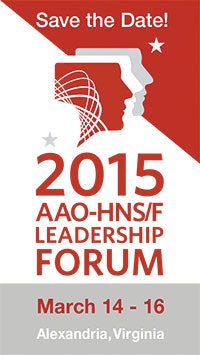 In 2014, we combined several leadership activities into one all-encompassing weekend. The newly organized Leadership Forum, which attracted more than 100 attendees, included the Academy's strategic planning meeting, Boards of Directors meetings, Boards of Governors (BOG) and advocacy activities and presentations, networking activities and other related meetings. This forum will be conducted each spring and is designed to quickly update attendees about important issues for otolaryngologists. The 2015 Leadership Forum will be March 14-16 in the Alexandria/Arlington, VA, area and will also feature additional sessions and networking opportunities for residents and young physicians, and special leadership sessions for all participants. This is an excellent venue to get engaged with the Academy and its leadership in a more intimate and thought-provoking setting.
Wendy B. Stern, MD, is the new chair of the BOG, which is the grassroots voice of the Academy. In addition to planning the BOG and advocacy portions of the Leadership Forum, the BOG is working on a special initiative, Societies Connected, to assist BOG societies in strengthening their presence and relationship with the Academy. The BOG is working closely with the Specialty Society Advisory Council (SSAC) on engaging specialty societies and the newly designated specialty society liaison.
Through our Humanitarian Efforts grants program, we awarded more than $25,000 to members to support their humanitarian missions. The goal of these missions is to offer services in less-developed countries.  In addition to the grants, awardees had the opportunity to provide educational tools and other "members-only" materials from the Academy to train their colleagues in these countries.
International Corresponding Society Network
The International Corresponding Society (ICS) network is our grassroots communications vehicle to countries outside of the United States. There are presently 57 International Corresponding Societies, representing more than 700 of the Academy's roughly 1,100 international Academy members. James E. Saunders, MD, is the Coordinator for International Affairs, and has led the Academy's strategy on enhancing the value of the ICS network and international membership.
We Value Your Input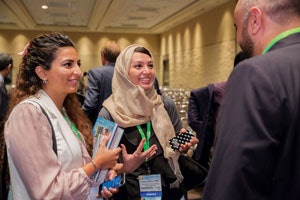 The American Academy of Otolaryngology—Head and Neck Surgery and its Foundation value the opinions of and input of Members. So, we asked for feedback via our biannual Voice of the Member Survey in the summer of 2014. The survey revealed that the top four Member benefits are Clinical Practice Guidelines, the Otolaryngology—Head and Neck Surgery journal, the AAO-HNS/F website (www.entnet.org), and the Annual Meeting & OTO EXPO℠. All four provide timely and relevant information that is easy to access. Additionally, AAO-HNS/F Members are driven by the desire to make patients better, indicating that they clearly see the connection between staying up-to-date and being able to provide patients with the best possible care.