---
Health Policy 101: Working for You
The Academy's Physician Payment Policy (3P) Workgroup is the senior advisory body to Academy leadership and staff on issues related to socioeconomic advocacy, regulatory activity, coding and reimbursement, and practice services or management. 3P and the Health Policy staff work to ensure that members' interests are appropriately represented. 3P oversees the review and content for the Clinical Indicators and the Position Statements, and provides resources to members such as template appeal letters and CPT for ENT coding guidance articles. Coordination with other Academy committees, subspecialties, and medical specialty societies are critical to 3P's success. Health Policy has two coordinators, who are also the Physician Payment Policy (3P) Workgroup co-chairs. James C. Denneny III, MD, coordinator for Socioeconomic Affairs. Dr. Denneny oversees all coding and payment issues related to Medicare and the Academy's efforts to influence the CPT coding and Relative Value System (RVS) through work with the Academy's Members and Advisors on the AMA's CPT Editorial Panel, the Relative Value Update Committee (RUC), and the RUC's Practice Expense Subcommittee. He works closely with the Health Policy department to achieve these directives. Dr. Denneny is on the Socioeconomics Committee of the Board of Governors of the American College of Surgeons (ACS) and the Executive Committee of the Board of Governors of the ACS. These positions offer synergistic opportunities to increase cooperation and build coalitions among the surgical societies as we navigate an increasingly hostile landscape for physicians, particularly surgeons. Jane T. Dillon, MD, MBA, coordinator for Practice Affairs. Dr. Dillon is responsible for developing and maintaining programs that support and provide practice management-related answers to health policy issues. She spearheads collaborative efforts with other specialty societies on priority payer reimbursement issues related to private national insurance policies, publication of the 2014 Socioeconomic Survey, and provides input on any health policy related health policy educational programs for the Annual Meeting. In addition, the coordinator for Practice Affairs is responsible for publishing periodic practice management articles for the Academy's monthly Bulletin. Stay tuned for upcoming articles focused on these issues. Dr. Dillon works closely with Dr. Denneny to ensure high quality programs for delivery to both the Board of Directors and members. Finally, they both work collaboratively with other Academy leaders from Research and Quality, the Board of Governors, and Socioeconomic and Grassroots Affairs (SEGR) Committee (see related article on page 9), and the Board of Directors to review potential prospective payment models for possible use by otolaryngology-head and neck surgeons in the future. More Examples of Health Policy Efforts for Members Regulatory Advocacy: Cerumen Removal Academy Works to Resolve  Concerns Related to CMS 2014 Payment Policy for Removal of Cerumen (69210) In February, the Academy conducted a conference call with CMS regarding its reimbursement policy for cerumen removal, CPT 69210, after hearing from Academy members who had experienced issues with billing 69210 using the -50 modifier. Per CMS instruction on the call, this reimbursement policy that only pays for one unit regardless of whether the service is performed bilaterally will remain in place through CY 2014 as an interim value for the service, which was included in the Final Medicare Physician Fee Schedule (MPFS) for 2014. Based on CMS' guidance, the Academy recommends that members NOT report 69210 using modifier -50, as MACs are denying these claims entirely and not paying for even one unit reported. This requires providers to reprocess the denied claim, which takes additional time and administrative effort. CMS has stated it will not issue a transmittal to providers at this time, and has asked the Academy to share this coding directive with members.  We are working with the Agency to provide them with concrete data related to the percentage of time 69210 is provided bilaterally, in hopes that this will allow them the necessary evidence to revisit this payment policy in CY 2015. As the dialogue continues with CMS, we will keep members apprised of our progress on these advocacy efforts via the weekly e-news, monthly HP Update, and printed Bulletin. Please email us with any questions at healthpolicy@entnet.org. Private Payer Advocacy: Sinus Ostial Dilation and Imaging Services Academy Continues Efforts to Expand Coverage of Balloons for Dilation of Sinuses and Reverse Experimental/Investigational Coverage Decisions for Computer Assisted Surgical Navigation (CASN) The Health Policy team recently sent comment letters to more than 10 private payers in an effort to change their respective medical policies regarding the use of balloons as a tool in the standard approach to sinus ostial dilation. The letters highlight the recently revised and updated position statement on "Dilation of Sinuses, Any Method" (e.g., balloon, etc.), which incorporates updated references, most notably three recently published randomized control trials (RCTs). View the updated position statement at http://www.entnet.org/Practice/Balloon-Dilation.cfm. The Academy submitted comments to the Humana Medical Director regarding their medical policy on Computer Assisted Surgical Navigation (CASN), which does not currently provide payment for the service. We responded to Humana's request for additional evidence with the new references included in our newly updated position statement on Intra-Operative Use of Computer Aided Surgery. Practice Management Coding Corner The Academy offers members a wealth of coding and practice management resources, which are available to you at http://www.entnet.org/practice/codingResources.cfm. We also recommend checking the coding resources provided by the AMA and ACS. (The AMA CPT Network can be accessed at https://commerce.ama-assn.org/store/content/cptnetwork?node_id=nn407. NOTE: Due to concerns regarding liability, the Academy is unable to provide members with individualized advice on billing and coding issues. Socioeconomic Survey The Health Policy department oversees the distribution and analysis of the AAO-HNS Socioeconomic Survey, which was distributed to members in March. This effort, overseen by Dr. Dillon as coordinator for Practice Affairs, collects information on members' practice patterns, the healthcare environment, and future trends in otolaryngology-head and neck surgery. Results of the survey will be on display at the AAO-HNSF 2014 Annual Meeting & OTO EXPOSM in Orlando, Florida, September 21-24. CMS Quality Reporting Initiatives Fact Sheets This is a pivotal year for physicians as the CMS has begun applying penalties across three of its quality initiatives. In 2015, physicians will be subject to financial penalties, known as payment adjustments, for the first time for the Electronic Health Record (EHR) Meaningful Use Incentive Program and Physician Quality Reporting System (PQRS). The 2015 EHR and PQRS penalties are based on participation and reporting in 2013. Penalties also increase for failing to participate and meet the e-Prescribing (eRx) Incentive Program reporting criteria in 2013. To help you understand the reporting requirements for these quality initiatives, the Academy's Health Policy department has created one-page fact sheets for each of the CMS initiatives. These fact sheets follow this article and include a brief overview of the program; provide information on how you and your practice can successfully meet the reporting criteria, earn incentives, and avoid payment reductions; and direct you to additional resources to help you. For information on all of these programs, visit the Academy's CMS Quality Initiatives webpage at http://www.entnet.org/Practice/CMSpenalties.cfm. For more on additional Health Policy activities, see the table below. Health Policy Abbreviations 3P Workgroup—AAO-HNS Physician Payment Policy (3P) Workgroup AMA—American Medical Association ASC—Ambulatory Surgical Center CAC—Medicare Contractor Advisory Committee CPT code—Current Procedural Terminology CMS—Centers for Medicare & Medicaid Services EHR/EMR—Electronic Health/Medical Record OPPS—Hospital Outpatient Prospective Payment System ICD-9/ICD-10—International Classification of Diseases, with n = 9 for Revision 9 or 10 for Revision 10; with CM = Clinical Modification; and with PCS = Procedure Coding System. MAC—Medicare Administrative Contractor MPFS—Medicare Physician Fee Schedule MU—Meaningful Use PQRS—Physician Quality Reporting System RUC—Relative Value Scale Update Committee RVU—Relative Value Unit VBM—Value-Based Payment Modifier Health Policy Glossary Resource: http://www.cms.gov/apps/glossary/default.asp?Letter=A&Language=English Fact Sheets Electronic Health Records Incentive Program Electronic Prescribing Incentive Program Physician Compare Program Physician Quality Reporting System Value Based Payment Modifier
---
The Academy's Physician Payment Policy (3P) Workgroup is the senior advisory body to Academy leadership and staff on issues related to socioeconomic advocacy, regulatory activity, coding and reimbursement, and practice services or management. 3P and the Health Policy staff work to ensure that members' interests are appropriately represented. 3P oversees the review and content for the Clinical Indicators and the Position Statements, and provides resources to members such as template appeal letters and CPT for ENT coding guidance articles. Coordination with other Academy committees, subspecialties, and medical specialty societies are critical to 3P's success.
Health Policy has two coordinators, who are also the Physician Payment Policy (3P) Workgroup co-chairs.
James C. Denneny III, MD, coordinator for Socioeconomic Affairs. Dr. Denneny oversees all coding and payment issues related to Medicare and the Academy's efforts to influence the CPT coding and Relative Value System (RVS) through work with the Academy's Members and Advisors on the AMA's CPT Editorial Panel, the Relative Value Update Committee (RUC), and the RUC's Practice Expense Subcommittee. He works closely with the Health Policy department to achieve these directives.
Dr. Denneny is on the Socioeconomics Committee of the Board of Governors of the American College of Surgeons (ACS) and the Executive Committee of the Board of Governors of the ACS. These positions offer synergistic opportunities to increase cooperation and build coalitions among the surgical societies as we navigate an increasingly hostile landscape for physicians, particularly surgeons.
Jane T. Dillon, MD, MBA, coordinator for Practice Affairs. Dr. Dillon is responsible for developing and maintaining programs that support and provide practice management-related answers to health policy issues. She spearheads collaborative efforts with other specialty societies on priority payer reimbursement issues related to private national insurance policies, publication of the 2014 Socioeconomic Survey, and provides input on any health policy related health policy educational programs for the Annual Meeting.
In addition, the coordinator for Practice Affairs is responsible for publishing periodic practice management articles for the Academy's monthly Bulletin. Stay tuned for upcoming articles focused on these issues. Dr. Dillon works closely with Dr. Denneny to ensure high quality programs for delivery to both the Board of Directors and members. Finally, they both work collaboratively with other Academy leaders from Research and Quality, the Board of Governors, and Socioeconomic and Grassroots Affairs (SEGR) Committee (see related article on page 9), and the Board of Directors to review potential prospective payment models for possible use by otolaryngology-head and neck surgeons in the future.
More Examples of Health Policy Efforts for Members
Regulatory Advocacy: Cerumen Removal
Academy Works to Resolve 
Concerns Related to CMS 2014 Payment Policy for Removal of Cerumen (69210)
In February, the Academy conducted a conference call with CMS regarding its reimbursement policy for cerumen removal, CPT 69210, after hearing from Academy members who had experienced issues with billing 69210 using the -50 modifier. Per CMS instruction on the call, this reimbursement policy that only pays for one unit regardless of whether the service is performed bilaterally will remain in place through CY 2014 as an interim value for the service, which was included in the Final Medicare Physician Fee Schedule (MPFS) for 2014. Based on CMS' guidance, the Academy recommends that members NOT report 69210 using modifier -50, as MACs are denying these claims entirely and not paying for even one unit reported. This requires providers to reprocess the denied claim, which takes additional time and administrative effort. CMS has stated it will not issue a transmittal to providers at this time, and has asked the Academy to share this coding directive with members.  We are working with the Agency to provide them with concrete data related to the percentage of time 69210 is provided bilaterally, in hopes that this will allow them the necessary evidence to revisit this payment policy in CY 2015. As the dialogue continues with CMS, we will keep members apprised of our progress on these advocacy efforts via the weekly e-news, monthly HP Update, and printed Bulletin.
Please email us with any questions at healthpolicy@entnet.org.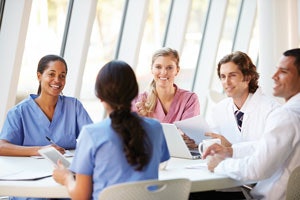 Private Payer Advocacy: Sinus Ostial Dilation and Imaging Services
Academy Continues Efforts to Expand Coverage of Balloons for Dilation of Sinuses and Reverse Experimental/Investigational Coverage Decisions for Computer Assisted Surgical Navigation (CASN)
The Health Policy team recently sent comment letters to more than 10 private payers in an effort to change their respective medical policies regarding the use of balloons as a tool in the standard approach to sinus ostial dilation. The letters highlight the recently revised and updated position statement on "Dilation of Sinuses, Any Method" (e.g., balloon, etc.), which incorporates updated references, most notably three recently published randomized control trials (RCTs). View the updated position statement at http://www.entnet.org/Practice/Balloon-Dilation.cfm.
The Academy submitted comments to the Humana Medical Director regarding their medical policy on Computer Assisted Surgical Navigation (CASN), which does not currently provide payment for the service. We responded to Humana's request for additional evidence with the new references included in our newly updated position statement on Intra-Operative Use of Computer Aided Surgery.
Practice Management
Coding Corner
The Academy offers members a wealth of coding and practice management resources, which are available to you at http://www.entnet.org/practice/codingResources.cfm.
We also recommend checking the coding resources provided by the AMA and ACS. (The AMA CPT Network can be accessed at
https://commerce.ama-assn.org/store/content/cptnetwork?node_id=nn407.
NOTE: Due to concerns regarding liability, the Academy is unable to provide members with individualized advice on billing and coding issues.
Socioeconomic Survey
The Health Policy department oversees the distribution and analysis of the AAO-HNS Socioeconomic Survey, which was distributed to members in March. This effort, overseen by Dr. Dillon as coordinator for Practice Affairs, collects information on members' practice patterns, the healthcare environment, and future trends in otolaryngology-head and neck surgery. Results of the survey will be on display at the AAO-HNSF 2014 Annual Meeting & OTO EXPOSM in Orlando, Florida, September 21-24.
CMS Quality Reporting Initiatives Fact Sheets
This is a pivotal year for physicians as the CMS has begun applying penalties across three of its quality initiatives. In 2015, physicians will be subject to financial penalties, known as payment adjustments, for the first time for the Electronic Health Record (EHR) Meaningful Use Incentive Program and Physician Quality Reporting System (PQRS). The 2015 EHR and PQRS penalties are based on participation and reporting in 2013. Penalties also increase for failing to participate and meet the e-Prescribing (eRx) Incentive Program reporting criteria in 2013. To help you understand the reporting requirements for these quality initiatives, the Academy's Health Policy department has created one-page fact sheets for each of the CMS initiatives. These fact sheets follow this article and include a brief overview of the program; provide information on how you and your practice can successfully meet the reporting criteria, earn incentives, and avoid payment reductions; and direct you to additional resources to help you. For information on all of these programs, visit the Academy's CMS Quality Initiatives webpage at http://www.entnet.org/Practice/CMSpenalties.cfm.
For more on additional Health Policy activities, see the table below.