Kathryn R. Hoppe, MD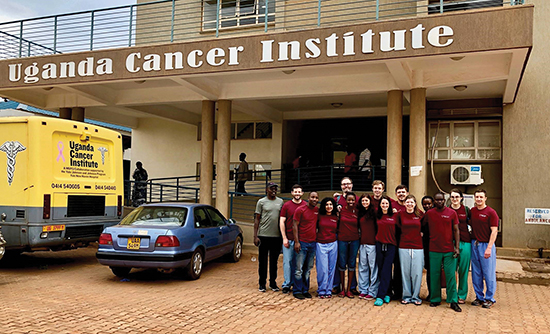 In November 2018, I had the opportunity to participate in a surgical mission trip to Kampala, Uganda, as part of the Head and Neck Outreach (HNO) team from University Hospitals Cleveland Medical Center. This is a well-established medical and educational exchange with the Uganda Cancer Institute (UCI) and the Makerere University School of Medicine. This exchange was started by Chad A. Zender, MD, in 2014, and since then the program has expanded to biannual mission trips in which over 250 patients have been evaluated and over 150 procedures have been performed.
Our team consisted of four otolaryngologists from the United States, an otolaryngologist from Saudi Arabia, an anesthesiologist, two registered nurses, a medical student, and a volunteer. We were joined by a group of local otolaryngologists, anesthesia providers, surgical residents, and nurses.
At UCI we were allowed full access and use of their two operating rooms, in which we spent our very first night setting up to be ready for the week. The majority of all the equipment and disposables were all donated and brought with us from the U.S. The first day we saw 40 patients in-clinic who were pre-screened by the Ugandan physicians to be potential candidates for surgery and several other patients who heard about our camp and showed up to be evaluated. The most common pathologies were parotid and thyroid lesions and tracheal stenosis from traumatic injuries. With the infrastructure in place, we were even able to complete complex cases with microvascular free flap reconstruction.
Throughout the week we worked alongside the Ugandan physicians to complete approximately 25 advanced head and neck surgeries. The main goal of the HNO camps is to help educate the Ugandans and continue to develop infrastructure for high-level head and neck care. This extended out of the operating room when we would perform daily rounds with the residents. From the first day, it was obvious our trip's impact, as several of the residents were independently managing the post-operative care of the patients according to our established pathway.
Overall, this was a valuable and rewarding experience. Not only was I able to teach Ugandan residents and help in the care of Ugandan people, but I was able to learn from their healthcare system as well. The healthcare system in Uganda is very patient- and family-oriented. Patients are responsible for their medical records and the family actively participates in patient care. It is a very tight-knit community and family members not only help care for their loved ones but also other families and patients who may need assistance.
I am very grateful to the American Academy of Otolaryngology–Head and Neck Surgery Foundation for awarding me the travel grant that allowed for this experience and helped further humanitarian causes in our field. This has been an irreplaceable experience of my otolaryngology residency, making a great impact on the physician I will strive to be by continuing humanitarian efforts throughout my career.