Published:
April 23, 2021
---
Humanitarian Travel Grant: Medical Mission in Nepal
The time I spent in the beautiful and welcoming country of Nepal will provide memories that I will cherish for the rest of my career.
---
Adam Master, MD
---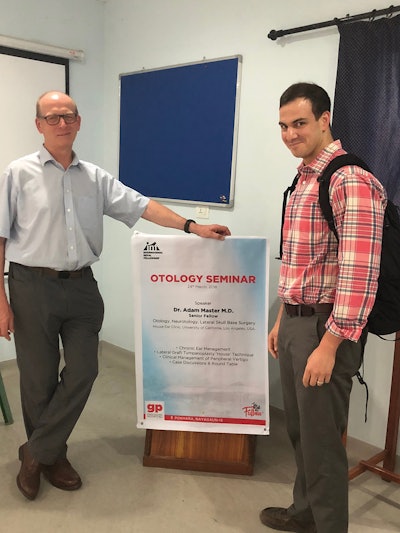 The time I spent in the beautiful and welcoming country of Nepal will provide memories that I will cherish for the rest of my career. My Humanitarian Travel Grant awarded by the Academy allowed me to spend two weeks working with Mike Smith, MBBS, LRCP, DLO, and Nirmal Thapa, MD, of Ear Aid Nepal, in the western Nepalese city of Pokhara. The main goal of Ear Aid Nepal, a nonprofit organization, is furthering otologic services and care to the Nepalese people.
Pokhara is the second largest city in Nepal and a major urban center in the western half of the country. Nepal is mainly a rural country, and health infrastructure and transport are severely limited. After more than two decades of providing ear health services to rural areas, Ear Aid Nepal built The Ear Centre in Pokhara in 2015, established by Dr. Smith. The Ear Centre is on the grounds of Good Pastures Leprosy Hospital, which is sponsored by the International Nepal Fellowship. It is there where I spent most of my trip assisting in the day-to-day of care of patients. 
Chronic ear disease is exceedingly common in Nepal, and access to otologic care is very limited. Under the guidance of Dr. Smith, I performed and assisted in chronic ear surgery, performing tympanoplasties and mastoidectomies almost daily. It was a unique opportunity getting to work with surgeons from outside the United States and learning different perspectives on treating chronic ear disease as well as being able to share some of my own insights from my training background.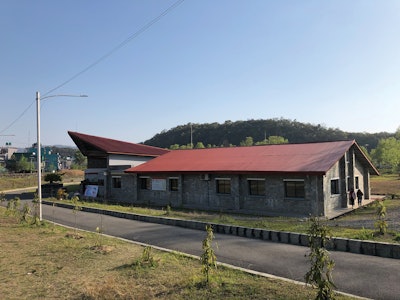 During my time in Nepal, our team traveled to a rural village to screen the local population.  Most of the population in Nepal rarely travels to the cities from their villages, and it is important to provide healthcare services that are accessible to rural populations. During this visit we performed free ear and hearing examinations and identified many patients in need of surgical otologic care. In return, we were treated to a traditional Nepalese meal served in the house of one of the village people, which was truly amazing for me to experience. 
I also had an opportunity to provide an education seminar to Nepalese otolaryngologists. In a surprisingly well-attended seminar, I gave four hours of lectures on topics ranging from vertigo to lateral graft tympanoplasty. I also presented several case presentations to help foster a conversation with seminar participants. Interacting with local otolaryngologists was very insightful and helped me gain perspective on otolaryngologic practice in Nepal. 
Sadly, my time in Nepal came to an end and I was so busy I didn't even have time to partake in one of their internationally renowned treks, but regardless, my clinical experience and relationships that were fostered are invaluable. I am very thankful to Dr. Smith of Ear Aid Nepal for all his guidance and assistance with organizing my stay. I am also grateful to Dr. Thapa, who I worked very closely with during my time at The Ear Centre.