Published:
February 2, 2021
---
In Memoriam: Reginald F. Baugh, MD
Reginald F. Baugh, MD, dedicated his life's work to advancing the field of otolaryngology.
---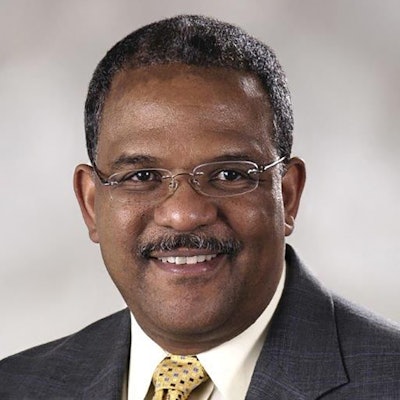 Reginald F. Baugh, MD, dedicated his life's work to advancing the field of otolaryngology. His reach was far and wide as a physician, mentor, published author, colleague, collaborator, and more. His undoubtable passion and tireless pursuit for quality, patient care, and education was contagious and will have a long-lasting impact on the countless lives who crossed his path throughout his remarkable career. 
"Reggie embodied dedication, leadership, brilliance, and determination throughout his life. He served as an inspirational role model to many. I am grateful that I had the privilege and honor of knowing him," shared Carol R. Bradford, MD, MS, AAO-HNS/F President. 
Neal S. Beckford, MD, who was a friend and colleague of Dr. Baugh's for over 35 years, remembered him as, "The model of a modern-day Renaissance man. With humble beginnings in North Dakota and Oregon, Reggie was a student athlete, excelling at academics, while always demonstrating a commitment to serve the 'least amongst us.'" 
On the day of Dr. Baugh's passing, Dr. Bradford and Duane J. Taylor, MD, AAO-HNS/F Immediate Past President, were on a podcast discussing, "Prioritizing Diversity in Otolaryngology-Head and Neck Surgery: Starting a Conversation,"1 a paper that Dr. Baugh had co-authored. "One of Dr. Baugh's many notable achievements in his remarkable career was, in fact, in helping us all prioritize diversity in our specialty," shared Dr. Bradford. 
Dr. Beckford elaborated on that sentiment. "An innate sense of equity and fairness fostered his unapologetic passion for the parity of underrepresented minorities in healthcare. As a major contributing member of The Barnes Society, working with university admissions committees and diversity initiatives, and putting forth efforts in his church and community, Reggie mentored and inspired many young and aspiring students from all walks of life. A devoted husband, father, colleague, and friend whose abundant faith and humility guided all aspects of his life, he will be sorely missed." 
The AAO-HNS/F was the honored recipient of his volunteerism. Dr. Baugh dedicated his time, expertise, and diplomacy to advancing the AAO-HNSF's clinical practice guidelines CPGs—specifically, his leadership led to the development of the Tonsillectomy CPG in 2011 and the Bell's Palsy CPG in 2013, both of which he served as chair, as well as the Benign Paroxysmal Positional Vertigo CPG in 2008 when he served as assistant chair. 
For this work and countless other contributions, Dr. Baugh received the Presidential Citation in 2014 by AAO-HNS/F Past President Richard W. Waguespack, MD.2 Upon receiving this recognition during the AAO-HNSF 2014 Annual Meeting & OTO Experience, Dr. Baugh noted in a press announcement from the University of Toledo College of Medicine, "Whether they recognized me or not, I would have done the same thing if I had to do it all over again. But it was nice to be recognized. It was very humbling."3
This is the attitude that Dr. Baugh exuded throughout his career—working to improve the field of otolaryngology, not for recognition and attributes, but for effecting progress via research, education, and mentorship with a laser focus on expanding opportunities for future generations of otolaryngologists.
"Reggie sought to use his gifts of intellect, curiosity, personal integrity, and an industrious nature to teach others and contribute to the body of knowledge in otolaryngology. His proclivity for organization and pragmatism enabled him to excel in healthcare administration, holding senior positions at a young age," said Dr. Beckford. 
Dr. Baugh was a professor and chief of the Department of Surgery, Division of Otolaryngology, at University of Toledo College of Medicine. During his career, he held leadership roles in several hospital systems, including the University of Kansas and the Kansas City Veteran's Medical Center as the chief of otolaryngology; Kaiser Permanente of MidAmerica where he served as chief of otolaryngology and assistant medical director for resource improvement; the Henry Ford Health System, where he served as medical director of clinical services; CIGNA, where he was one of six national vice presidents and senior medical directors; and Texas A&M University of Health Sciences Center, College of Medicine, as professor and chief of otolaryngology and vice chair of the Department of Surgery.4
Dr. Baugh lectured on a variety of topics in otolaryngology both nationally and internationally and had over 70 publications, presentations, and book chapters. He also served on the AAO-HNS/F Voice and Patient Safety and Quality Improvement Committees and on the Editorial Board of Otolaryngology–Head and Neck Surgery. Dr. Baugh earned his medical degree and completed his otolaryngology residency at the University of Michigan, Ann Arbor.
Reginald F. Baugh, MD, has left an indelible mark on society and the specialty. The breadth of his legacy will continue to radiate throughout otolaryngology-head and neck surgery, and his countless contributions and inspirational passion to education, quality, and patient care will thrive in current and future practice. He passed away on January 21, 2021. 
References
1. https://journals.sagepub.com/doi/10.1177/0194599820960722 
2. https://bulletin.entnet.org/article/annual-meeting-updates-2014-presidential-citations-reginald-f-baugh-md/ 
3. https://news.utoledo.edu/index.php/11_25_2014/professor-receives-presidential-citation