Published:
October 31, 2022
---
Humanitarian Outreach
Since the pandemic began, medical humanitarian outreach trips have been postponed, canceled, restructured, and reimagined.
---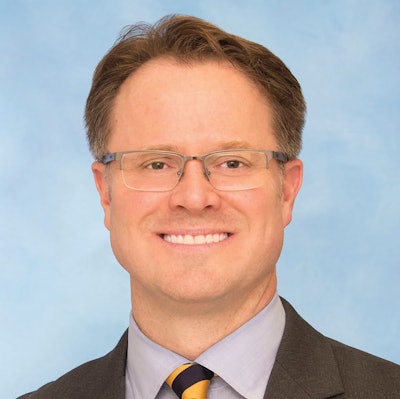 Since the pandemic began, medical humanitarian outreach trips have been postponed, canceled, restructured, and reimagined. At the Humanitarian Efforts Forum, sponsored by the AAO-HNSF Humanitarian Efforts Committee and held during the 2022 Annual Meeting, attendees learned about the massive impact the COVID-19 pandemic has had on humanitarian trips and how programs are rebuilding to move forward, including ways to develop sustainable fellowship training programs and initiatives around the world that have the potential to become embedded in a low-resource country's medical education system.
Panelists shared the out-of-the-box ideas they implemented during the pandemic to keep work and momentum moving forward. Recipient of the 2022 Distinguished Award for Humanitarian Service, Edward E. Dodson, MD, who since 1995 has helped the underserved population of the Dominican Republic through Project Ear, commented that COVID-19 pushed him and others to implement ways to train remotely. With the emergence of Zoom, he was able to attend weekly otology conferences at a residency program in the Dominican Republic and to give lectures virtually. Additionally, at The Ohio State University, where Dr. Dodson serves as a professor and neurotologist, work is now being done to increase the number of Dominican residents coming to the United States to train. Ohio State is also working to provide additional mentorship opportunities. Panelists agreed that many ideas launched because of the pandemic will continue moving forward even as more humanitarian outreach programs return to the field. 
With the easing of some travel restrictions around the world in 2022, physicians and teams began diving back into humanitarian outreach travel. If you are considering entering or re-entering the medical humanitarian outreach field or are already actively planning, the AAO-HNSF has resources to help. To learn more about outreach programs, what to expect and how to prepare, and to get information about the AAO-HNSF Humanitarian Efforts Committee, visit www.entnet.org/humanitarian-efforts.     
Getting Started: Humanitarian Efforts Map
Interested in making a difference in the world but unsure what programs are available? Check out the AAO-HNSF Humanitarian Efforts Map! The map, which can be accessed at www.entnet.org/get-involved/humanitarian-efforts/map/, includes links to information on humanitarian outreach programs available for medical professionals. Some programs are still impacted by the COVID-19 pandemic, but many have already returned to the field and are looking for volunteers.
Have you participated on a recent humanitarian outreach trip through a program not included on the AAO-HNSF online map? If so, let the Academy know at www. entnet.org/submit-a-humanitarian-effort-initiative.
Getting Funding: Humanitarian Travel Grants
Resident Academy members who are PGY3, PGY4, or PGY5 are eligible to apply for $1,000 Humanitarian Travel Grants through the AAO-HNSF.
The AAO-HNSF awarded 20 grants in 2022 and aims to distribute up to 25 in 2023. The Academy is now accepting applications for humanitarian outreach trips taking place January 1 – June 30, 2023. Submit your application by November 30, 2022. For trips occurring July 1 – December 31, 2023, the application deadline is May 31, 2023.
Getting Advice: Tips from Your Peers: Humanitarian Outreach Advice & Best Practices
"Teaching is the keystone of international humanitarian efforts. Teaching that engages surgeons, develops long-term relationships, supports visits back to our home institutions, and creates joint research projects are examples of ways to expand beyond a one-week surgical camp model.
In Zimbabwe our recent surgical effort had two surgeons: myself and a Zimbabwean surgeon, Dr. Manana, who learned cleft lip and palate surgery with our group for the past five years. Dr. Manana visited Boston on an observation trip, was sponsored to attend hands-on courses in the United States, and has been a coauthor on joint publications. This year, Dr. Manana operated as an independent cleft surgeon among the group. He now serves as the first Zimbabwean surgeon on the team, and most importantly, treats patients with cleft lip and palate deformities in Zimbabwe year round. This is the new measure of success."
-David A. Shaye, MD, MPH Massachusetts Eye and Ear, Boston, Massachusetts 
---
"WhatsApp has been amazing! When I operate on children through humanitarian trips, I now try to give the family access to my contact information through WhatsApp. I request that they send photos on a specific post-op day so we can talk about wound care and address any other issues. I know it sounds small and simple, but it has really helped a lot, and WhatsApp also allows me to communicate with the local doctors." 
-Mai Thy Truong, MD Stanford Medicine Children's Health, Stanford, California
---
"Communication is absolutely key to a successful relationship. Before the trip, make sure the hosts and visitors are on the same page about what to expect. During the trip, ensure all is going according to plan and team members are supported. After the trip, maintain the relationship with the host team. Follow-up on patients and discuss how the trip went and what could be improved in the future. Keep records as best as you can. Gather as much data as possible from the start, it often proves invaluable in future endeavors."
-Susan R. Cordes, MD AAO-HNSF Regional Liaison to Africa Stockton, California
---
"Do what you can. If you dream too big, you'll never do anything."
-Wayne M. Koch, MD Johns Hopkins, Baltimore, Maryland
---
"My cardinal rule: Always involve local providers."
-James E. Saunders, MD Dartmouth Hitchcock Medical, Lebanon, New Hampshire
---
Looking for Humanitarian Outreach Advice?
Do you have best practices to share? Join the conversation or pose a question on ENT Connect in the Humanitarian Community. Engagement on the platform has been low during the pandemic, but with outreach trips resuming, now is the time to reinvigorate the dialogue and connect with others involved in this incredibly rewarding work! https://entconnect.entnet.org/home