---
#OTOMTG19 honorary guest lecturers
Presented in order of appearance.
---
Presented in order of appearance
John Conley, MD Lecture on Medical Ethics
Sunday, September 15, 2:15 pm
Achieving parity in otolaryngology care: Our ethical obligation beyond care access
Dana M. Thompson, MD, MS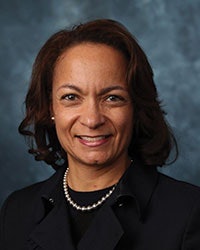 Dana M. Thompson, MD, MS, is the Lauren D. Holinger Professor and Chair of Pediatric Otolaryngology at the Ann & Robert H. Lurie Children's Hospital of Chicago and Northwestern University Feinberg School of Medicine.
Dr. Thompson's perspective as a third-generation African American physician navigating a career in academic medicine has shaped a personal mission to educate others about the unintended consequences of bias in healthcare delivery. She has a hybrid of expertise in the surgical treatment and management of airway, voice, and swallowing disorders for infants, children, and adults. As a surgeon administrator, she serves as the Vice Chair for the Department of Surgery and the Executive Physician Director for Ambulatory Practice at Lurie Children's Hospital, where she is committed to the creation and operationalizing of care delivery models to optimize access for equitable and fiscally responsible care for children.
Dr. Thompson received undergraduate and medical degrees in the six-year BA/MD program at the University of Missouri-Kansas City. She is fellowship-trained in both laryngology and pediatric otolaryngology. Including a faculty position, residency, and a laryngology/dysphagia clinical outcomes research fellowship, she spent 18 years of her career at the Mayo Clinic and was the founding Chair of the Division of Pediatric Otolaryngology. A portion of her career was spent as a fellow at the University of Cincinnati College of Medicine and Cincinnati Children's Hospital, and she later served on the faculty as the Director of the Adult Airway Reconstruction Program and member of the Pediatric Aerodigestive & Esophageal Center.
Dr. Thompson has published more than 70 scientific articles and 20 book chapters.
Eugene N. Myers, MD International Lecture on Head and Neck Cancer
Monday, September 16, 10:00 am
What have head and neck cancer clinical trials ever done for our patients anyway?
Hisham Mehanna, PhD, MBChB, FRCS, FRCS (ORL-HNS)
Hisham M. Mehanna, PhD, MBChB, FRCS, FRCS (ORL-HNS), is the Chair of Head and Neck Surgery at the Institute of Cancer and Genomic Sciences and Director of the Institute of Head and Neck Studies and Education at the School of Cancer Sciences, University of Birmingham, United Kingdom (UK). He is a head and neck and thyroid surgeon with clinical interests in recurrence head and neck cancer surgery, paraganglioma surgery, and thyroid and minimal access parathyroid surgery.
Dr. Mehanna also is Chief Investigator of several multicenter and multinational clinical trials, including the PET-NECK trial, (New England Journal of Medicine, 2016) and De-ESCALaTE (The Lancet, 2018). The main areas of Dr. Mehanna's research are human papillomavirus (HPV)-associated head and neck cancer and thyroid cancer. His research themes are biomarkers of treatment response and early and late phase clinical trials in head and neck cancer.
Dr. Mehanna is the current President of the British Association of Head & Neck Oncologists (BAHNO), the UK's multi-disciplinary professional body, as well as the Secretary of the Head and Neck Cancer International Group, a collaboration of 20 national clinical trials groups. He is also the past Chair of the UK's National Cancer Research Institute Head & Neck Clinical Studies Group.
Dr. Mehanna did his senior clinical fellowship in 2004 in advanced head and neck and thyroid surgery at the Auckland City Hospital Head and Neck Unit in New Zealand. He received his PhD from the University of Erasmus, Rotterdam in 2010.
H. Bryan Neel III, MD, PhD Distinguished Research Lecture
Monday, September 16, 2:30 pm
Digitization of a physiologic signal to facilitate oncologic surgery
Baran D. Sumer, MD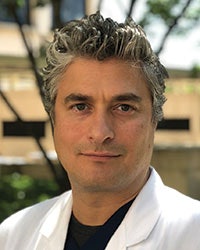 Baran D. Sumer, MD, is a Professor of Otolaryngology, Head and Neck Surgery at UT Southwestern Medical Center in Dallas, TX, where he serves as the Chief of the Head and Neck Oncology Division in the Department of Otolaryngology. He also Chairs the Head and Neck Cancer Disease Oriented Team at the Simmons Comprehensive Cancer Center.
Dr. Sumer's primary research interest is in the development of nanoparticles and nano devices for surgical applications. In a recent collaboration with Jinming Gao, PhD, he established pH transistor nanoparticles (PTN) that have not only transformed tumor detection but also represent a new paradigm of digitizing an analog biologic signal with the exciting possibility of other applications in tumor imaging, delivery of therapeutics, and cellular targeting. Their work supported by the NCI and NIH has transitioned to whole body imaging of cancers using positron emission tomography.
Dr. Sumer received his BA in economics from Rutgers University in 1994 and obtained his MD from Case Western Reserve University School of Medicine in May 2001. He completed post-graduate residency training in general surgery at Washington University School of Medicine Department of Surgery in St. Louis, MO, in 2002, and residency training in otolaryngology at Washington University, Department of Otolaryngology, in 2006. Dr. Sumer then completed a fellowship in head and neck oncology, transoral laser surgery, and microvascular reconstruction at Washington University, Department of Otolaryngology, Division of Head and Neck Surgery in August 2007.
Cotton-Fitton Endowed Lecture in Pediatric Otolaryngology
Tuesday, September 17, 10:00 am
Physician leadership: A plea for engagement
Rahul K. Shah, MD, MBA
Rahul K. Shah, MD, MBA, serves as Vice President, Chief Quality and Safety Officer and Vice President of Medical Affairs at Children's National Health System in Washington, DC. In this position, Dr. Shah is responsible for the leadership and oversight of patient safety, quality improvement, accreditation/licensure, and patient care policies.
Dr. Shah's research interests include resource utilization and outcomes, patient safety, and medical errors. He has authored more than 130 peer-reviewed articles and has given more than 250 national and international presentations. He has chaired and serves on myriad national committees related to patient safety and quality improvement. He was also the Executive Director of the Global Tracheostomy Collaborative, an international not-for-profit quality improvement initiative.
Dr. Shah obtained a combined BA/MD from Boston University School of Medicine in 2000, thereafter completing an otolaryngology residency at Tufts University and a pediatric otolaryngology fellowship at Children's Hospital Boston, Harvard University. He also earned an MBA in 2014 from the George Washington University Healthcare program.
In 2006, Dr. Shaw joined the faculty of Children's National Medical Center. He was the inaugural Associate Surgeon-in-Chief and the Medical Director of Perioperative Services from 2011-2014. Prior to his current positions with the Children's National Medical Center, Dr. Shah served as President of the Medical Staff from 2012-2014. Additionally, Dr. Shah also rose to the rank of Professor at George Washington University School of Medicine and Health Sciences in 2017.
Howard P. House, MD Memorial Lecture For Advances in Otology
Tuesday, September 17, 2:30 pm
AAO: Autoimmune and autoinflammatory (disease) in otology
Andrea Vambutas, MD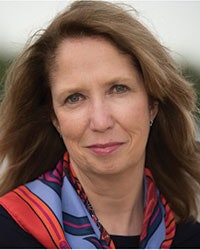 Andrea Vambutas, MD, is the Chair of Otolaryngology at Long Island Jewish Medical Center and North Shore University Medical Center and is an active clinician-scientist and Professor of Otolaryngology and Molecular Medicine at the Zucker School of Medicine at Hofstra/Northwell. She is also an Investigator in the Center for Autoimmune Disorders at Feinstein Institutes for Medical Research.
Dr. Vambutas' research interests are in the molecular mechanisms of immune-mediated hearing loss and identifying novel drug targets for hearing restoration in these patients. Timely treatment with corticosteroids results in hearing recovery in slightly more than half of clinical cases. Unfortunately, with repetitive treatment, that response is lost over time. For those patients that fail to respond to corticosteroids, there are no efficacious alternate treatments. Her research focuses on the restoration of natural hearing in these corticosteroid-resistant patients. Dr. Vambutas is grateful for the support she has received for these studies, which includes support from the National Institute on Deafness and Other Communication Disorders (NIDCD) and Merrill & Phoebe Goodman Otology Research Center.
Dr. Vambutas obtained her medical degree with a distinction in research from the Albert Einstein College of Medicine. Following her otolaryngology training at Long Island Jewish Medical Center and fellowship training in otology and neurotology in Minneapolis, MN, she returned to Long Island Jewish Medical Center as a NIDCD K08 recipient.