---
PRACTICE PROFILE: Face-to-face with patients
Prior to starting his private practice, Dr. Ward was a full-time faculty member at the University of Utah. This was the starting point of his career after completing his fellowship and residency at the University of Michigan.
---
Prior to starting his private practice, Dr. Ward was a full-time faculty member at the University of Utah. This was the starting point of his career after completing his fellowship and residency at the University of Michigan.
"I feel that a successful physician should possess empathy for the patient and the patient experience. It is something that was taught to me by my mother, who was a great community servant." This is the guiding principle by which P. Daniel Ward, MD, approaches his practice as a facial plastic surgeon in private practice in Salt Lake City, UT.
As a medical student, Dr. Ward gravitated toward plastic surgery, specifically of the face. His entrance to otolaryngology was guided at the direction of both the otolaryngologists and plastic surgeons he encountered during rotations in medical school. They indicated that if he really wanted to do facial plastic surgery, then he should pursue training in otolaryngology.
"I was fortunate to match for residency at the University of Michigan, which has a strong program in facial plastic surgery. While I was there, I received incredible training, and I am grateful every day for the faculty at the University of Michigan and their commitment to resident education, research, and excellence in clinical care," said Dr. Ward.
He serves as the Medical Director of a chain of medical spas that he founded. The medical spas and his practice, which operate with more than 60 employees, perform many treatments on the face, including IPL, cosmetic injectable treatments, micro-needling, facials, and other aesthetic treatments.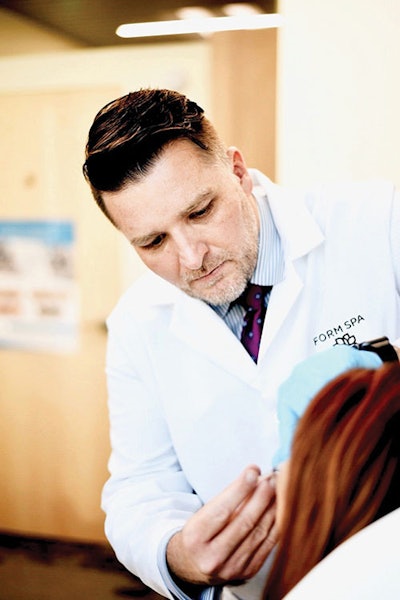 "My practice is nearly entirely cosmetic surgery, which is interesting, because I didn't start out with that intention. I love facial trauma, skin cancer reconstruction, and treatment of patients with facial nerve disorders. These were the types of patients and procedures that sparked my interest in facial plastic surgery. However, as time went on, I became more and more interested in cosmetic procedures, and I am happy with the evolution of my career."
Dr. Ward shared that the opportunity to build businesses and brands has been an exciting part of his journey, allowing him to improve his skill set in management and leadership.
"This aspect of my practice is time consuming, but I appreciate the challenge of working with other providers and creating a high level of customer service for our patients."
Top education activities in AcademyU® related to facial plastic and reconstructive surgery
3D Printing and Medical Modeling in Otolaryngology-Head and Neck Surgery
AAO-HNSF Clinical Practice Guideline: Rhinoplasty
Adult for Rhinoplasty Consultation Self-Assessment
Adult with Cutaneous Nasal Malignancy Self-Assessment
Adult with Lesion of External Ear Self-Assessment
All Flaps Are Not Free: Overview of Alternatives for the Reconstructive Surgeon (CME)
Cleft Lip and Palate: What Every ENT Should Know
Coding for Functional Procedures in Facial Plastics 2018: Part I and II (CME)
Current Trends in Computer-Aided Reconstruction
Diagnosis and Surgical Management of Nasal Valve Compromise
Facial Plastic Surgery Review Course: Part I and II
Frequent Problems and Practical Solutions in Rhinoplasty
Fundamental Principles and Pitfalls in Flap Management — 2018 Interview
Multidisciplinary Management of Facial Synkinesis (CME)
Practical Strategies for Evaluation and Management of Facial Nerve Injuries
Radical Parotidectomy Reconstruction: Part I and II
Reconstruction and Reanimation for the Spectrum of Parotidectomy Defects
Reconstruction of Partial Auricular Defects 2018
Reconstruction of Partial Nasal Defects 2018 (CME)
Reconstruction of Partial Nasal Defects 2018 (CME)
Reconstructive Showdown: 2018: Part I and II
Soft Tissue Engineering
Visit http://academyu.entnet.org/ for more information.
His practice is about 40 percent rhinoplasty, 30 percent aging face surgery (facelift, brow lift, and blepharoplasty), 20 percent hair restoration, and 10 percent divided between injectables, skin cancer reconstruction, and treatment of facial nerve disorders. He also started a skin care company, which offers medical grade skin care products that are used in the medical spas and sold online.
Dr. Ward's guiding principle for his practice and spas is centrally focused on the patient, which has helped these endeavors be successful in the medical spa and aesthetics arena.
"I think that the principles of compassion and commitment to patient arise from empathy. Looking back, some of the most poignant empathy lessons were learned in clinics that did not necessarily deal with plastic surgery issues or patients. For example, I learned a lot from observing my otology attending physicians consult with patients suffering from frustrating and incurable diseases, such as vertigo or tinnitus. Observing the compassionate care they provided in these challenging situations is just one example of how the importance of compassion was emphasized in my training, and why it is so important for me to incorporate it with every encounter with my patients."
Another area of vital importance to Dr. Ward is research. The field is inundated with new and exciting technologies that claim to improve results for patients. Without research, he said, the physician and patient have a difficult time making sense of all the marketing noise they encounter.
In assessing the field today and looking to the future, Dr. Ward shared what he believes to be some of the greatest opportunities and challenges that lie ahead for otolaryngology-head and neck surgery and facial plastic surgery.
"A huge challenge that facial plastic surgery and otolaryngology face is their relationship with each other. For many years, there has been contention between the specialties, which has been harmful to both groups. I think that working together more closely will help improve both specialties. Facial plastic surgeons need to be proud of their otolaryngology training and otolaryngologists need to be patient and understanding with their facial plastic surgery brothers and sisters who have different needs for their practices and patients."
Dr. Ward shared some ways in which the Academy can continue to address this challenge as an opportunity for future growth.
"The Academy can help by encouraging facial plastic surgery to be included in the field of otolaryngology and by accommodating the quirks and demands of facial plastic surgery." He encouraged the Annual Meeting schedule to consider the facial plastics elements (e.g., committee meetings and educational courses) in coordination with the AAFPRS fall meeting.
He also suggested that providing additional resources for facial plastic surgeons for practice management would be helpful to both facial plastic surgeons and otolaryngologists.
"In many ways, the aesthetics industry leads the medical industry in terms of practice management and marketing concerns. For example, social media is a huge part of most aesthetics marketing efforts and is now being more widely accepted and used by otolaryngologists.
"The Academy has done a great job of providing resources and educational materials for its members. I think that there are many facial plastic surgeons who are completely unaware of all the Academy has done to help promote facial plastic surgery. Efforts to help improve knowledge about the programs and resources that are available, combined with a close partnership with the AAFPRS, will help improve the impact of these resources further," said Dr. Ward.