Published:
August 29, 2017
---
Education Programming | What, Where, When, How: You Want It
During the last education Gaps and Needs Analysis Survey, we asked you, our members, to voice your opinions and to provide feedback on ways to improve the Foundation's education programming.
---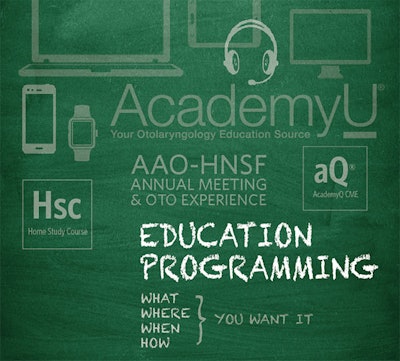 EDITOR'S NOTE:
This month we highlight our education programs as we approach our Annual Meeting. Our progenitor society was formed on a pillar of educational excellence, and we continue to strive to produce and disseminate only the best products to our members. This is made possible through the leadership of our Coordinator for Education, Richard V. Smith, MD, and a myriad of committed volunteers that populate our education committees working in conjunction with an extremely talented and dedicated staff led by Johnnie White. We will endeavor to provide our members with the content they want, when they want it, where they want it, and how they want it using 21st century technology.
— James C. Denneny III, MD
During the last education Gaps and Needs Analysis Survey, we asked you, our members, to voice your opinions and to provide feedback on ways to improve the Foundation's education programming. One question spurred more feedback than any other: "Which format best fits your learning preference?" The responses indicated our membership did not want the Foundation to pick one style and move forward but to embrace all of the various methods for learning. Here are all of the formats the Foundation currently offers.
Online courses
The Foundation launched the new AcademyU.org in 2015 to serve as the otolaryngology education source for our members. Housed on the site are a variety of online education activities.
The Home Study Course, one of the Foundation's most popular education products, brings you a compendium of select scientific articles, reference bibliography, self-assessment exam, and faculty symposia covering each of the eight otolaryngology specialty areas. The online format gives users the option of purchasing the full four section series or individual sections relating to your areas of interest.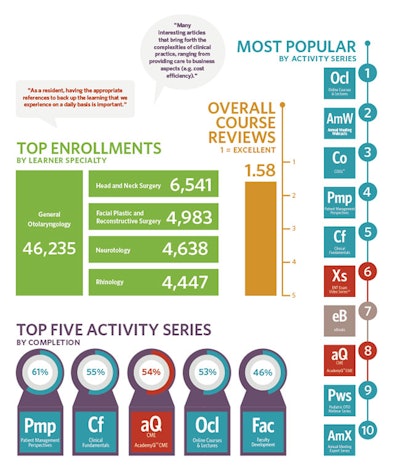 Patient Management Perspectives allows the learner to manage a patient, from presentation to discharge and follow-up, with an interactive question-and-answer self-assessment format.
Clinical Otolaryngology Online (COOL) is a series of interactive patient scenarios that prepare the learner for a variety of common otolaryngologic situations.
The Annual Meeting Webcasts give learners an effortless way to view recordings of the many great sessions and speakers that were presented at the Annual Meetings since 2014. Starting in 2017, attendees of the Annual Meeting receive access to all of the webcasts for free.
The Annual Meeting Expert Series includes video recordings of select Annual Meeting sessions presented by key leaders in the field. In addition to the video recordings, they have a special expert interview with the presenter conducted by Foundation education leaders.
The eCourses are self-paced learning activities that provide in-depth study of critical topics.
The ENTExam Video Series, available on YouTube, is a four-part series that depicts how to perform a thorough ENT exam.
Other online options include the ENT for the PA-C Conference Recordings, eBooks, Clinical Fundamentals, Faculty Development Courses, and the Pediatric OTO Webinar Series.
Print
Home Study Course is still available in print format with a full four-section subscription. Subscribers will receive packet materials in print format (compendium of articles, exam question booklet, and symposium booklet) in four installments.
The Academy has partnered with Thieme Publishers to provide print versions of Academy developed books. The Otolaryngology Lifelong Learning Manual (OLLM), Third Edition, is the AAO-HNSF's comprehensive guide for lifelong learning and for those taking certification and re-certification exams in otolaryngology-head and neck surgery. The book is divided into 10 sections, each representing a subspecialty within otolaryngology-head and neck surgery. OLLM is also available as an eBook.
Also available through Thieme is Geriatric Otolaryngology, which focuses on the unique challenges facing otolaryngologists and primary care physicians in managing ear, nose, and throat disorders in the elderly. Geriatric Otolaryngology is also available as an eBook.
App-based learning
AcademyQ Knowledge Assessment is now located in the OTO Central App. Enhance your knowledge of otolaryngology-head and neck surgery with 1,200 study questions to test your recall, interpretation, and problem-solving skills. You will read and analyze otolaryngology-specific questions developed by otolaryngology experts. Each module includes thorough rationales for each question, additional reading references, and appropriate images and videos to enhance the learning experience. You can highlight, take notes, and mark questions for future reference.
AcademyU Professional Development Podcasts just launched this new offering this year. Select interviews recorded for the Annual Meeting Expert Series have been converted to podcast format and uploaded into the OTO Central App. Each podcast is between 20-35 minutes and can be accessed on the go from your mobile device.
New AcademyU podcasts
The AcademyU Professional Development Podcast Series is available through the frequENTcy channel on the OTO Central App. Select interviews recorded for the Annual Meeting Expert Series have been converted to podcast format and made available to you via the app.
Each podcast is between 20-35 minutes and can be accessed on-the-go from your mobile device. Although new podcasts are released each month, previous ones are still available in the app. Subscribe and listen now!
Live
The AAO-HNS Annual Meeting & OTO Experience offers all-day, cutting-edge education programming and dynamic evening events. The meeting draws more than 5,500 otolaryngologists, medical experts, and health professionals from around the world.
The ENT for the PA-C Annual Conference is provided by the American Academy of Otolaryngology—Head and Neck Surgery and the Society of Physician Assistants in Otorhinolaryngology / Head & Neck Surgery (SPAO-HNS). This continuing medical education activity is specifically designed for physician assistants and other medical professionals working in ENT or those interested in learning more about otolaryngology in primary care, urgent care, pediatric, and emergency room settings.
The Simulation Experience takes place at the Annual Meeting. Otolaryngologists sample a range of simulation modalities (e.g., simple task trainers, high technology human manikins, biologic material, etc.)
The Simulation Showcase provides a forum for otolaryngologists to present simulators that they developed using a variety of technologies and physical materials. The forum supports exchange of ideas and opportunities to collaborate in validating the educational effectiveness of simulators. The first Sim Tank debuts during the AAO-HNSF 2017 Annual Meeting & OTO Experience, providing recognition to otolaryngologists who have developed exemplary simulators.
For more information on any of these products, please visit AcademyU.org and click on the corresponding Activity Series found under the AU Catalog tab.
Access your CME transcript now
To access your up-to-date CME transcript, please follow these steps:
Visit academyu.org and log in with your member ID and password.
Click the My Transcript tab at the top of the page.
Click the "Complete" tab.
Select either a specific year or you may choose "All."
Click on "Download my transcript" to save a PDF copy to your computer.
This transcript lists the continuing education activities for which you were awarded continuing medical education credit. Please use this as documentation for your CME licensing or certification needs.