Published:
March 30, 2017
---
Candidate Statements | President-Elect | Eben L. Rosenthal, MD
Diseases that confront otolaryngologist-head and neck surgeons cross ethnic, geographical, religious, or political boundaries and so does our membership.
---
Q: In keeping with our vision statement "Empowering otolaryngologist-head and neck surgeons to deliver the best patient care," how would you engage the membership and our leaders in raising their consciousness in respect to the effect of cultural competence on improved patient outcomes? How do you see us strengthening our partnerships with industry without usurping our integrity?
Eben L. Rosenthal, MD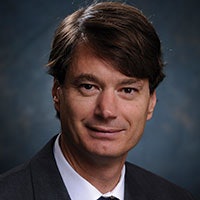 Diseases that confront otolaryngologist-head and neck surgeons cross ethnic, geographical, religious, or political boundaries and so does our membership. This was foremost on my mind as coordinator of the Scientific Program for the Foundation when I helped lead the restructuring of the Annual Meeting, which required a careful understanding of the different content demands, delivery formats, and learning styles of our membership.
For the Academy to impact patient care, we must consider cultural competence to include the broad range of our membership, each with its own unique perspective: academic or private, rural or urban, and generalist or specialist. Even more important, understanding advocacy needs of membership in solo, multispecialty, academic, hospital-employed, or independent practice environments will be a major challenge facing Academy leadership in the years to come.
If elected, I would work hard to embrace our diversity and different practice settings so that I can effectively serve all our members. Recognizing the diversity of our membership will be important to develop broadly applicable quality metrics that are meaningful, defend scope of practice, and buffer external pressures that confront our specialty. Collaboratively with our sister societies, the Academy should define "best patient care" and demonstrate the high quality of care that otolaryngologists are uniquely trained to provide. My leadership experience as medical director of the Stanford Cancer Center and chief of otolaryngology at University of Alabama at Birmingham have taught me that cultural differences generate organizational strength because it forces constant dialogue to achieve consensus. The AAO-HNS/F is strengthened by the cultural, gender, ethnic, and religious diversity of its leadership and membership allowing for a more unified and impactful voice.
One of my favorite authors said, "To give real service you must add something which cannot be bought or measured with money, and that is sincerity and integrity." AAO-HNS/F integrity demands current disclosures from members and leadership as well as transparency of our Academy's relationship to industry. My years of experience in developing imaging agents and devices for surgical imaging have taught me that successful bi-directional industry partnerships are necessary for bringing innovation to our patients. It is the physician who can educate industry on the clinical need, and industry that is in the best position to scale new technologies to the marketplace and then provide technical education to the end-user. However, to maintain trust during industry interactions, it is necessary to use established, transparent processes with independent oversight.
Industry partnerships under the proper conditions facilitate education, innovation, and improve patient care. Practicing otolaryngologists need educational opportunities to understand the rapid advances in implant, device, imaging, and software technology. Because members are seeking "hands on" experience or formalized training with these new products, the AAO-HNS/F should be one of the organizations that facilitate bringing members and industry together. To maintain integrity, it is imperative that the entire process is conducted in a balanced and transparent manner to facilitate trust with membership and industry alike.