Published:
March 30, 2017
---
Ninth annual mission provides otolaryngology services in Honduras
Hospital Loma de Luz is a 50-bed mission hospital with three operating rooms, an emergency department, outpatient clinics, pharmacy, and laboratory located on the north coast of Honduras, in Balfate, Colon.
---
Benjamin J. Rubinstein, MD
---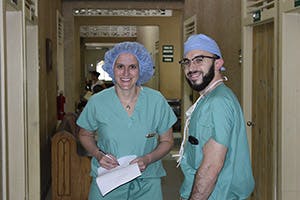 Brittany Weber, MD, and Ben Rubinstein, MD, prepare postoperative orders at Loma de Luz after performing a thyroidectomy.Hospital Loma de Luz is a 50-bed mission hospital with three operating rooms, an emergency department, outpatient clinics, pharmacy, and laboratory located on the north coast of Honduras, in Balfate, Colon. The hospital is staffed by Christian missionary physicians, surgeons, and support staff who improve not only the health, but the overall quality of life, of the community by providing child care, education, community outreach, employment opportunities, and counseling services. The hospital is well-staffed with local citizens of this rural farming community, which would otherwise have very limited access to medical and surgical care.
The hospital serves as a referral resource to regional doctors and hospitals for complex medical and surgical cases. Jeff McKenney, MD, founder and surgeon, has graciously welcomed us to support the ministry of Hospital Loma de Luz for the past nine years.
In October 2016, a team from Eastern Virginia Medical School (EVMS) visited Loma de Luz for our ninth annual mission. Led by John T. Sinacori, MD, and Stephanie Moody Antonio, MD, we continued the tradition of providing otolaryngology services to the Loma de Luz community. The team also included two EVMS residents, Brittany C. Weber, MD, chief and me, Ben Rubinstein, MD; an anesthesiologist, Matt Cecchini, MD; a CRNA, Ted Schweikert; and a scrub technician, Dawn Warren.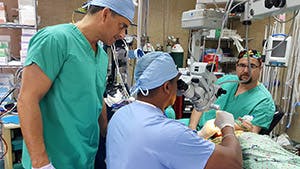 We saw 72 outpatients and performed 23 surgeries. With a proprietary iPad-based audiometer on loan from Shoebox Audiometry, we conducted screening audiograms for patients. We had the honor and pleasure of working with a practicing Honduran otolaryngologist, Dr. Mauricio Loredo.
Dr. Loredo is a humble and talented physician who has dreams of developing a center for excellence in Honduras, a country with only one residency program and no otolaryngology fellowship training opportunities. During the week, he worked very closely with us, assisting in the clinic and surgery, observing tympanoplasty techniques new to him, and providing critical guidance on resources in the Honduran medical system. Through our partnership with Dr. Loredo and other Honduran physicians, we hope that onsite and long-distance interactions will enhance the impact of our brief time. We are grateful that Drs. McKenney, Isaac, Loredo, and others at Loma de Luz will be available to manage the postoperative needs of the patients we treated.
The Honduras mission has evolved considerably over the past three years. We coordinate closely with the team from the University of Washington, Seattle, who go to Loma de Luz each spring. Twice annual visits, team coordination, and ongoing interaction with the doctors in Honduras allow for continuity of care, a critical factor in improving health in the third world. Each team coordinates follow-up appointments as well as a few proposed surgeries well in advance. Combined, our teams now feature surgeons spanning every subspecialty of otolaryngology. Surgical cases are triaged for specialists, such as chronic ear, pediatric, and complex thyroidectomy, while general ENT cases are covered in abundance.
The spring mission, led by Kaalan E. Johnson, MD, at UW Seattle took place March 27, 2017. This will be the 10th annual EVMS trip, where we share our love for this mission work with colleagues.
As always, we are forever indebted to Dr. McKenney and the entire medical staff of Loma de Luz for their ongoing support and partnership. More information can be found on their website at http://www.crstone.org/. Thanks to the AAO-HNSF Humanitarian Efforts Committee, the Virginia chapter of the American College of Surgeons, Alcon, Eastern Virginia Medical School, Children's Hospital of the King's Daughters, Sentara Norfolk General Hospital, Shoebox Audiometry, and AmeriCares.