Published:
December 10, 2015
---
Annual Report 2015: Member Engagement & Unity
YOU SPOKE. WE LISTENED: MEMBER ENGAGEMENT & UNITY The American Academy of Otolaryngology—Head and Neck Surgery is the premier organization for specialists who treat the ear, nose, throat, and related structures of the head and neck.
---
YOU SPOKE. WE LISTENED: MEMBER ENGAGEMENT & UNITY

The American Academy of Otolaryngology—Head and Neck Surgery is the premier organization for specialists who treat the ear, nose, throat, and related structures of the head and neck.
We lead and encourage change that benefits the specialty and patients all over the world. Our ongoing education opportunities, networking events, publications, and advocacy and practice management resources help Members build their skills and advance their careers.
With 11,988 Members supporting AAO-HNS's mission, the largest membership categories include those who are certified by a specialty board who are listed as Fellows (70 percent), physician Members who are not board certified (15 percent), and residents (12 percent). Affiliates, Scientific Fellows and Associates comprise the remaining three percent of Members. Eight percent of the membership base practices outside the United States. AAO-HNS physician Members are represented from residency to retirement.
MEMBERSHIP
Retained

: Membership remained strong in 2015 with a retention rate of 94 percent. With a membership of 11,988 as of the October 1, 2015 census, the Academy's membership is steady.

Added

: Since January 1, the Academy has added 467 new Members to its rolls and 103 former Members who reinstated their membership.
BOG
Updated

: To facilitate its grassroots outreach, the Board of Governors (BOG) updated its committee charges, online resources, bylaws, and society application process.
SECTIONS
Convened

: The Young Physicians Section (YPS) conducted its inaugural General Assembly meeting on Tuesday, September 29.

Engaged

: The Section for Residents and Fellows-in-Training (SRF) updated its bylaws and reworked the format of its General Assembly meeting to be more engaging and include practical content of interest to section Members.

Mentored

: The Women in Otolaryngology (WIO) Section launched its inaugural mentoring/leadership pilot program to assist in the development of future Academy leaders.
INTERNATIONAL
Fostered

: The AAO-HNSF International Task Force has been developing a strategic plan to foster a global otolaryngology community to promote the highest standards in clinical care through education, research, communication, and collaboration.

Hosted

: The 2015 AAO-HNSF Annual Meeting & OTO EXPOSM welcomed the International Guests of Honor from Czech Republic, Panama, Slovakia, Taiwan, and Tanzania and all its International attendees from more than 89 countries to the ever-popular International Reception.
---
MEMBER NETWORKS
The Member networks help practitioners to share day-to-day issues with each other and the AAO-HNS/F. They bring you to the Academy and the Academy to you.
BOARD OF GOVERNORS (BOG)
During this year's BOG General Assembly meeting held during the AAO-HNSF Annual Meeting & OTO EXPOSM, David R. Edelstein, MD, assumed the role of BOG Chair, and Wendy B. Stern, MD, became Immediate Past Chair. Stacey L. Ishman, MD, MPH, was elected BOG Chair-Elect and Ken Yanagisawa, MD, was elected BOG Secretary. On October 1, the 2015 BOG award recipients were also recognized during the BOG General Assembly:
Model Society Award: Pennsylvania Academy of Otolaryngology–Head & Neck Surgery
Model Society Honorable Mention Award: Connecticut Ear, Nose & Throat Society
BOG Practitioner Excellence Award: Robert J. Stachler, MD
The BOG Governance & Society Engagement Committee, formerly the Rules and Regulations Committee, updated its committee charge and name to better reflect its outreach activities. The American Society of Geriatric Otolaryngology (ASGO) applied to become part of the BOG and was approved by the BOG Executive Committee.
The BOG Legislative Affairs Committee created two new task forces – one focusing on ENT PAC participation and the second concentrating on legislative grassroots engagement. These task forces convene via conference call on a quarterly basis and are working with AAO-HNS staff to enhance various advocacy opportunities.
The BOG Socioeconomic & Grassroots (SEGR) Committee concentrated on developing BOG society polls that are more facile and focused. The first survey topic was regarding alternative payment models, with a second poll on the implementation of the Affordable Care Act (ACA), released in November 2015. The Committee clarified the topics of coverage for the Committee: (1) Insurance, (2) Practice Management, and (3) Public Relations Efforts. In addition, a tool kit is now available on ENTConnect.org for BOG Regional Representatives with contact information, a regional map, job descriptions, and an updated committee charge.
AAO-HNS/F 2015 Leadership Forum: The AAO-HNS/F 2015 Leadership Forum & BOG Spring Meeting was also a success, with nearly 140 attendees, 30 of which were Residents and Fellows-in-Training. The three-day event included the following BOG programming: a new mentorship/leadership program; committee meetings; General Assembly with presidential candidate speeches; Congressional and other guest speakers on key healthcare topics; and 8.4 CME credits.
What's Next?: In addition to collaborative planning for the AAO-HNS/F 2016 Leadership Forum & BOG Spring Meeting, the BOG will be working on PROJECT 535, Societies Connected, virtual communities, recruiting volunteers for various advocacy initiatives, streamlining the collaboration between the BOG and 3P, and strengthening communication via the SEGR Regional Representatives.
SECTION FOR RESIDENTS AND FELLOWS-IN-TRAINING (SRF)
Growth and Visibility: The SRF and its Governing Council (GC) leaders aimed to increase the number and visibility of their Members at specialty society meetings and established new liaisons to the American Society of Pediatric Otolaryngology (ASPO), the American Laryngology Association (ALA), and the American Academy of Otolaryngic Allergy (AAOA). In addition, the SRF continues to increase its presence in the Society of University Otolaryngologists-Head & Neck Surgeons (SUO).
Connecting: The annual 2015 SRF survey was completed with more than 450 responses. Communicating via Facebook and ENTConnect has resulted in increased dialogue. Expansion of the SRF's presence on ENTConnect, as well as promotion of mENTorConnect, will be a priority moving forward.
Leadership: With 30 SRF Members in attendance, the Section was well-represented at the AAO-HNS/F 2015 Leadership Forum. SRF leaders are working to increase member participation in the Millennium Society and ENT PAC.
WOMEN IN OTOLARYNGOLOGY (WIO)
Communication: Over the past year, the WIO Section concentrated on improving its Member communications through website updates, ENTConnect, the Bulletin, quarterly eNewsletters and social media.
Mentorship: The Section launched its first women's mentoring program at the AAO-HNS/F 2015 Leadership Forum. The WIO leaders hope to expand this pilot program in the coming year(s).
Outreach: The Section began exploratory meetings to establish a subgroup of liaisons to connect with women's groups in other otolaryngology societies. Section leaders are also committed to increasing the number of female physician speakers on panel presentations at meetings.
YOUNG PHYSICIANS SECTION (YPS)
Firsts: The newest Section of the AAO-HNS, the YPS, held its first Section General Assembly meeting at the AAO-HNSF 2015 Annual Meeting & OTO EXPOSM in Dallas and also launched its first quarterly eNewsletter.
Engagement and Representation: The YPS Section worked with the Program Advisory Committee to coordinate more than 175 YPS Members presenting during Annual Meeting. Leaders also worked with Otolaryngology–Head and Neck Surgery to continue its "Reflections" section and to submit to a Young Physicians-focused issue. Relationships were strengthened with the AMA –YPS and the Education Innovation Advisory Group.
Mentorship: The Section coordinated with the Board of Governors (BOG) for a mentoring program at the AAO-HNS/F 2015 Leadership Forum and worked with SRF, WIO, and the BOG on the roll-out of an Academy-wide Mentorship Program – mENTorConnect.
HUMANITARIAN EFFORTS
Every year, the Academy's Foundation helps realize the ambitions of our Members who strive to make the world a better, healthier place.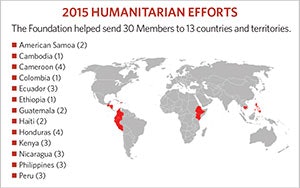 Through the Humanitarian Travel Grant program, the AAO-HNSF offers financial support to SRF participants in humanitarian missions that deliver care to those who need it most. Funding is available for initiatives both in the U.S. and abroad.
In 2015, the Foundation helped send a total of 30 Members to as many as 13 developing countries and territories.
The Foundation also recognized two exceptional Members for their enduring commitment to humanitarian work. Susan R. Cordes, MD, was selected for the 2015 Arnold P. Gold Foundation Humanism in Medicine Award, in recognition of her profound empathy and sensitivity when caring for patients. In addition, this year's AAO-HNSF Distinguished Award for Humanitarian Service was conferred on H. Dennis Snyder, MD, a Member whose career has brought care to patients in countries as geographically diverse as Rwanda and the Philippines.
INTERNATIONAL AFFAIRS
Serving 1,000 Members abroad and sustaining partnerships with 57 international otolaryngology organizations, known as International Corresponding Societies (ICS), the Academy and its Foundation have long worked to foster a global community. In 2015, an enhanced emphasis on global relations has developed with the creation of an AAO-HNSF International Task Force, a body charged with making the Academy a greater asset to our colleagues, members, and friends around the world by enhancing the value of the ICS network, international membership, and global participation at the AAO-HNSF Annual Meeting & OTO EXPOSM. The International Task Force Members include: Carol R. Bradford, MD; James C. Denneny III, MD; Soha Ghossaini, MD; KJ Lee, MD; Eugene Myers, MD; Gregory W. Randolph, MD; James Saunders, MD; Michael N. Stewart, MD; Pablo Stolovitzky, MD; Gayle E. Woodson, MD; and Mark Zafereo Jr., MD.