Published:
December 10, 2015
---
Annual Report 2015: Advocacy
YOU SPOKE. WE LISTENED: LEGISLATIVE & REGULATORY ADVOCACY This year, the physician community had reason to celebrate. You asked for enhanced legislative outreach efforts to policymakers, for increased recognition of the specialty, for refined grassroots activities, and for political program involvement.
---
YOU SPOKE. WE LISTENED: LEGISLATIVE & REGULATORY ADVOCACY
This year, the physician community had reason to celebrate. You asked for enhanced legislative outreach efforts to policymakers, for increased recognition of the specialty, for refined grassroots activities, and for political program involvement.
And, you asked for relevant and validated quality and cost measures and guidance on payer quality initiatives; integrated health policy-specific priorities, using input from the Physician Payment Policy (3P) Workgroup, and to maintain our visibility and credibility with national representatives regarding socioeconomic and federal regulatory issues. We Listened and acted on these accomplishments:
LEGISLATIVE: FEDERAL ACTIVITY
Advocated for passage of the Medicare Access & CHIP Reauthorization Act (MACRA) – permanently repealing the flawed SGR physician payment formula.
Spearheaded a coalition letter signed by more than 120 health-related organizations in opposition to legislation granting audiologists "limited license physician" status under Medicare.
Took a leadership role in building support for legislation (H.R. 1344) to reauthorize the Early Hearing Detection and Intervention (EHDI) program for an additional five years.
Worked with Congress to rescind a proposed CMS policy to transition all 10-and 90-day global payment codes to 0-day codes.
GRASSROOTS AND STATE TRACKERS
Facilitated more than 1,500 grassroots messages to legislators by our advocates, supplementing nearly 25 local In-District Grassroots (I-GO) visits.
Launched PROJECT 535 to identify "key contacts" for each Senate and House Congressional seat.
Completed Phase Two of the State Trackers program – connecting advocates with their local and state medical societies to ensure effective collaboration and coordination.
ENT PAC
Heightened the specialty's visibility with federal lawmakers via attendance at more than 100 political events in 2015.
Provided ENT PAC donors with access to resources and political updates via a new ENT PAC Investor Community on ENTConnect and e-newsletter, the ENT PAC Pulse.
REGULATORY
Advocated for CMS's continued coverage for osseointegrated implants by insuring that they remain classified as prosthetic devices and left the door open for CMS to consider coverage for non-osseointegrated implants.
Met with CMS regarding Alternate Payment Models (APMs).
Offered two comment letters to CMS regarding the proposed Meaningful Use Stage 3 rule and the modified Stage 2 rule with emphasis placed on the need for interoperability, flexibility, continuation of 90-day reporting periods, and a delay of Stage 3.
Summarized CY2016 Medicare Physician Fee Schedule proposed rule payment and quality policies drafted and disseminated to members.
PRIVATE PAYER
Developed a process for prioritization of payer requests (See new 3P webpage: www.entnet.org/content/3p-you)
Collaborated with United Healthcare to maintain coverage of balloon sinus ostial dilation (BSOD).
Conducted four meeting/conference calls with private payers: UHC Premium Designation Program, UHC collaboration on APMs, Anthem on transparency in their policy review process and myringotomy and tympanostomy tube policy, and Superior Health about their allergy policy in collaboration with AAOA.
Reviewed three medical payer policies and provided feedback on the following topics: rhinoplasty, allergy immunotherapy, myringotomy, and tympanostomy tubes.
CODING/REIMBURSEMENT
Reviewed 24 CPT codes through CPT code change proposals or RUC surveyed from March – October 2015.
Developed two new Position Statements, updated a Position Statement; and Committees updated eight Clinical Indicators.
THE LEGISLATIVE ADVOCACY TEAM WOULD LIKE TO THANK
All the Members who contacted their federal legislators to support SGR repeal; these efforts in December 2014 led to the victory in 2015.
THE HEALTH POLICY TEAM WOULD LIKE TO THANK
3P and Ad Hoc Payment Workgroup and other physican leaders who provided valuable input on Academy policy and MACRA implementation.
---
SGR REPEAL BECOMES A REALITY: ADVOCACY'S LEGISLATIVE & REGULATORY ROLE
This year, the physician community had reason to celebrate.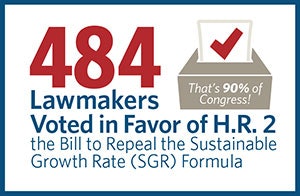 On April 16, President Obama signed into law H.R. 2, the Medicare Access and CHIP Reauthorization Act of 2015 (MACRA), a bipartisan bill that garnered a remarkable 484 votes in the U.S. House of Representatives and U.S. Senate. In one swoop, MACRA—perhaps the most critical piece of health-related legislation since the Affordable Care Act—delivered several legislative victories.
Most notable are provisions to permanently repeal the flawed Sustainable Growth Rate (SGR) formula used to determine payments to physicians under Medicare. A long-time legislative priority for the AAO-HNS and others in the physician community, the repeal effort took more than 14 years and 17 short-term payment "patches" to arrive at the policy agreements ultimately included in MACRA.
OTHER "VICTORIES" INCLUDED:
Consolidation of three incentive programs (Physician Quality Reporting System, Value-Based Modifier, and Meaningful Use Electronic Health Records) into a Merit-Based Incentive Payment System (MIPS) program to help set performance thresholds and offer flexibility for specialties in achieving reporting requirements for bonus payments
Rescission of a proposed CMS policy to transition all 10- and 90-day global payment codes to 0-day codes
A "period of stability" with a .5 percent increase in physician payments for five years
A five percent added incentive payment for physicians in new Alternative Payment Modes (APMs)
Increased funding for technical assistance to practices of 15 or few professionals
Creation of a technical advisory committee to review and recommend physician-developed APMs via an open comment process
Is MACRA's replacement payment policy perfect? No. There's no such thing as perfect legislation, and MACRA isn't an exception. It is, however, a starting point, especially in the current legislative and political climate in Washington, DC. Now that the SGR formula has finally been repealed, and the framework for new and innovative payment mechanisms is in place, the goal of the AAO-HNS is to work toward improving upon the foundation set forth in the law.
IMPLEMENTING MACRA
As noted, the core MACRA programs are the Merit-Based Incentive Payment System (MIPS) and Alternative Payment Models (APMs). Traditional fee schedule updates will continue at 0.5 percent per year until 2019 when the MIPS program takes effect. Thereafter, MIPS will give physicians a composite score, which will be compared to a performance threshold. In addition, participation in MACRA-defined APMs will allow qualifying participants to be eligible to receive a five percent incentive payment starting in 2019 and be exempt from MIPS.
As this transition unfolds, your Academy leaders and staff have been monitoring and advocating to ensure otolaryngologist–head and neck surgeons will not be left behind as the payment system continues to evolve. As CMS continues interpreting the changes legislated by MACRA, the AAO-HNS has maintained an active leadership role by:
Attending key specialty society meetings
Commenting on related agency-issued rules
Participating in coalition building measures (e.g., letters to policymakers)
Utilizing our physician leaders to provide expert clinical input to CMS
Closely monitoring the Health Care Payment and Learning Action Network (HCPLAN)
Developing a specialty-specific registry to enable otolaryngologist–head and neck surgeons to successfully participate in MIPS
Additionally, the Academy continues to maintain an open dialogue with CMS through in-person meetings, participation in the comment process, and consistent involvement in related outreach activities. As a result of this relationship-building process, in May 2015, Academy leaders and staff met with representatives from CMS to discuss the Academy's ongoing efforts to improve quality and reduce costs, and increase otolaryngologist-head and neck surgeons' APM participation opportunities.
In 2016, the Academy will continue to collaborate with CMS to advocate for the following program specifications:
MIPS
Opportunities to receive technical assistance to help otolaryngologist-head and neck surgeons to effectively participate in MIPS and APMs.
Qualified Clinical Data Registry (QCDR) participation as a basis for physicians to meet all four MIPS categories (Quality, EHR, Use of Resources, Clinical Practice Improvement activities).
Clinically meaningful measures that are reflective of the specialty care that otolaryngologist–head and neck surgeons provide.
APMs
Simple instructions for individual physicians and small practices looking to participate in APMs.
Guidance, technical resources, and funding for the development of meaningful APMs that allow participation of otolaryngologist-head and neck surgeons.
---
YOU SPOKE. WE LISTENED: INTEGRATED LEGISLATIVE ADVOCACY APPROACH
The AAO-HNS' multifaceted approach to legislative and political advocacy helps ensure our voice is not only heard, but taken seriously. Each of our programs plays an essential role in shaping healthcare policy on Capitol Hill and across the nation. Our success stems from continuously building the right relationships.
AAO-HNS Congressional Affairs staff regularly conducts meetings with Members of Congress and their staffs to advance the specialty's legislative priorities. These efforts are bolstered by ENT PAC and our participation with numerous coalitions. For example, ENT PAC enables the AAO-HNS to host and/or participate in political events for pro-otolaryngology candidates and incumbents. And, our credibility is often strengthened by joining forces with entities like the Surgical Coalition.
Meetings on Capitol Hill are not the only way to connect with policymakers, which is why the Academy has four key grassroots initiatives. The ENT Advocacy Network, In-district Grassroots Outreach (I-GO), State Trackers, and the newly-created PROJECT 535 are designed to drive our messages "home" with legislators across the nation.
The ENT Advocacy Network, which includes more than 1,900 AAO-HNS Members, provides resources to help our advocates stay current on legislative and political issues via The ENT Advocate and other timely communications.
The I-GO program enables Academy Members to conduct in-district meetings, whether in the physician's office, hospital setting, or at a lawmaker's district office, to raise awareness on key issues impacting the specialty.
The State Trackers program, utilizing local volunteers, helps identify legislation in the states that will potentially impact the specialty, our Members, and/or patients.
The new PROJECT 535 initiative amplifies our voice on Capitol Hill via a "grasstops" database of voting physicians willing to act when the specialty must collectively advocate on national issues.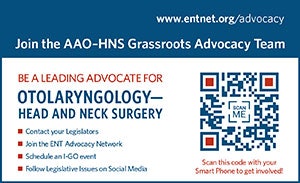 The AAO-HNS extends sincere appreciation to all grassroots volunteers who help make key priorities become legislative realities. Your participation was and will continue to be vital. We encourage all Members to get involved with at least one of the Academy's legislative and political advocacy efforts.
Contact govtaffairs@entnet.org for more information or to sign up!
WHAT'S NEXT IN LEGISLATIVE ADVOCACY
The AAO-HNS Legislative Advocacy staff, in collaboration with our various Member volunteers, are preparing for the 2016 state legislative sessions and the second session of the 114th Congress. Key priorities for 2016 include, but are not limited to: continued Congressional dialogue regarding MACRA; broadening support for truth-in-adverstising legislation; countering attemps by the audiology community and other non-physician groups to inappropriately expand their scope of practice; and efforts to delay implementaion of Stage 3 Meaningful Use.
With another busy year ahead, AAO-HNS Members are reminded that our efforts on Capitol Hill are amplified by the strength of ENT PAC, the Academy's bipartisan, issue-driven political action committee. Together, we can make a difference!
---
REGULATORY ADVOCACY INFLUENCED AGENCY & PAYER ISSUES AS YOU REQUESTED
The Academy's Physician Payment Policy (3P) Workgroup works hard for you, constantly considering the ideal solution to the myriad of issues facing otolaryngology practices today. 3P works to create and guide Academy documents; revise existing codes that simply have fallen out of date; and help further the field by facilitating the reimbursement of important, new procedures that allow physicians to offer the highest standard of patient care.
3P AND YOU: CPT AND RUC ACCOMPLISHMENTS
The Academy's Physician Payment Policy (3P) workgroup, including the Academy's CPT and RUC teams, coordinates with other Academy committees, subspecialties, and medical specialty societies on CPT and RUC related efforts. This coordination and collaboration is critical to success. During the January 2015 AMA RUC meeting:
The Academy's CPT and RUC teams worked with laryngology leaders from the Airway and Swallowing Committee, Voice Committee, the American Laryngological Association (ALA), and American Broncho-Esophagological Association (ABEA) to develop a new code proposal for the laryngpolasty family of codes presented at the October AMA CPT Editorial Panel (the Panel). The new codes were approved by the Panel and RUC surveyed for presentation at the January 2016 AMA RUC meeting.
The Academy RUC surveyed and presented revisions to the Videonystagmography (VNG) family of codes along with the American Speech-Language-Hearing Association (ASHA), American Academy of Audiology (AAA), and American Academy of Neurology (AAN). This includes two new codes for 2016 for monothermal and bithermal vestibular testing.
At the January 2015 AMA CPT meeting, the Academy and The Triological Society (TRIO) presented a code proposal requesting two new Category I codes for the insertion of drug eluting stents. The Panel declined this application and elected to create two Category III codes, stating that it did not feel sufficient literature was available in the office setting to support Category I codes at the time.
At the May 2015 AMA CPT meeting, the Academy and TRIO, presented revised flexible laryngoscopy codes (6 new and 3 revised) to the Panel. Similar to the laryngoplasty code changes, 3P, the Academy's CPT, and RUC teams worked with the Academy's laryngology leaders and subspecialty societies, to develop the code proposals. The Panel approved the proposals and the codes were RUC surveyed for the October 2015 AMA RUC meeting.
The Health Policy team tracks and summarizes policies and proposals that impact the specialty in order to provide feedback to private payers. This includes collaboration with third party payers to ensure fair reimbursement for ENT procedures as well as the creation of position statements, template appeal letters, and advocacy statements to help practices receive payment instead of denials from private payers.
3P and HEALTH POLICY: PRIVATE PAYER ADVOCACY EFFORTS
The Academy's Health Policy team working through 3P achieves significant wins on national payer issues:
The largest Medicaid provider in Texas Superior Health proposed a credentialing program for physicians providing allergy testing and services, which excluded otolaryngologists as appropriate specialists to perform such services. Concerned about the potential impact and that the program may be adopted by other states, the Health Policy Team worked with the Allergy Committee to submit comments to Superior on the flawed policy. The Academy hosted an in person meeting with Superior medical directors and the AAOA which, after successful discussions, resulted in Superior changing its policy to auto-credential all board-certified and board-eligible otolaryngologists to perform allergy services.
Anthem, the largest for-profit managed health care company in the Blue Cross and Blue Shield Association responded positively to the Academy's request for improved communication on incorporating Academy clinical committee expert feedback into Anthem medical policies. The improved line of communication was subsequently reflected in the Myringotomy and Tympanostomy Tubes policy when Anthem reconsidered comments from 3P leaders, the Pediatric Otolaryngology Committee, and the Hearing Committee and ultimately incorporated all feedback into a new release of its policy, effective August 10, 2015.
After years of fostering a good relationship with United Healthcare (UHC) national medical directors, 3P and the Health Policy team continued its private payer advocacy role with UHC. In early spring, UHC reached out to the Academy requesting input for its draft balloon sinus ostial dilation medical policy. The Academy's Rhinology Paranasal Sinus Committee and 3P leaders reviewed the draft. As part of an ongoing collaborative effort, UHC held a conference call with our physician leaders and experts in rhinology, to discuss the proposed policy. After a detailed discussion about the benefits of balloon sinus ostial dilation as an alternative to endoscopic sinus surgery, UHC made a decision to cover the procedure and put a new policy into effect.
In addition, UHC accepted another policy revision based on dialogue with Academy physician leaders: They will no longer require radiologic imaging as part of their documentation requirements for coverage of rhinoplasty and other nasal surgeries policy. Dr. Mureen Allen, UHC Medical Director, also met with Academy leaders and staff to discuss our concerns with the Premium Designation Program. UHC will seek expert opinion from otolaryngology experts for consideration in future versions of the program.