Published:
October 7, 2021
---
Spotlight: Humanitarian Efforts | Ryan H. Belcher, MD, MPH
Pediatric Otolaryngologist, Ryan H. Belcher, MD, MPH, shares his experience in humanitarian outreach.
---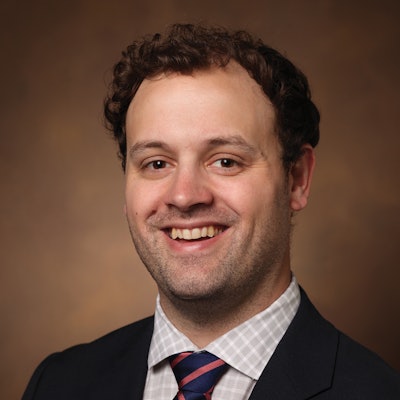 Where do you currently practice and what is your specialty area?
I currently work at the Monroe Carell Jr. Children's Hospital at Vanderbilt University in Nashville, Tennessee, as a pediatric otolaryngologist. My clinical interests are pediatric thyroid, head and neck mass, global health, cleft lip and palate, and craniofacial disorders. I am on the Vanderbilt Cleft and Craniofacial Team as well as the pediatric ENT surgical director of the Vanderbilt Pediatric Thyroid Nodule and Cancer Program. I also just completed my Master's in Public Health with an emphasis on global health at Vanderbilt University.
What humanitarian mission or organization are you involved with?
There are multiple organizations that all play a role in my involvement with humanitarian outreach and advancing the specialty.
I had a unique opportunity as a resident at Emory University to participate in a year-long global health curriculum that culminates in a month-long rotation with Addis Ababa University (AAU) in Addis Ababa, Ethiopia. I spent the entire month of March 2018 integrated into the AAU Otolaryngology Program at Black Lion Hospital. This opened my eyes to the wonderful humanitarian and educational work that AAO-HNS members Miriam I. Redleaf, MD, and Glenn C. Isaacson, MD, had been doing in Ethiopia for many years. I have since gone back to Addis Ababa with Dr. Isaacson to work at the CURE International Children's Hospital where we have continued the surgical and clinical teaching for the Ethiopian otolaryngology residents. We've hosted suture lessons using goats, temporal bone dissection courses, and audiology lectures, among other education activities. I still am in contact with many of the residents (who have now become staff); we keep open communication for clinical questions and requests they may have for education materials.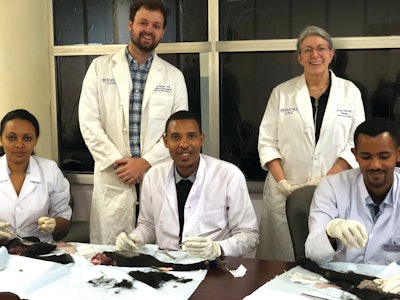 Most recently, I have been working with World Medical Mission (WMM). WMM supports long-term and short-term global surgery endeavors, and most of my work has been on the short-term side. While WMM has many humanitarian projects, our work with WMM is based at the CURE International Hospital in Kijabe, Kenya. This humanitarian trip focuses on cleft lip and palate and craniofacial surgeries for children. This is not a "fly-in, fly-out" surgery situation as we partner with the Cleft Team at AIC Kijabe Hospital, under the leadership of David D. Nolen, MD, for complex patients and continuity of care. We also partner with Nairobi residents for surgical education during the week as well. Dr. Nolen and I have developed a telehealth program for the Kijabe cleft patients that we are piloting soon.
During the past year, as international travel has been halted, I have worked with The Addis Clinic, which is a nonprofit telehealth organization. This program is designed for international clinicians to submit clinical questions and issues concerning pediatric otolaryngology, or other surgical specialties. I answer them electronically on an asynchronous timeline. It is essentially an e-consultation service that any clinician can sign up for.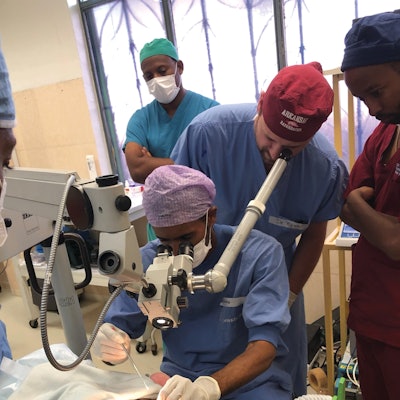 What got you started in committing your time and practice to humanitarian efforts?
I originally went on a medical mission trip with my church when I was in medical school. This spurred my passion for humanitarian efforts. I was instantly aware that this first medical mission trip was helpful in some short-term ways but was not sustaining for the local population or for the local healthcare professionals. When I was a second year resident I knew a long-term otolaryngology missionary, Gregg W. Schmedes, MD, based in Cameroon, Africa, so I spent a week with him. It was there that I started to really understand the global surgery world and what it looked like to train local medical personnel; invest in the community, people, and resources; and concentrate your humanitarian efforts for a long-lasting impact. This invigorated my soul, and I knew that I wanted to make global humanitarian efforts a part of my career. In the following years of residency at Emory, I had role models in Merry E. Sebelik, MD, and Steve L. Goudy, MD, MBA, who were great examples of how this could be shaped into my career. As a third year resident, I spent a week in the Philippines with Dr. Goudy on a cleft lip and palate surgical trip. Dr. Sebelik and I traveled to Ethiopia for two weeks with Emory's Global Health Scholars Program. Getting started in global health is one endeavor, but the relationships I have been able to make along my journey have been a huge part of the continued practice. My role models in this field have encouraged me and supported me. Here at Vanderbilt, I have been fortunate to have Dr. Ron Eavey and Dr. Jim Netterville who have set great examples for me and mentored me. Vanderbilt has been a wonderful place to continue with humanitarian efforts with the relationship of our Department of Otolaryngology - Head and Neck Surgery with the Vanderbilt Institute of Global Health.
How does your work impact both you and the communities you serve?
I make it a point that where I do my work and the communities that I serve know that I want to be connected for life and have open communication through technology. I use WhatsApp, email, or any available technology to continue with conversations that were stimulated during our time in their community. This means still communicating with residents and consultants on surgical advice, providing education resources and even bringing requested supplies and equipment on our next humanitarian trip to ensure the local physicians/surgeons can continue to operate. I believe and hope the advancement of knowledge and the experience that is able to be conferred to these communities will echo for decades as they pass on their experience to the next generations. The eventual and hopeful goal of these humanitarian efforts is that they are no longer needed—that the communities and health systems can sustain themselves, patients are able to get the care that they need, and high-quality surgery can be performed. 
The impact my humanitarian efforts has on me has been the hardest question to answer. Not because I don't have an answer, but mostly because words will fall short detailing the full impact. More often than not, when I leave a humanitarian endeavor, I almost always leave better than I was before. The "better" is hard to quantify, but every humanitarian trip has its challenges; navigating and overcoming those challenges make me better. The unceasing joy and hope that the local staff, surgeons, nursing staff, and patients' families have, despite glaring health inequities, make me better as a human and fill me with hope. The continued relationships with local staff also make me better. They make me a better advocate, a better teacher, a better friend.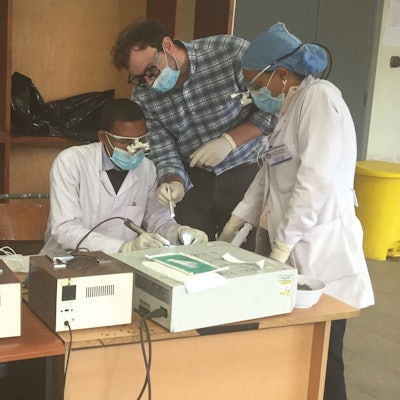 What would you say to encourage others to support humanitarian efforts around the world? 
I do think it is easy to get overwhelmed with all the problems in the world and to question whether you can make much of a difference, but support comes in many forms. Just because you can't travel and be on the ground yourself or sit in meetings with the U.S. Agency for International Development, World Health Organization, etc., doesn't mean that you can't make an impact. Many of our colleagues, friends, trainees, and others are very involved with all kinds of projects around the world and are giving their own time and finances to make them successful. Help them. Ask for more information, support them financially, pray for them, and encourage them. Global is also local, so that includes helping local projects in your own city. The world is more interconnected at this time than it ever has been in human history, which means our ability to solve health inequities and global burdens of disease has never been more attainable. We legitimately can all play a role in this narrative. 
Any other final comments or thoughts?
If you ever get a chance to go on a humanitarian trip, go! I have yet to meet someone who regretted it. The AAO-HNS/F website is a great resource to find organizations or other Academy members who have recurring trips. The Humanitarian Efforts section of the website has a list of them. Feel free to reach out to me or those listed on the website to get connected.