Published:
August 30, 2021
---
Foundation Education | Digital Learning Soars to New Levels
Our new flagship education product, Home Study Group update product, FLEX, takes off with great heights as thousands of members subscribe to valuable tools and resources at their fingertips.
---
Jeffrey P. Simons, MD, MMM, AAO-HNSF Coordinator for Education
---
At the time of my last September Bulletin update, Foundation education had just launched the first section of FLEX—our new flagship education product developed to replace the Home Study Course that was retired after more than three decades. With much anticipation and excitement, there remained the question… would members want to venture down this new pathway of digital learning? After all, the conception for FLEX was a year before the pandemic.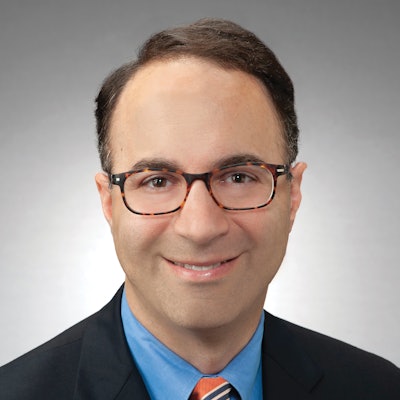 Although we were in uncharted territory, I took great heart knowing I wasn't alone. While the pandemic continued to present many unforeseen challenges, I was surrounded by the best and brightest education leaders, volunteers, and staff who wanted the see this education program succeed. Parallel to the launch of FLEX, the Annual Meeting was being converted to a virtual meeting, and for the first time in the Academy's history, the new doorway for the meeting was now "in the cloud," so to speak. 
What took place next was something no one could have predicted. With the strategic vision of James C. Denneny III, MD, AAO-HNS/F EVP/CEO, members who subscribed to FLEX would receive a complimentary registration to the Virtual Annual Meeting. Enrollment in FLEX soared to nearly 3,500 learners this inaugural year, including 1,000 resident users. Learners quickly adapted to the range of creative and contemporary learning modalities. Our digital learning analytics also provided feedback on how learners were engaging so we could make some adjustments to enhance the experience. 
---
Ryan J. Krogmann, DO, PGY-5, Summa Western Reserve Hospital
After watching the xLive webinar on Contemporary Approaches to Functional Rhinoplasty, I have a better understanding on how to evaluate the nose, break it into thirds, and then address the problem areas with specific grafts. I did not know about the extracorporeal septoplasty and found this concept to be very educational.  
https://tinyurl.com/functionalrhinoplasty
---
As we know, our brains have an element of plasticity that help us to learn and grow. A change in learning style isn't always easy, especially for adult learners. As we age, our neuroplasticity decreases causing us to become more fixed in our beliefs and knowledge. That can have a direct impact for learners who are trying to take on new concepts, forge new pathways, and more. 
It was always in the forefront of our minds that launching FLEX, switching to a Virtual Annual Meeting, all while juggling the demands of daily life and our clinical practices during a pandemic would be challenging. We also acknowledge there were individuals who were going to sorely miss the Home Study Course arriving on their doorstep every quarter. 
---
Heidi L'Esperance, MD, Essentia Health
Good review of pediatric trach – have not seen/done this since residency, however I practice in a remote area and thus may need to do this. The FLEX program overall is very relevant, and I use this information in my day-to-day practice. I like the variety of activities – from podcasts and other audio bits I can listen to on my drive to my outreach clinic, to articles and other activities to enhance my learning. 
https://tinyurl.com/awakelocaltrach
---
That said, we put forth our very best and pushed forward with optimism. The feedback from learners was overwhelmingly positive and digital learning at the Academy surged to record levels. 
My sincere hope is that the tools and resources made available this past year by Foundation education were useful in your professional development and clinical practice. We thank you for your support. 
And for those perhaps still adjusting to the new format, or still deciding to subscribe, we hope that you will join us.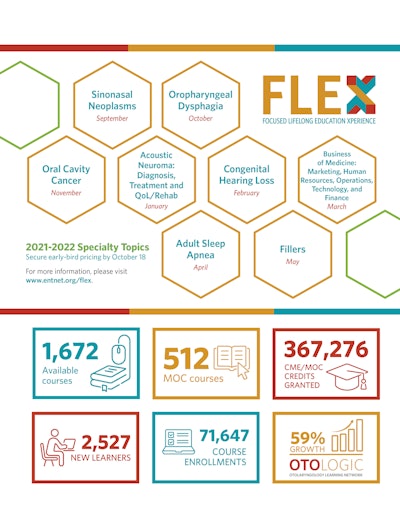 Beyond the success of FLEX, I would like to highlight some of our most impactful accomplishments this year and to emphasize how the Education Steering Committee, members of the nine Education Committees, and Foundation staff, led by Tirza Lofgreen, CHES, Director, Professional Education & Digital Learning, have worked on your behalf to advance otolaryngology education. 
Offered 1,672 activities in OTO Logic and welcomed 2,527 new learners
Launched the first eight sections of FLEX, offering 10 different creative and contemporary modalities
Developed 15 new online digital courses
Introduced our first ever serious game on Complex Airway Management Simulation to support surgical training and prepare for similar emergent scenarios
Released 400+ new case-based questions with rationales in OTO Quest – Knowledge Assessment Tool
Continued collaborative initiatives with ABOHNS to support CERTLink™
Unveiled several new Otolaryngology Patient Scenarios (OPS) in OTO Logic—formerly the ABOHNS Self-Assessment Modules (SAMS). There are now more than 35 OPS modules available
Provided clinical and practice management articles in each edition of the Bulletin ("From the Education Committees") and added a new monthly column on "Pearls from Your Peers" 
Achieved reaccreditation from the Accreditation Council for Continuing Medical Education (ACCME) demonstrating Foundation education meets the requirements for delivering independent CME that accelerates learning, change, and improvement in healthcare