Published:
August 30, 2021
---
Humanitarian Travel Grant: Surgical Outreach Program for Cleft Lip and Palate Repair in Bolivia
---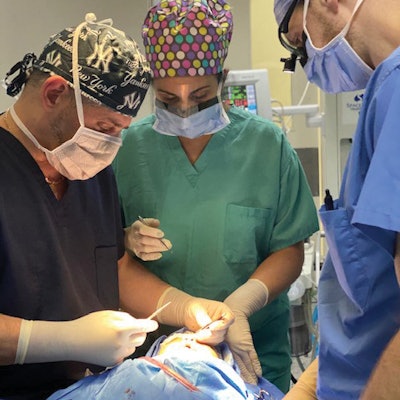 Celeste Z. Nagy, MD
---
The goal of Healing the Children is a sustainable, repeatable approach to a solvable problem: cleft lip and palate repair. Healing The Children Northeast (HTCNE) in New Milford, Connecticut, provides medical care, speech therapy, and dental services to children who lack medical and financial resources, both domestically and abroad. HTCNE has provided services to nearly 60,000 children since its inception in 1985.
My name is Celeste Z. Nagy, MD, and as a fifth-year otolaryngology-head and neck surgery resident at Emory University in Atlanta, Georgia, I wanted to be part of a cleft lip and palate surgical mission, a goal I have had since starting residency. I have a longstanding background working with underserved populations and education in Spanish, particularly in public health. Therefore, I was excited to join a surgical outreach trip to Santa Cruz de la Sierra, Bolivia, in January 2020, led by Steven M. Roser, MD, DMD, an Emory University oral-maxillofacial surgeon.
Our team consisted of over 40 individuals, including surgeons, residents, pediatricians, anesthesiologists, nurses, dental specialists, nutritionists, and speech pathologists from around the United States, who would work in tandem to perform the surgical repair of cleft lip and palate deformities for the underserved population. This surgical outreach program involved local Bolivian oral-maxillofacial and otolaryngology surgeons, pediatricians, and residents who worked with our team to learn these techniques and management of cleft patients to offer sustainable care for these patients and their families. 
Our trip was only a week long. HTCNE has a longstanding partnership with a community volunteer organization called Rotary Club Sirari. This rotary club had been recruiting patients from all over Bolivia the year prior and assisting in providing transportation for them and their families to be brought to Santa Cruz de la Sierra to be screened and undergo surgery. We screened over 90 children on our first day and were able to perform 60 surgeries in five days—a new record!
It is hard to describe the feeling of community, compassion, and hopefulness for these children that I experienced over that short week. Especially now, in times of the COVID-19 pandemic and isolation, the experience of working with and learning from multiple medical specialties, local volunteers, and medical professionals from Bolivia is an unforgettable one. The surgical skills I learned from this program will springboard my future in humanitarian work as an otolaryngologist and facial plastic and reconstructive surgeon so that I can further serve under-resourced populations with my surgical abilities, as well as provide sustainable education for physicians, nurses, and medical personnel of that area to transfer knowledge and skills.