Published:
August 30, 2021
---
Building a Global Community: Enliven, Enrich, Engage
For the past four years, it has been my distinct honor and privilege to serve as the Coordinator for International Affairs.
---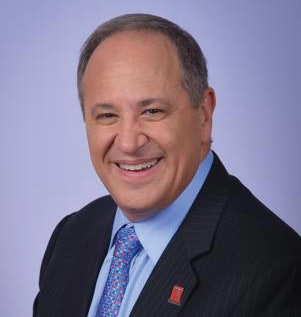 J. Pablo Stolovitzky, MD, Coordinator for International Affairs (2017-2021)
---
For the past four years, it has been my distinct honor and privilege to serve as the Coordinator for International Affairs. I am honored to have been tasked by the AAO-HNSF Board of Directors with carrying on the great work of those global pillars before me—Eugene N. Myers, MD, FRCS Edin (Hon), K.J. Lee, MD, Gregory W. Randolph, MD, and James E. Saunders, MD—to have the opportunity to build and expand on that sturdy foundation and to continue to receive their advice and encouragement during my tenure in this important position. 
One of the most gratifying roles of my job has been working with the AAO-HNSF regional advisors, International Steering Committee members, and the Global Affairs staff members Rebecca Dobbins, Elise Swinehart, and Francesca Johnson, who worked tirelessly to advance the global program. This is a selfless and dedicated group of individuals who are committed to advancing our profession globally through knowledge sharing and building relationships with our partnering organizations around the world. 
Because of the work of my predecessors and with the support of my colleagues and staff, we have made tremendous strides. 
International Membership: The Academy saw an 8.9% increase in global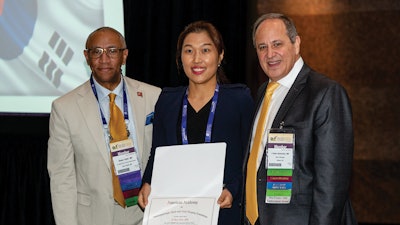 membership.
Volunteer Faculty Database: The Academy created this key resource, which includes more than 100 speakers who have volunteered to teach around the world.
Joint Meetings: Academy members and leadership as well as volunteer faculty presented at more than 30 global AAO-HNSF Joint Meetings in the past four years. 
Global Partnerships: The AAO-HNSF now collaborates with 75 International Corresponding Societies to unite nations and regions. This AAO-HNSF-led effort works to enhance the education and experiences of otolaryngologists worldwide through virtual Global Grand Rounds and Regional Roundtables, in partnership with the International Advisory Board, which serves as the voice of the global otolaryngology community.
International Symposium: The International Symposium was added to the AAO-HNSF Annual Meeting & OTO Experience scientific program in 2017 featuring worldwide thought leaders bringing and sharing their expertise. Since its inception, the symposium is inclusive of more than 50 interactive, in-depth, state-of-the-art presentations.
International Visiting Scholarships (IVS): Increased funding for these scholarships provided more opportunities for junior academics from low resource countries to attend the Annual Meeting and participate in observerships at U.S. otolaryngology programs and institutions. We adapted the program during the pandemic to allow scholars to virtually attend academic activities around the world. Creation of the database of U.S. academic institutions offering international observerships has helped to facilitate matching visiting scholars with mentors and sponsoring organizations.
Global Leadership Recognition: Emerging leaders in the specialty are now celebrated at the International Young Physicians Forum and at the International Women's Caucus, conducted at the AAO-HNSF Annual Meeting, as a way of welcoming our visitors and establishing friendships. 
All of these global activities are far more than the sum of their parts. Through in-person and virtual Joint Meetings, we have strengthened the bonds between the U.S. and our colleagues around the world. The implications are far-reaching. Working and weaving together the world of otolaryngology, we are building a stronger and more vibrant global community and strengthening and advancing our profession. We are touching and improving the quality of lives, not just in this country, but in every corner of the world. 
It has been heartwarming to talk to young physicians who are starting their careers in low resource countries; they are hungry for knowledge, need mentors, and want to be connected to those who are leading the specialty globally. They are committed to the well-being of their patients and providing for their patients despite a lack of resources, and in some cases they do so without adequate compensation. For them, the Academy, and the work we do is a beacon of hope and an inspiration to them. We will continue engaging and empowering international young physicians through our IVS program and the International Young Physicians virtual forums.
Building a global community takes strong leadership and an enduring commitment to growing and strengthening our specialty. As I reflect on the last four years, it has been a period of significant growth where challenges were met head on with a renewed sense of global, shared purpose. Our experiences as physicians, healthcare practitioners, family members, and community members during the COVID-19 pandemic helped us to see the importance of interpersonal connections and the understanding that it takes ALL of us to build a dynamic global community, and one that is undaunted by the myriad challenges posed by lockdowns, quarantines, and travel restrictions. It is a credit to the members of this Academy that despite those challenges we stepped up and dramatically increased our outreach and programming around the world. Certainly, we have experienced firsthand the value of new communications technologies and have benefited from working across borders to better serve our patients during the Covid-19 global pandemic. The AAO-HNSF is committed to continue with its global leadership mission and will strive to build even stronger bonds. 
I am excited to be passing the torch to my friend Mark E. Zafereo, Jr, MD. He is an outstanding leader and an accomplished academician. We share the same vision for the global program, and I am certain that he will accomplish even more during his tenure as International Coordinator and will continue to enliven, enrich, and engage the members. I will be supporting him from the sidelines, as I know all of you will be. 
I want to thank the Board of Directors for entrusting me with this position, my colleagues on the international committees for supporting me, and all those around the world who extended their hands in friendship to the Academy and me. I wish all of you the very best. Onward and forward!