Published:
November 29, 2022
---
AAO-HNSF 2023 Annual Meeting & OTO Experience Call for Science: The Trip to Nashville Starts Now
We are committed to continuing to maximize opportunities for presentation of high-quality science as we know that it is critically important not only for our field now, but also for our trainees and our future membership.
---

Daniel C. Chelius, Jr., MD Annual Meeting Program Coordinator
---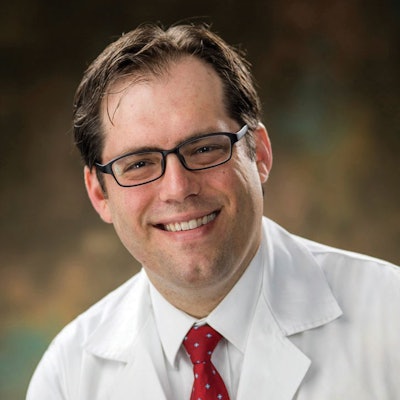 I can't wait to get to Nashville next October. I've been hoping to visit Vanderbilt for over 20 years. To borrow from Lewis Carroll, it has become my "White Rabbit," always just a glimpse before it slips out of sight. In high school, I cancelled a Vanderbilt campus trip after I got into Rice through the early-decision process. During medical school, I was in a beautiful wedding just south of town but focused on the groomsmen duties. I was fortunate to receive a residency interview from Vanderbilt, but it conflicted with my only opportunity to interview at Baylor, where my wife and I were hoping to train together. I was ecstatic when David S. Haynes, MD, and Eben L. Rosenthal, MD, invited me to give Grand Rounds at Vandy last spring. But, due to important family events, I was only able to join them virtually. So, if you're in Nashville next fall and see me grinning while dancing a barely passable jig, feel free to join the celebration and just know I finally made it. 
Although the Annual Meeting Program Committee and the Academy staff are already busily planning the 2023 Annual Meeting & OTO Experience, the important reality is that the trip to Nashville really starts now for each and every one of us. The energy, ideas, collaborations, and enthusiasm generated at each Annual Meeting are the lifeblood of the Academy and are critical to so many of our practices. In a sense, the  four-day time period that we call "the meeting" is a bit of an illusion as the work and education advanced there continues throughout the year on committees, in member sections, and in each of our labs and practices. To have the most effective meeting each fall requires us to be engaged with the Academy and our colleagues throughout the entire annual cycle. But these next few months are an especially critical time for meeting preparation.
The Call for Science
The Call for Science will be open until January 23. If trends hold from Philadelphia in 2022, this will likely be an extremely competitive year. We are committed to continuing to maximize opportunities for presentation of high-quality science as we know that it is critically important not only for our field now, but also for our trainees and our future membership. We all know that presenting science is often the ticket to the Annual Meeting for many medical students, residents, and fellows. Now is the time for us to reach out to our mentees and make sure they are actively preparing well-written abstracts to let their work shine.
Our Expert Lectures and Panel Presentations in Philadelphia featured a balance of time-tested, legendary sessions and fresh voices leading bold new discussions. Now is the time to strategize with colleagues about where to take the conversation in Nashville. What questions did you lean over and whisper to a friend during a debate session in Philly that warrant further investigation and discussion? What publications have you had in the last few years that can be organized well into a course? What gaps did you perceive in our 2022 program? Who among your colleagues needs your encouragement to recognize their own expertise as well as your prompting or mentorship to take the next step forward as a member of the meeting faculty? 
The Committee Application Period
Committee engagement at the Annual Meeting, and throughout the year, is one of the most important ways we can impact our otolaryngology community. Some of the Academy's most concrete accomplishments find their roots in the committees. Every voice counts in committee meetings, and ideas have a way of getting operationalized rapidly. The committee application process is currently open for terms beginning just after the Annual Meeting in 2023. Now is the time to consider how you can both serve the Academy and empower your own ideas for the future of our field by applying to an AAO-HNS/F Committee. Learn more at https://www.entnet.org/get-involved/committees/.    
The Academy Sections and Communities
Much like the committees, the Academy Sections (Women in Otolaryngology, Young Physicians Section, Section for Residents and Fellows-in-Training), the Board of Governors, and special communities like the Private Practice Study Group, the Harry Barnes Society, and the Medical Student Mentorship Program provide a home base for networking and mentorship and empower individuals to make a focused impact on the AAO-HNS. Now is the time to reach out to the leaders of your relevant communities to see how you can join in the ongoing work of the next year that will come to summation in Nashville. Now is the time to begin and to continue forging friendships and relationships in these communities that will be energized at our reunion next October. 
The trip to Nashville begins now. I can't wait to see you there!