Published:
October 30, 2020
---
Childhood Impressions Set the Path for Lifelong Experiences and Contributions
My life has always had an international flavor. Both sets of grandparents came from Europe in the early 20th century, and my father's parents never learned to speak English. Family affairs, particularly at the holiday season, were very old world. My dad, Dr. David Myers, was chair of the Department of Otorhinology at Temple University School of Medicine.
---
Eugene N. Myers, MD, FRCS Edin (Hon), Past President of the AAO-HNS/F and first AAO-HNSF International Coordinator
My life has always had an international flavor. Both sets of grandparents came from Europe in the early 20th century, and my father's parents never learned to speak English. Family affairs, particularly at the holiday season, were very old world. My dad, Dr. David Myers, was chair of the Department of Otorhinology at Temple University School of Medicine. In the mid-1950s, he became one of the leaders in the recently introduced stapes surgery for otosclerosis deafness, and our house was always filled with visiting doctors who came to learn stapes surgery from him from such diverse places as Brazil, Australia, and the UK. The exposure to this exciting group motivated me to go into medicine to become a stapes surgeon and do this miraculous surgery and make people hear. The otorhinology residents that I met came from the world over but particularly from Latin America and Mexico. As a medical student at Temple, I spent a lot of time with these visiting trainees and really admired this group of highly energetic and enthusiastic individuals who came to learn our specialty at Temple.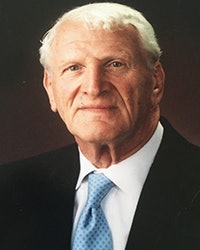 After I completed my residency at the Massachusetts Eye and Ear Infirmary, I spent two wonderful years as a Captain in the U.S. Army at the 97th General Hospital in Frankfurt, Germany. Lieutenant Colonel Harry McCurdy, who was the senior ranking otolaryngologist in the U.S. Army and the consultant to the Surgeon General, was responsible for making assignments. I met him previously and requested to be stationed in Europe. LTC McCurdy had been stationed in Frankfurt at one time and thought that I would be well suited for a large general hospital in Europe so that when I was not working hard taking care of the military personal and their families, I could enrich myself and my family with travel throughout Germany and neighboring countries. In fact my family and I visited virtually every country in Western Europe and had the opportunity to experience various cultures, languages, food, and entertainment. This was an unparalleled opportunity to learn how to meet people of other nations. It also set the stage for me to engage in international outreach throughout my academic career.
I became the first member of the academic faculty as well as the chair of the Department of Otolaryngology at the University of Pittsburgh in 1972, where I inherited a group of residents from around the world, including Greece, Egypt, and India. In 1981 Dr. Lee, an otolaryngologist from Taiwan, became our first International Visiting Scholar (IVS). In the ensuing years, we have welcomed several thousand otolaryngologists from around the world to our department to study with our talented faculty and to learn our philosophy of managing patients and our surgical techniques so that they could better care for their patients when they returned to their home countries. When I was operating, I always had a dozen or so IVSs breathing down my neck, observing the surgical techniques, taking notes, making drawings, or taking pictures. The interaction—both medical and social—with these doctors, and often their families, was a remarkable experience for all concerned and made a deep impression on me and motivated me to do more.
As a new fellow of the AAO-HNS in 1966, I was almost immediately drawn into committee work. I was recruited to become the U.S. representative to the Pan-American Committee of Otolaryngology-Head and Neck Surgery by my good friend Dr. J. Ryan Chandler, who was chair of the Department of Otolaryngology at the University of Miami School of Medicine. Very few of our AAO-HNS members were interested or even knew about the Pan-American Committee. I became president of the Pan-American Association in 1988, and during my two-year term I presided over the congress held in Buenos Aires, Argentina. This was an unforgettable experience highlighted by a mini revolution orchestrated by one of the generals involved in the junta that killed countless political opponents. In 1986 I participated, under Dr. Tony Maniglia's leadership, in organizing the International Federation of ORL Societies World Congress, and from 1992-1994 I served as Chair of the AAO-HNS Committee for Latin American Medicine.
In 1995 when I served as President of the AAO-HNS, our organization recognized the need for a coherent international program, and in 1996 at a strategic planning meeting of the Board of Directors (BOD), the recommendation was put forth to create a Department of International Affairs. This action was unanimously endorsed, and I was offered the position of Coordinator of International Affairs. Since international travel to lecture, operate, and build relationships with international colleagues were passions of mine and since I was already known as "Dr. International," it took only a nanosecond for me to accept the appointment. The BOD unanimously approved the appointment, and the rest is history. I was very excited about embarking on a new adventure, which I knew would be helpful to the AAO-HNS and its international colleagues.
My goals for this new program included providing for our international colleagues' education and service that had not been available previously and to do everything possible to make them feel welcome at the AAO-HNSF Annual Meeting—and, of course, to make corresponding membership look attractive to them. It was hoped that this new set of international members would offset the declining domestic membership, which had resulted from many of our members taking early retirement as a response to the transition to managed care in the 1990s. This outreach also provided a unique opportunity to tap into a large pool of talented and diverse academic leaders and faculty who continue to participate in the education offerings of the Annual Meeting, as well as AAO-HNSF Joint Meetings.
To accommodate and welcome our international colleagues at the Annual Meeting, we focused on providing greater accessibility for our visitors in a number of areas. We recruited interpreters for multiple languages to prevent bottlenecks at the registration desk, identified affordable hotels and included these hotels on the shuttle bus routes to eliminate expensive taxi rides, and established Panel Presentations and Expert Lectures in Spanish, one of the most common spoken foreign languages.
Since I had many friends who belonged to overseas chapters of the American College of Surgeons (ACS), I researched the ACS program and used some of the strategies they had developed to establish overseas chapters in our International Program. During our Annual Meeting in San Francisco, California, in 1997, I invited four of my closest international friends to a breakfast meeting: Professors William Wei (Hong Kong), Emanuel Helidonis (Crete), Carlos Suarez (Spain), and Chong Son Kim (Korea). I explained our new program in detail, including overseas chapters, which would have clearly defined goals and benefits. At the end of the meeting, they asked me if they were to be included as the original chapters. It was unanimous—they were in!
The AAO-HNS was advised that the word "chapters" could not be used so the term International Corresponding Society (ICS) was substituted. More important than the name were the guidelines that I developed for the function of the ICS. For example, the ICS should be the national society of that country, and a Joint Meeting with AAO-HNSF should be held every three years. I asked each ICS to appoint the editor of its national journal to be a member of a newly organized International Editorial Board of our journal, Otolaryngology-Head and Neck Surgery, and to appoint one of its members to be a nonvoting delegate to our Board of Governors. We also added a well-received social networking event to the Annual Meeting with the International Reception.
Catherine Lincoln worked with me as the Director of the International Program for 17 years. Her parents had been career diplomats, and she had been born and lived outside of her native UK. She had a deep understanding of the needs of our overseas colleagues, but it was her charm, winning smile, and the great personal interest that she took in the work of the program that drew crowds around her at the AAO-HNS booth, whether in the United States or abroad. Rebecca Dobbins, who has been the Director of Global Affairs for the past four years, has a wonderful, cheerful, can-do attitude and has made a tremendous impression and impact on our International Program through the productive manner in which she interacts with our overseas colleagues. There are now 75 ICSs so she really has her hands full. There were 20 Joint Meetings scheduled for 2020, in locations ranging from Antigua to the UK. All but a few have been canceled, rescheduled, or reformatted by video conferencing technologies such as Zoom and WebEx into virtual meetings. I participated in several of these that were quite good and a tribute to Rebecca's and the AAO-HNS's flexibility.
Much of the success of the International Program must be attributed to the series of very successful Coordinators of International Affairs, including K.J. Lee, MD, Gregory W. Randolph, MD, James E. Saunders, MD, and J. Pablo Stolovitzky, MD. Each one has left an indelible imprint on the International Program with their strong leadership and each continues to be active in the AAO-HNSF International Program committees. Mark E. Zafereo, Jr., MD, who has considerable overseas experience with the AAO-HNS/F, is now the Coordinator-Elect of International Affairs. The AAO-HNS leadership has been enormously supportive of the International Program. Regional advisors have been appointed and are actively working with the ICSs in their region. For example, I am the regional advisor to the Balkans and have been the honorary president of the Balkan Society of Otolaryngology-Head and Neck Surgery since its reorganization in 2001.
James C. Denneny lll, MD, Executive Vice President and CEO of the AAO-HNS/F, has provided tremendous support for the International Program. There are now approximately 1,100 corresponding members of the AAO-HNS. In order that their voices could be better heard, the International Advisory Board was established with Johannes J. Fagan, MBChB, FCS(SA), of the University of Cape Town, South Africa, as the founding Chair; Sady Selaimen da Costa, MD, PhD, from the University of Rio Grande do Sul in Brazil, who served as Chair from 2019-2020; and now Professor Karl Hoermann, MD, of Mannheim, Germany, who started his term as Chair in September 2020.
Overall it has been enormously gratifying to have been the "Founding Coordinator of International Affairs" and to be able to witness the major positive impact this program has had for the AAO-HNS, our international colleagues and their patients, and for me personally. There's still a lot of room for growth of the International Program, and it may be that the video conferencing technology will have a positive impact in facilitating Joint Meetings, while decreasing the expense and time lost in overseas travel.
I'm deeply indebted to the AAO-HNS for trusting me with the responsibility for developing their International Program, and I feel very fulfilled in having catalyzed its evolution to become an international education powerhouse.