Published:
August 24, 2020
---
FLEX: Leading Otolaryngology Education in New Directions
Jeffrey P. Simons, MD, AAO-HNSF Coordinator for Education, spoke with several FLEX Workgroup Chairs to get their insight on this new education product, what it's been like developing the component tools, and how this will support lifelong learning and continuing certification.
---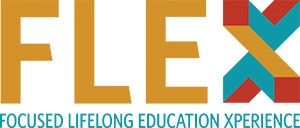 Jeffrey P. Simons, MD, AAO-HNSF Coordinator for Education, spoke with several FLEX Workgroup Chairs to get their insight on this new education product, what it's been like developing the component tools, and how this will support lifelong learning and continuing certification.
Built on a fundamental learning philosophy that the needs and preferences for otolaryngology education will continue to evolve over time—so will the tools provided in the FLEX subscription to ensure they remain timely and relevant for all learners.
Stacey T. Gray, MD, Chair, Rhinology & Allergy Education Committee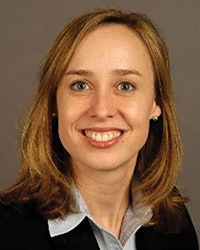 Q Let's start with this new education product, FLEX. Can you share what your experience was like participating in leadership strategy discussions to develop this product over the past two years?
A It has been a really interesting learning experience watching FLEX progress through the various stages of development. I loved the fact that most of the new products that were created to present education materials were a direct result of conversations with a wide variety of Academy members. I think drawing from varied learning styles to develop different education formats will ultimately result in content that is easier to access and also more engaging.
Q The Rhinology & Allergy Education Committee (RAEC) is responsible for the first FLEX section, which launches this month. What is one of the FLEX components you are most excited about?
A The first RAEC FLEX section focuses on the broad topic of chronic rhinosinusitis with nasal polyposis (CRSwNP). I am most excited about developing the xCase component of FLEX. A new clinical case will be presented weekly, which will stimulate discussion about nuances in the care of patients with CRSwNP. Each day a new question regarding the case will be posed and answered, stimulating thought about the topic on a daily basis throughout the week. These cases will also tie in with other education products, like podcasts and webinars, that will be offered throughout the month.
Q As a residency program director and someone who is very involved in resident education, how do you envision residency programs and residents using FLEX?
A We just recently discussed the plan to use FLEX in our residency program, and I am very excited to see how the residents like it. Having structured learning over the course of the month focused on a single education topic, with current literature to use as a starting point, will be extremely useful. Access to multiple clinical scenarios (with questions included), as highlighted with the xCase format, is going to be a great resource. The concept of lifelong, self-directed learning is something that is important to instill during training, and my suspicion is that this program will be a natural fit for the way that residents like to acquire education.
Thomas B. Carroll, MD, Chair, Laryngology & Bronchoesophagology Education Committee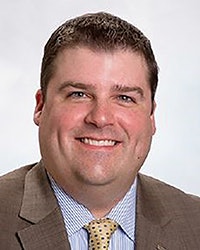 Q What do you think of this new format for 21st century learning as we pivot from the AAO-HNSF Home Study Course, retiring the product that has been around for nearly four decades?
A I really like its design and potential. We are working hard to develop informative and interactive material that should feel more "2020" to the subscriber. The old Home Study Course was very traditional and effective for those who put the work in; however, it was not engaging for all individuals and groups of learners like the new FLEX learning program should be.
Q What are you hoping learners get out of first FLEX section topic that the Laryngology and Bronchoesophagology Education Committee (LBEC) is developing?
A The LBEC is developing their first FLEX module on the topic of laryngeal stenosis. While this problem may not be a common pathology in most general ENT practices, awareness of the issue for symptom recognition and options for treatment are important. In the last few years, more treatment options, such as laryngeal reinnervation, pacing, and local mucosal flaps for glottic stenosis, as well as office-based laser and awake steroid injections for subglottic stenosis, have been explored. This will be an excellent topic for review of traditional treatments as well as to offer education on cutting-edge diagnostic and treatment options for laryngeal stenosis.
Meredith Merz Lind, MD, Chair, Pediatric Otolaryngology Education Committee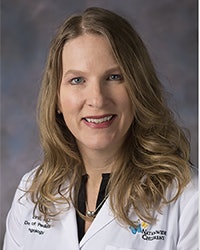 Q What has your experience been like leading a FLEX specialty section workgroup? What has been the feedback from members of the team?
A The experience has really been exciting so far. The engagement and interaction with the FLEX team members from all over the country and beyond has been fantastic. People have had great ideas and their various strengths and experiences have allowed us to assign people to the portions of the product where they will be able to make the most impact.
Q What do you think that mid-career physicians like yourself can hope to get out of participating in the FLEX program?
A Developing products for the AAO-HNS education catalog has been a fun and creative challenge for me in the past. I think that the FLEX program is an evolution and improvement on the products that we have created previously. As developers, we will be creating content in a variety of new formats so that each learner can tailor an individualized education experience. It's going to be an amazing platform for Inservice and Board exam preparation, as well as Maintenance of Certification and Continuing Medical Education.