---
Service and leadership awards presented at Annual Meeting
The Gold Foundation Humanism in Medicine Award recognizes members committed to practicing otolaryngology with compassionate, patient-centered care.
---
2019 Arnold P. Gold Foundation Award for Humanism in Medicine
The Gold Foundation Humanism in Medicine Award recognizes members committed to practicing otolaryngology with compassionate, patient-centered care.
This year's awardee is David A. Shaye, MD, MPH. Dr. Shaye is an otolaryngologist and facial plastic and reconstructive surgeon with a career focus in global surgery. For nearly half the year, Dr. Shaye teaches and performs surgery in Africa and Asia, focusing on surgical care delivery in low-resource settings. In the United States, Dr. Shaye practices facial plastic and reconstructive surgery at Massachusetts Eye and Ear in Boston, MA. He holds dual faculty appointments in the Department of Otolaryngology at Harvard Medical School and at Rwanda's Central University Teaching Hospital in Kigali.
Dr. Shaye has a longstanding relationship with the Rwandan Ministry of Health, resulting in improvement in Rwandan surgical trainee education, development of facial trauma training tracks, teaching head and neck dissection courses, and mentorship on research projects. In northern Nigeria, Dr. Shaye partners with Doctors Without Borders to perform pediatric facial reconstruction for children with noma, a destructive disease of the face that afflicts the malnourished poor. At the Nepal Cleft and Burn Center, Dr. Shaye collaborates with Nepalese surgeons to enact a Mobile Surgical Scout program, where lay people are taught to identify cleft patients living in the Himalayas and recruit them for surgery in mobile camps. This program was featured on CNN's Vital Signs with Sanjay Gupta.
In partnership with the AO Foundation, Dr. Shaye codeveloped a facial trauma curriculum tailored to low-resource settings. He has a longstanding track record delivering cleft lip and palate care in Zimbabwe and works closely with Bhutan's Ministry of Health in providing surgical education in remote settings.
Dr. Shaye, his wife Jessica, and their three daughters enjoy splitting their time between Rwanda and Boston each year.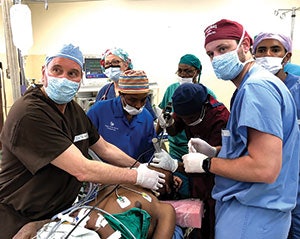 2019 Distinguished Award for Humanitarian Service
The Distinguished Award for Humanitarian Service is awarded to a member who is widely recognized for a consistent, stable character distinguished by honesty, zeal for truth, integrity, love, devotion to humanity, and a self-giving spirit.
This year's awardee is Glenn C. Isaacson, MD. Dr. Isaacson is Professor of Otolaryngology-Head and Neck Surgery and Pediatrics at the Lewis Katz School of Medicine at Temple University. As Ethiopian Medical Director for Healing the Children (HTC) for the greater Philadelphia chapter, Dr. Isaacson has organized 20 semi-annual surgical and educational missions to Addis Ababa, the capitol of Ethiopia. Working closely with Addis Ababa University's young ENT residency, HTC has helped train and equip a new generation of otolaryngologists—increasing the number of trained surgeons fivefold and helping to expand the breadth of their skills.
During its 10 years in Africa, HTC changed its focus from direct delivery of healthcare to collaboration with existing training programs. During each of its semi-annual visits, the team transferred knowledge to Ethiopian trainees through lectures, simulation training (including soft tissue and temporal bone labs), and hands-on training in the clinic and in the operating room. HTC sought other otolaryngology groups that had been visiting Ethiopia and worked to coordinate their collective educational efforts into a curriculum.
Dr. Isaacson shares three lessons learned in a decade of global medicine: 1) No number of medical missions is sufficient to change the population health status in a large, resource-challenged country. 2) Long-term positive change comes from supporting and reinforcing a nation's educational system and healthcare resources, not from imposing our own systems. 3) The things we want to give a developing country may not be the things they need.
Dr. Isaacson began work in Ethiopia in 2009 after stepping down as the Chair of Otolaryngology-Head and Neck Surgery at Temple University School of Medicine.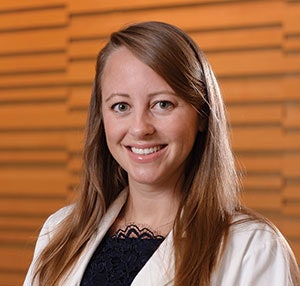 2019 Holt Leadership Award
The Holt Leadership Award is awarded annually to the Resident or Fellow-in-Training who best exemplifies the attributes of a young leader: honesty, integrity, fairness, advocacy, and enthusiasm. The Award recognizes exemplary efforts on behalf of the Section for Residents and Fellows-in-Training (SRF) of the AAO-HNS/F for the promotion of the missions and goals of the association.
The AAO-HNS is pleased to award the 2019 Holt Award to Claire M. Lawlor, MD. Since her first year in residency, Dr. Lawlor has been involved in the SRF. She has held numerous leadership positions on the SRF's Governing Council, including BOG Socioeconomic & Grassroots Committee Representative, BOG Governor, Vice Chair, Chair, and most recently, Immediate Past Chair. Dr. Lawlor has provided guidance to the current SRF Governing Council members as they transitioned into their new roles and has been involved in many important projects benefiting residents. Beyond the scope of the SRF, Dr. Lawlor is an active member in the Women in Otolaryngology Section and in the Foundation's Guideline Task Force. She is a strong advocate for early involvement in the Academy and multiple residents have become involved because of her mentorship. To her peers, Dr. Lawlor fully embodies all the leadership attributes required of the Holt Award recipient.
Dr. Lawlor is a pediatric otolaryngologist at Children's National in Washington, D.C. She has a special interest in caring for children with sleep disorders, airway lesions, difficulty swallowing, difficulty breathing, and head and neck masses. Dr. Lawlor completed her fellowship in pediatric otolaryngology in 2018 at Boston Children's Hospital after her residency in otolaryngology in 2017 at Tulane University and an internship in otolaryngology in 2013. She completed medical school in 2012 at Tufts University School of Medicine in Massachusetts.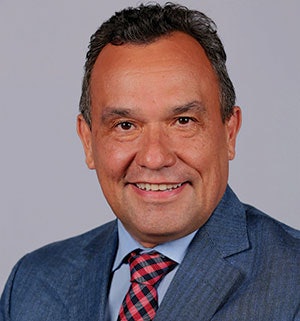 2019 Nikhil J. Bhatt, MD International Humanitarian Award
The International Humanitarian Award honors a non-U.S. otolaryngologist-head and neck surgeon who has selflessly treated people for whom access to care would have been financially or physically prohibitive.
This year's awardee is José Manuel Colmenarez Mendoza, MD. Dr. Mendoza was born in El Tocuyo, a western Venezuela town founded by the Spanish in 1545. It is one of the oldest cities in the country. His parents, Raul and Bolivia, were born there, as were all of their ancestors and Dr. Mendoza's five siblings. He spent his childhood in El Tocuyo, but because the town did not have university studies, he moved to the state capital, Barquisimeto. There, he carried out his dream of studying medicine in the Lisandro Alvarado University.
During his internal doctor training, Dr. Mendoza liked to go to the otolaryngology department, where his love for the otolaryngology specialty was born. He held an ENT residency for four years in two different hospitals. When he finished, he wanted to learn more, so he decided to go to Caracas, where he completed an otology fellowship at the Venezuelan Foundation of Otology.
Throughout his training and career, Dr. Mendoza always felt compelled to help the people of his hometown, El Tocuyo. In 1995, he began providing free consultations to underprivileged patients. For the past 23 years, the program he started with free consultations for two patients has become the medical mission of El Tocuyo, which is the largest in the country and helps thousands.
Dr. Mendoza is currently the Medical Director of the Ear, Nose, and Throat Clinic in Barquisimeto, the Director of the Cochlear Implant Program, and the President of the Stapedium Foundation of Venezuela. Together with his family and his team, he aims to continue helping the people of Venezuela who have no access to medical attention.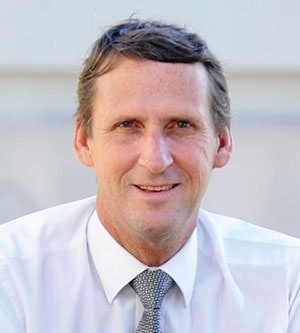 2019 Nikhil J. Bhatt, MD International Public Service Award
The International Public Service Award honors a non-U.S. otolaryngologist-head and neck surgeon whose achievements have advanced the specialty.
This year's awardee is Johan J. Fagan, MD. Dr. Fagan has devoted much of his career to advancing ENT in Africa and developing countries around the world by creating awareness of global inequality of training opportunities and access to care. His department hosts the only fellowships in Sub-Saharan Africa in head and neck surgery, rhinology, and pediatric otolaryngology. He has trained 13 African head and neck surgeons and founded the African Head and Neck Society (AfHNS).
Dr. Fagan has used his executive positions in the American Academy of Otolaryngology–Head and Neck Surgery Foundation, International Federation of ORL Societies (IFOS), and American Head and Neck Society to advance international collaboration and education opportunities for developing countries. He maintains an educational website for Developing World ENT and self-publishes The Open Access Atlas of Otolaryngology, Head & Neck Operative Surgery, and the Open Access Guide to Audiology and Hearing Aids, chapters of which have been downloaded more than 2.3 million times (http://www.entdev.uct.ac.za/).
Dr. Fagan received the Open Education Consortium (OEC) 2017 Award for Open Education Excellence in recognition of the Atlas and received a gold medal from IFOS for his contributions to otolaryngology in 2017. He currently spearheads the promulgation of the AfHNS Clinical Practice Guidelines for Head & Neck Cancers in Developing Countries and Limited Resource Settings.
After completing fellowships at the University of Pittsburgh in head and neck/cranial base surgery and in otology, Dr. Fagan was appointed the Leon Goldman Chair of Otolaryngology at the University of Cape Town in 2002. He has authored more than 200 peer-reviewed articles and chapters and has lectured in more than 30 countries.