---
Program information
Groundbreaking education program formats
---
Groundbreaking education program formats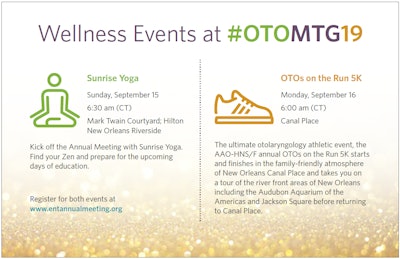 Expert Series. Expert Series are sessions led by recognized experts on current diagnostic approaches, therapeutic approaches, and practice management topics.
Flash Talks. These one-hour presentations feature three panelists with 15 minutes dedicated at the end of the sessions for audience questions and answers.
International Symposium. International symposia are panel discussions featuring expert international panelists (i.e., from outside the United States) involving interactive, in-depth, state-of-the-art presentations employing a variety of didactic and interactive education formats.
Master of Surgery Video Presentations. The timeslot includes six lectures for these short-lecture demonstration videos of key surgical procedures performed by otolaryngologist–head and neck surgeons. Each presentation concludes with two minutes of audience questions and answers.
Meet the Scientific Poster Authors. Earn CME credit while learning about the latest advancements in research directly from the sources. Ask questions and share experiences with the poster presenters in a truly interactive session.
Panel Presentations. These discussion sessions are presented by panelists involving interactive, in-depth, state-of- the-art presentations.
Continuing Medical Education Credit
This conference has been planned and implemented in accordance with the Essential Areas and Policies of the Accreditation Council for Continuing Medical Education. AAO-HNSF is accredited by the Accreditation Council for Continuing Medical Education to provide continuing medical education for physicians. Up to 29 credits will be awarded to physicians when documented by the submission of the 2019 Annual Meeting & OTO Experience evaluation.
Rapid Poster Presentations. This presentation format showcases the highest-ranked poster submissions in each subspecialty, giving the selected poster presenters the opportunity to provide an oral presentation consisting of five slides highlighting and describing the major influence of their research. The presentations takes place during the lunch hour in the Poster Pavilion.
Scientific Oral Presentations. A series of three- to six-minute presentations focusing on current evidence-based research, surgical procedures, and approaches in the clinical sciences and their application to patient care. Each presentation concludes with two minutes of audience questions and answers.
Scientific Posters. Visual displays detailing the latest advancements in otolaryngology research that allow the viewers the opportunity to appraise and assimilate scientific evidence for improved patient care practices. Poster authors are at their boards during specific times on Monday and Tuesday to discuss their findings.
Specialty Society Forums. With Specialty Unity as a focus, we highlight specialty societies unique education content. This year, four specialty societies, American Academy of Facial Plastic and Reconstructive Surgery (AAFPRS), American Head and Neck Society (AHNS), American Laryngological Association (ALA), and American Neurotology Society (ANS), present tailored content.