Published:
November 1, 2018
---
What are we doing for you?
One of the most influential factors determining care that patients receive are the medical policies adopted by the various commercial and government-sponsored health insurance plans.
---
James C. Denneny III, MD
---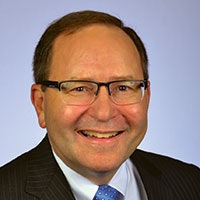 One of the most influential factors determining care that patients receive are the medical policies adopted by the various commercial and government-sponsored health insurance plans. These policies are typically determined by clinical advisory committees employed by the individual payer. These committees review current literature, clinical practice guidelines, clinical consensus statements, and existing specialty position statements and policy recommendations in crafting their specific policies. Currently, there is no consensus among the various payers on many policies affecting otolaryngology.
United Healthcare initial proposed policy on cochlear implants
Cochlear implants are unproven and/or not medically necessary for treating hearing loss. There is insufficient high-quality evidence in the published clinical literature demonstrating the safety and efficacy of cochlear implants in the management of individuals with severe hearing loss.
Recently, there has been a great deal of collaborative discussion between specialty societies—and major insurance companies as policies are being proposed or reviewed. On a much more frequent basis than in years past, the Academy is asked to review a proposed policy before it is implemented. This represents the optimal situation for both the payer and our members and gives the Academy an opportunity to highlight the most recent literature and expert opinions on the respective subject matter of the policy. We have found that even though not all recommendations are accepted, there has been a collegial dialogue, and in most circumstances, our input has been considered when establishing these policies.
United Healthcare response following AAO-HNS comments
Thank you for the comments regarding our medical policy on Cochlear Implants. We appreciate collegial input from medical specialty societies and we take that input very seriously.
AAO-HNS Comment/Recommendation
Consider changing the status of hybrid cochlear implants from unproven to proven for appropriate patients
Eliminate a requirement for a hearing aid trial in cases with a history of meningitis
Consider removing the term speech reading from the Description of Services section of the policy
Modify the language regarding "short implant electrodes" in the Description of Services section
Remove the reference to the seven-year-old National Institute for Health and Care Excellence (NICE) guidance which does not support the current recommendations for cochlear implant use
United Healthcare's Response to Comment/Recommendation
The status of hybrid cochlear implants was changed from unproven to proven in certain circumstances
The policy now indicates that a hearing aid trial is not required in an individual with a concern for meningitis-related cochlear ossification
The sentence was changed to the following: Advantages associated with cochlear implants include significantly improved lip-reading ability, improved recognition of environmental sounds, and improved speech intelligibility
The description of hybrid cochlear implants was modified in the Description of Services section
The reference for NICE was removed from the policy
The Academy has established a protocol for completing policy reviews and commenting on proposed or existing policies. We seek clinical input from the appropriate Academy or Foundation committees, the specialty societies within otolaryngology most closely related to the subject matter, and our Physician Payment Policy (3P) Workgroup to ensure we have the most recent and relevant factual information related to the policy. Then, under the direction of Coordinator for Health Policy R. Peter Manes, MD, the Academy's Advocacy team prepares a response letter with recommendations and references and submits it to the requesting company.
United Healthcare new policy on cochlear implants effective August 1, 2018
Hybrid Cochlear Implantation
When used according to FDA-labeled indications, contraindications, warnings and precautions, cochlear implantation is proven and/or medically necessary for treating individuals who meet ALL of the following criteria:
Diagnosis of bilateral severe to profound sensorineural hearing loss in the mid to high frequencies with residual low-frequency hearing sensitivity
Ability to follow or participate in a program of aural rehabilitation
Freedom from middle ear infection, an accessible cochlear lumen that is structurally suited to implantation, and freedom from lesions in the auditory nerve and acoustic areas of the central nervous system; and
No contraindications to surgery
The example below regarding "hybrid cochlear implants" demonstrates how well this process can work. We sought and obtained input from the Academy Hearing Committee, as well as the Implantable Hearing Devices Committee (who are also members of the American Neurotology Society and the American Otological Society), and the 3P Workgroup prior to composing our comments to United Healthcare (UHC). I would like to specifically thank Kevin D. Brown, MD, PhD, for his help in this project.
In the first box, you will see the new cochlear implant medical policy, which UHC revised after requesting the AAO-HNS review the original language, also below.
This is a positive example of how the collective input of all involved stakeholders can successfully influence policy allowing our members to deliver the highest quality state-of-the-art care to their patients. We are grateful to all our specialty societies within otolaryngology and our volunteer committee members for the time and energy they spend that allows us to make a difference in the day-to-day practice of our members.