Published:
August 3, 2018
---
The past, present, and future of AcademyU®
The launch of AcademyU in 2015 was a highlight of AAO-HNSF's commitment to elevating otolaryngology education. It represented the Foundation's bold step into the world of online learning, with various learning formats and a catalog of more than 200 CME courses available to learners 24 hours a day, 365 days a year.
---
Richard V. Smith, MD, AAO-HNSF Coordinator for Education
The launch of AcademyU in 2015 was a highlight of AAO-HNSF's commitment to elevating otolaryngology education. It represented the Foundation's bold step into the world of online learning, with various learning formats and a catalog of more than 200 CME courses available to learners 24 hours a day, 365 days a year. It also provided Academy education committee members a platform upon which to build education resources based on practice gaps to enhance knowledge, competence, and skills in the practice of otolaryngology-head and neck surgery.
In 2018, the Foundation has made several positive enhancements to AcademyU. Here are a few of the new features we are particularly proud of, all created based on member feedback: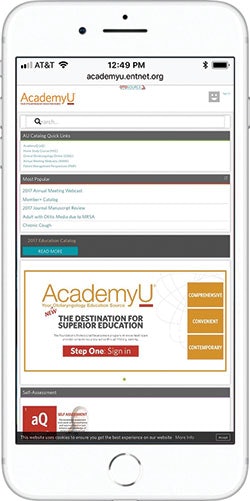 • Member+ campaign: We launched an exclusive AcademyU subscription program for members and fellows that debuted to great popularity. This program provides members access to over 200 CME courses in AcademyU for the price of one. The fee of $50, paid annually in addition to membership dues, is still available for members who want to take advantage of it. This subscription program will also be offered again next year.
• Enhanced resident member Home Study Course+ (HSC+) program: In addition to the Home Study Course four-section compendium of select scientific journal articles and access to more than 200 education activities in AcademyU, HSC+ now includes access to the AAO-HNSF 2017 Annual Meeting & OTO Experience webcasts containing a library of nearly 400 sessions, plus the AcademyQ-2018 Set (mobile app) with 400 new otolaryngology questions to test recall, interpretation, and problem-solving skills.
• Annual Meeting webcasts: Beginning with last year's AAO-HNSF 2017 Annual Meeting & OTO Experience in Chicago, IL, full-conference attendees now get free access to the nearly 400 sessions captured as part of their registration fee. Access to this timely content is for three years from the date of the meeting. It also includes 30 bonus CME sessions, where credit can be earned after the conference is over by completing the course, posttest, and evaluation. By capturing this wealth of content since 2016, we have been able to increase the number of courses available in AcademyU from 200 to more than 1,200 and growing.
• Increasingly mobile-friendly courses: Our members want learning "on the go," and AcademyU now provides that in several of our CME activities. Case-based courses, webcasts, eCourses, and the AcademyQ (mobile app, otolaryngology question bank) can all be conveniently accessed on any mobile device.
AAO-HNSF Education Committees
Education Steering Committee
Richard V. Smith, MD, Chair
Facial Plastic and Reconstructive Surgery Education Committee
Scott B. Roofe, MD, Chair
General Otolaryngology Education Committee
Stacey L. Ishman, MD, MPH, Chair
Head and Neck Surgery Education Committee
David M. Cognetti, MD, Chair
Laryngology and Bronchoesophagology Education Committee
Thomas L. Carroll, MD, Chair
Otology and Neurotology Education Committee
Marc L. Bennett, MD, Chair
Pediatric Otolaryngology Education Committee
Jeffrey P. Simons, MD, Chair
Practice Management Education Committee
Brendan C. Stack, Jr., MD, Chair
Rhinology and Allergy Education Committee
Stacey T. Gray, MD, Chair
Simulation Education Committee
Ellen S. Deutsch, MD, Chair
The new additions to AcademyU go beyond the website enhancements. In the last year, our nine education committees have created more than 40 new eCourses, released the AcademyQ-2018 Set with 400 questions, and recorded 13 podcasts. The Quick Reference Guide to TNM Staging of Head and Neck Cancer and Neck Dissection, 5th Edition was updated through collaboration with the American Head & Neck Society. In addition, collaboration between the AAO-HNSF Otology and Neurotology Education Committee and the American Neurotology Society produced a special four-part surgical video eCourse on Expanding Knowledge and Improving Competence in Tympanoplasty Surgery: Expert Tips and Techniques. In coordination with the Pan-American Committee and with the help of residents in Latin America, three Patient Management Perspectives (PMP) courses were translated into Spanish and are now available in AcademyU. In addition, 16 new courses related to clinical practice guidelines illustrate the commitment to aligning our education with the excellent work being done by the Guideline Task Force.
Outside of AcademyU, the Foundation continues to focus on simulation. Simulation-related activities at the AAO-HNSF 2018 Annual Meeting & OTO Experience in Atlanta, Georgia, will include:
• Simulation Experience Pre-Conference Workshop: This workshop will provide a hands-on simulation experience using the latest devices in otolaryngology. It will take place on Saturday, October 6, at the Emory University Center for Experiential Learning (ExCEL).
• SIM Tank: Come see the top three most innovative simulation project authors present to a panel of expert judges while competing for the top prize at SIM Tank. In its second year, this event is a popular draw for those interested in current simulator and simulation activities. These exemplary projects were selected from the 2018 Call for Simulation Proposals.
• Simulation Reception & Showcase: This is an impressive display of nearly 30 innovative and novel otolaryngology simulators or simulation projects. Table-top simulator demonstrations and PowerPoint presentations will be on display, highlighting individual and team accomplishments. The top three SIM Tank finalists will be recognized and honored for their exemplary projects.
Coming next year
Innovation is one of the keys of education, and we are working on several projects we hope to debut in the next year. A new and expanded "ENT ImageViewer" website with more than 700 images that were generously donated by Eiji Yanagisawa, MD, will be ready to research and download. Several new Practice Management podcasts will keep members up-to-date on timely business of medicine topics required for their practice to succeed. Research from the SimTube study will assist residency programs to prepare residents to become skilled, early-career surgeons. We are also developing a database of important temporal bone anomaly CTs, which will be used to develop a national curriculum for 3-D printed temporal bone dissection. There are many other projects in the pipeline as well.
Please feel free to reach out to me through ENTConnect with suggestions, comments, or ideas.
AcademyU.org is, and will continue to be, your education source to meet the needs of all otolaryngologists.