Published:
November 4, 2015
---
Legislative Advocacy highlights from Annual Meeting
Another successful Annual Meeting & OTO EXPO(SM) has come and gone. In case you were unable to join us in Dallas, below is a brief overview of what you missed.
---
Another successful Annual Meeting & OTO EXPOSM has come and gone. In case you were unable to join us in Dallas, below is a brief overview of what you missed.
Legislative Advocacy booths
Once again, Annual Meeting attendees had the opportunity to learn more about the Academy's federal legislative priorities, grassroots initiatives, and political programs by visiting one, or both, of the Legislative Advocacy booths.
PROJECT 535
The BOG Legislative Affairs Committee, in collaboration with the Academy's Legislative Advocacy team, launched a new initiative titled "PROJECT 535." The goal of PROJECT 535 is to build relationships with federal legislators in every U.S. Congressional seat—435 in the House and 100 in the Senate. PROJECT 535 will help establish key "grasstops" contacts—voting physicians with access to national leaders in every district. To sign up and represent your district, email govtaffairs@entnet.org.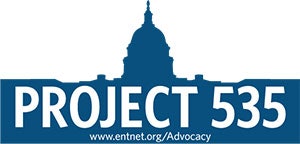 Successful legislative advocacy starts with a solid grassroots foundation. To ensure our message is heard broadly on Capitol Hill, the AAO-HNS is launching PROJECT 535. A Board of Governors-sponsored initiative, our goal is to recruit a "key contact" for each U.S. Senate and House Congressional seat to improve our outreach to federal legislators when major issues are debated by Congress. Sign up today for PROJECT 535 by contacting the AAO-HNS Legislative Advocacy team at
govtaffairs@entnet.org
. The commitment is minimal, but the impact is immense.
ENT PAC celebrates 20 years of bipartisan advocacy
This year's Annual Meeting was a celebration of ENT PAC, and its 20 years of bipartisan advocacy. To celebrate this milestone, ENT PAC Investors enjoyed cake and other goodies at the Advocacy booths, and a special anniversary gift was available to Leadership Club donors. ENT PAC is excited to be celebrating its 20th anniversary and looks forward to the next 20 years of advocating on behalf of the specialty.
ENT PAC success at Annual Meeting
Thanks to the generous support of its Investors, ENT PAC raised more than $21,000 during the AAO-HNSF 2015 Annual Meeting & OTO EXPOSM. Thank you to all of the 2015 ENT PAC investors.
Lunch among Advocacy leaders
On September 28, the ENT PAC Board of Advisors hosted the annual Advocacy Leadership Luncheon. Attendees included 2015 ENT PAC Chairman's Club donors, winners of the 2014 SRF Advocacy Involvement Campaign, and other key advocacy leaders. During the event, attendees discussed critical healthcare issues with special guest speaker, former U.S. Senator Kay Bailey Hutchison (R-TX). For more information about the ENT PAC Leadership Clubs, email entpac@entnet.org.
Two-stepping at the ENT PAC reception
On September 28, ENT PAC Investors were invited to attend the annual PAC "Thank You" reception. This year's event took place at Gilley's Dallas. Attendees enjoyed a night of barbecue in a traditional Texas environment. The ENT PAC Board of Advisors and staff thank all our 2015 PAC Investors!
To receive the latest legislative and political news year round, join us via social media. "Follow" us on Twitter @AAOHNSGovtAffrs, "Like" us on Facebook, and "Connect" to us on LinkedIn.
*Contributions to ENT PAC are not deductible as charitable contributions for federal income tax purposes. Contributions are voluntary, and all Members of the American Academy of Otolaryngology-Head and Neck Surgery have the right to refuse to contribute without reprisal. Federal law prohibits ENT PAC from accepting contributions from foreign nationals. By law, if your contributions are made using a personal check or credit card, ENT PAC may use your contribution only to support candidates in federal elections. All corporate contributions to ENT PAC will be used for educational and administrative fees of ENT PAC, and other activities permissible under federal law. Federal law requires ENT PAC to use its best efforts to collect and report the name, mailing address, occupation, and the name of the employer of individuals whose contributions exceed $200 in a calendar year. ENT PAC is a program of the AAO-HNS which is exempt from federal income tax under section 501 (c) (6) of the Internal Revenue Code.