Published:
February 26, 2021
---
From the Education Committees: Otologic and Hearing Issues in the Era of Telehealth and Evolving Online Retail
Prior to 2020, telemedicine in otolaryngology was primarily limited to patients living in remote areas with limited access to specialists for two major reasons.
---
Betty S. Tsai DO, MD, AAO-HNSF Practice Management Education Committee member
Lance A. Manning, MD, Chair, AAO-HNSF Practice Management Education Committee; Chair, AAO-HNS Board of Governors
---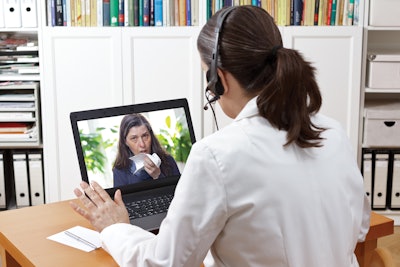 Prior to 2020, telemedicine in otolaryngology was primarily limited to patients living in remote areas with limited access to specialists for two major reasons. The primary one, particularly for new patients, revolved around the concern for the quality of the exam possible due to available technology for examining non-surface areas, particularly the aerodigestive tract, nasal passages, and ear canal and middle ear structures. Similarly, despite the evolution of technology, audiometric evaluation, whether online or by phone, has primarily been used as a screening tool and not a substitute for complete evaluation. 
Needs changed with the arrival of the COVID-19 pandemic in 2020, as both healthcare providers and their patients were forced to adapt quickly in order to provide and receive care. Patients with hearing loss and/or otologic disease require evaluation of anatomic structures as well as assessment of their hearing status. While skin and facial lesions can be easily visualized on a photograph or video conference, otologic exams are much more difficult to perform virtually. Concurrently, availability of hearing services has been limited during the COVID-19 pandemic, forcing some patients to rely on a variety of technology-based solutions to assess and treat their hearing loss.
When evaluating otologic complaints such as otalgia—which has a broad differential diagnosis including conditions of the ear, such as cerumen impaction, otitis externa, and otitis media, as well as referred pain from the temporomandibular joint and various areas in the oral cavity, aerodigestive tract, and neck—an accurate and thorough exam is essential. Several noteworthy technologies are available to assist in these evaluations. The physical exam can be facilitated by smartphone-enabled otoscopy that allows photo documentation of ear findings for asynchronous review by an expert clinician. A study in 2017 showed pictures acquired by medical professionals via smartphone-enabled otoscopy for review by an otologist with excellent accuracy.1 More recently, affordable smartphone-enabled otoscopes can be purchased easily from online retailers for less than $40. Because of the pandemic, some patients have acquired these devices to transmit photographs to their doctors in order to make an accurate diagnosis without entering a medical facility. In one location in China, over 80% of the patients were very satisfied with smartphone-enabled wireless otoscope-assisted online telemedicine in which clinicians responded to patient concerns after reviewing pictures taken by the patients themselves via a social media platform.2 Although social media cannot be used within the United States due to a lack of HIPAA-compliance, secure messaging platforms can provide a means to offer telemedicine services for our otologic patients who have such devices in order to accurately diagnose the problem, which still might require a visit to correct.
An accurate hearing assessment is critical when evaluating a patient for most significant otologic emergencies, such as sudden sensorineural hearing loss. Even before the pandemic, many patients were incorrectly diagnosed only to find out months later that they indeed had a significant permanent hearing loss. There are several technologies available to help compensate for the limited access to audiometric evaluation in certain areas. Hearing screens for pure tone hearing loss have been available for some time and can be done with considerable accuracy (mean difference of 2.6 dB, SD 8.3dB) using mobile devices with bundled headphones.3 While there are numerous apps developed for both iOS and Android phones, very few have been validated against pure tone audiometry in peer review studies.4 Although these devices cannot test for bone conduction or a word recognition score, a difference in thresholds between the two ears in a phone app could help trigger the urgent need for a formal visit to a clinician. There are a number of online hearing tests that are also relatively accurate as a screening tool. Even a basic hum test during a video visit could help an otolaryngologist determine if there is a hearing loss and if an asymmetry is more likely conductive or sensorineural with 89.7% sensitivity and 100% specificity.5
Since Congress passed legislation in 2017 that opened the door for the over-the-counter (OTC) sale of hearing aids for patients with mild-to-moderate sensorineural hearing loss (SNHL), and the U.S. Food and Drug Administration (FDA) removed the requirement for medical examination or a waiver for adults, there has been great anticipation of the release of the proposed regulations by the FDA. A range of instruments have been sold for many years, such as the "Pocket Talker" and a variety of personal sound amplification products (PSAPs). These are not medical devices and are not manufactured to the same standards as hearing aids. Until the regulations are released, it is unclear as to the types of hearing aids we will see in the marketplace. We do know that a medical examination will be not be required for adults, nor will a complete audiogram.
Most believe that basic, low-cost hearing aids will be the most popular, but it is unclear if some of the more advanced programmable aids will be available and what other options will be promoted. All hearing aids function best when they are properly fit and adjusted. The opportunity and challenge exist for the Academy to provide much-needed patient education materials to help derive the most benefit from devices that are appropriate for their hearing loss.
COVID-19 certainly has disrupted medicine in many ways, but many resulting changes are likely here to stay. Embracing telemedicine and other technologies has helped us adapt to these changes, and adding these options to every otolaryngologist's repertoire will improve patient access and care in years to come, particularly as better technology emerges. 
References
1. Moshtaghi O, Sahyouni R, Haidar YM, et al. Smartphone-enabled otoscopy in neurotology/otology. Otolaryngol Head Neck Surg. 2017;156(3):554-558. 
2. Meng X, Dai Z, Hang C, Wang Y. Smartphone-enabled wireless otoscope-assisted online telemedicine during the COVID-19 outbreak. Am J Otolaryngol. 2020;41(3):102476. 
3. Masalski M, Grysinski T, Krecicki T. Hearing tests based on biologically calibrated mobile devices: comparison with pure-tone audiometry. JMIR Mhealth Uhealth. 2018;6(1):e10. 
4. Irace AL, Sharma RK, Reed NS, Golub JS. Smartphone-based applications to detect hearing loss: a review of current technology. J Am Geriatr Soc. 2020. 
5. Ahmed OH, Gallant SC, Ruiz R, Wang B, Shapiro WH, Voigt EP. Validity of the hum test, a simple and reliable alternative to the weber test. Ann Otol Rhinol Laryngol. 2018;127(6):402-405.