Published:
April 28, 2020
---
Bringing Together the World of Otolaryngology in Boston This Fall
The AAO-HNSF 2020 Annual Meeting & OTO Experience will unite the specialty as one this September to once again bring together thought leaders, offer unparalleled education, and provide access to the latest products and services to optimize ENT patient care.
---
The theme of this year's meeting is "Bringing Together the World of Otolaryngology." As we always have and will continue to do, the community is coming together to help those in need and support one another. Otolaryngologist-head and neck surgeons and medical professionals around the globe are working tirelessly to keep our world safe and healthy. There is no better time than the 2020 Annual Meeting & OTO Experience to recognize the contributions our specialty makes in the name of patient care.
We Are One. This is demonstrated time and again through resiliency, problem-solving, overcoming challenges, and creating opportunities—all in the name of patient care and public health. We Are One. This is shown through ongoing support of each other, your peers, the otolaryngology community, and the global house of medicine. The Annual Meeting is an embrace of the year-round collaboration and opportunity to have that peer-to-peer connection firsthand, face-to-face.
Together, we will bring the best and brightest otolaryngologist-head and neck surgeons and all subspecialties from around the globe in one location for cutting-edge education.
The AAO-HNSF 2020 Annual Meeting & OTO Experience will unite the specialty as one this September to once again bring together thought leaders, offer unparalleled education, and provide access to the latest products and services to optimize ENT patient care.

As the world continues to adjust to our new reality, living with COVID-19 and its repercussions, everyone in the medical arena has been doing more with less, working in triage mode, and building resilience.
The Annual Meeting Program Committee (AMPC) and the AAO-HNS/F leadership at large have focused their efforts on designing a meeting that better prepares attendees to achieve their professional goals and support the specialty.
In its 124th year, the AAO-HNSF 2020 Annual Meeting & OTO Experience will be held September 13-16 in historic Boston, Massachusetts.
Meeting Location
The conference will take place at the Boston Convention & Exhibition Center, 415 Summer Street, Boston, MA 02210.
Program Information
Groundbreaking Education Program Formats
The education program is divided into 11 distinct specialty areas, allowing you to focus within your specialty or expand your knowledge in other areas.
Business of Medicine/Practice Management
Comprehensive Otolaryngology
Endocrine Surgery
Facial Plastic and Reconstructive Surgery
Head and Neck Surgery
Laryngology/Broncho-Esophagology
Otology/Neurotology
Patient Safety and Quality Improvement
Pediatric Otolaryngology
Rhinology/Allergy
Sleep Medicine
Expert Series. One-hour sessions led by recognized clinicians discussing current diagnostic approaches, therapeutic approaches, and practice management topics.
Flash Talks. TED-style presentations followed by a moderator-driven discussion of case management studies to spark audience participation.
International Symposia. One-hour panel discussions featuring expert international panelists and involving interactive, in-depth state-of-the-art presentations that employ a variety of didactic and interactive education formats.
Master of Surgery Video Presentations. Include six lectures for these short-lecture demonstration videos of key surgical procedures performed by otolaryngologist-head and neck surgeons. Each presentation will conclude with two minutes of audience questions and answers.
Meet the Scientific Poster Authors. Earn CME credit while learning about the latest advancements in research directly from the sources. Ask questions and share experiences with the poster presenters in a truly interactive session. Up to four AMA PRA Category 1 Credits™ may be earned.
Mixed Clinical Presentations. New for 2020, these presentations will consist of a series of scientific oral presentations and an accompanying expert panel discussion of the topic.
Panel Presentations. These discussion sessions are presented by panelists involving interactive, in-depth state-of-the-art presentations.
Rapid Poster Presentations. These presentations show the highest-ranked poster submissions in each subspecialty, giving the selected poster presenters the opportunity to provide an oral presentation consisting of five slides highlighting and describing the major influence of their research. The presentations will take place during the lunch hour in a designated area near the Poster Pavilion.
Scientific Oral Presentations. These are a series of three- to six-minute presentations focusing on current evidence-based research, surgical procedures, and approaches in clinical sciences and their application to patient care. Each presentation will conclude with two minutes of audience questions and answers.
Scientific Posters. These visual displays detail the latest advancements in otolaryngology research and allow viewers the opportunity to appraise and assimilate scientific evidence for improved patient care practices. Poster authors will be at their boards during specific times on Monday and Tuesday to discuss their findings.
Simulation Presentations. New for 2020, these are one-hour education presentations with simulation tools as the core. Unlike other education adjuncts such as "audience response," the simulation tools will be integral to the conception and structure of the presentation.
Specialty Society Forums. With Specialty Unity as a focus, each year we will highlight specialty societies' unique education content. This year, four specialty societies—American Otological Society (AOS), American Rhinologic Society (ARS), American Society of Geriatric Otolaryngology (ASGO), and American Society of Pediatric Otolaryngology (ASPO)—will present tailored content in their dedicated sessions on the Annual Meeting program.
Opening Ceremony and Keynote Speaker
8:30 am, Sunday, September 13
Sunday's schedule comingles networking and a dash of fun with the science and education program, kicking off with the Opening Ceremony at 8:30 am. The 2020 Opening Ceremony will bring together leaders in the specialty, a groundbreaking keynote speaker, and eager attendees, setting the tone and pace for the 124th Annual Meeting & OTO Experience.
This year's keynote speaker, Joel Selanikio, MD, is an award-winning physician, TED speaker, futurist, emergency responder, and innovator whose broad career has allowed him to observe and leverage technological changes. A founding member of the World Health Organization's Digital Health Roster of Experts, he is the winner of both the Wall Street Journal Technology Innovation Award for Healthcare and the $100,000 Lemelson-MIT Award for Sustainable Innovation. Named as one of Forbes's "most powerful innovators," he has been honored as well for his inspirational humanitarian work in responding to disasters and outbreaks, including the 2015 Ebola outbreak in West Africa.
The opening ceremony, where you will also hear from Duane J. Taylor, MD, AAO-HNS/F President, and James C. Denneny III, MD, AAO-HNS/F Executive Vice President and CEO, creates the perfect environment for high-profile networking. You won't want to miss the debut of special video presentations that highlight our unique specialty.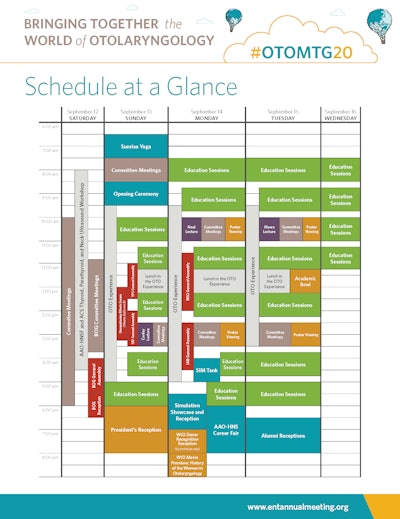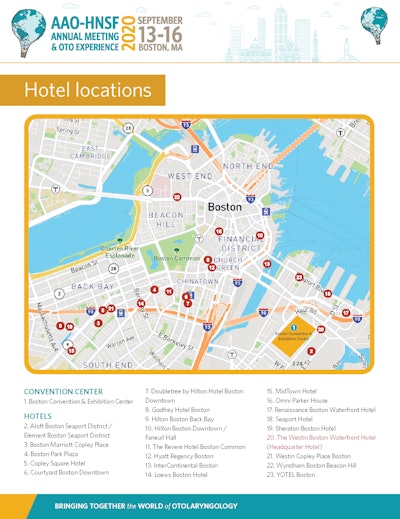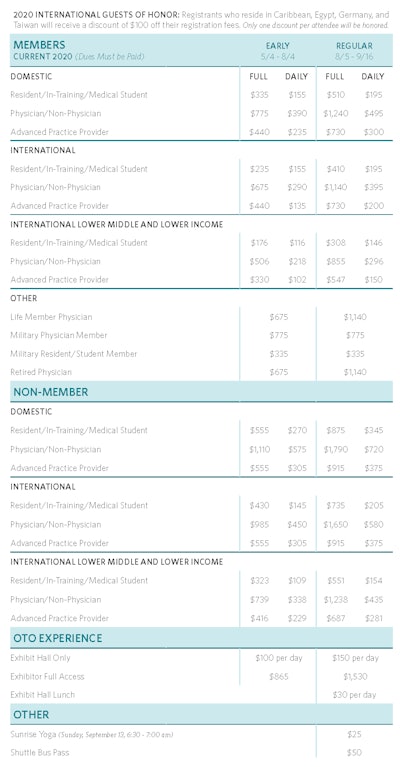 Full Conference Deals/ Discounts
Deals and Discounts
Early Bird price – postmarked on or before August 4: member price, $775; nonmember price, $1,110
Regular price – postmarked on or before September 16: member price, $1,240; nonmember price, $1,790
Registration Deals
$100 discount for International Guests of Honor – Caribbean, Egypt, Germany, and Taiwan
Military members pay the early rate at all times
Life and Retired AAO-HNS members receive $100 discount at all times
Registration Information
Visit the Annual Meeting website, www.entannualmeeting.org, and click on the "Registration" button to register online. You will receive your confirmation and periodic updates via email when you register online.
Housing Information
Reserve your hotel room online by August 4. Hotel reservations are available on a first-come, first-served basis. Reserve your room early for the best options. The Boston Marathon is scheduled for Monday, September 14, which coincides with the Annual Meeting. We therefore anticipate hotels will sell out quickly, making it more important than ever to book early within the official hotel block. All hotels require a credit card guarantee.
For more information on registration, hotels, events, activities, and transportation in Boston, visit www.entannualmeeting.org.
Continuing Medical Education Credit
The Annual Meeting has been planned and implemented in accordance with the Essential Areas and Policies of the Accreditation Council for Continuing Medical Education. AAO-HNSF is accredited by the Accreditation Council for Continuing Medical Education to provide continuing medical education for physicians. Up to 29 credits will be awarded to physicians when documented by the submission of the 2020 Annual Meeting & OTO Experience evaluation.
Preconference Workshops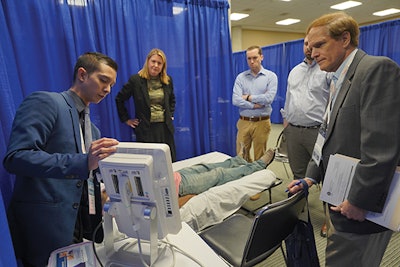 Back by popular demand are the following preconferences: AAO-HNSF and ACS Thyroid, Parathyroid, and Neck Ultrasound Workshop (Saturday), and Worst Case Scenarios: Managing OTO Emergencies in Practice Workshop (Sunday). Visit our website for prerequisites, details, and pricing.
President's Reception
Planned for Sunday night, the President's Reception is your opportunity to reconnect with friends and colleagues. The party will take place at The Lawn on D, located just outside the Boston Convention and Exhibition Center.
Themed "A Taste of Boston," this unique gathering includes live music, an assortment of regional cuisine, and interactive games.
The President's Reception begins at 6:00 pm—be sure to attend!
About Boston

Throughout time, Boston and Massachusetts have played an important part in our country's history. Founded in 1630, just 10 years after the Pilgrims landed at Plymouth, Boston grew as a harbor town and has always been strongly linked to the sea. Boston is unique as it is almost completely surrounded by water, with the Atlantic Ocean on two sides and the Charles River running along the back of the city. Whale watches, harbor cruises, tours of the Boston Tea Party Ship, island hopping, sailing and rowing on the Charles River, touring the U.S.S. Constitution, jogging, cycling, or playing in one of the many parks along the waterways gives visitors plenty to do to discover Boston's nautical history.
Surrounded by natural beauty, Boston's 48 square miles are encircled by a bustling harbor, tranquil coastline, and a strand of green parks designed by Frederick Law Olmsted known as the Emerald Necklace. Two of the parks, the Boston Common and the Public Garden are back-to-back between the Back Bay and downtown neighborhoods in the heart of the city.
Boston is the place to be this September!