Published:
September 24, 2018
---
What we are doing for you
This year our Annual Meeting & OTO Experience occurs later than usual. This timing has allowed us to incorporate several "breaking news" panel presentations that we feel will be of significant interest to our attendees.
---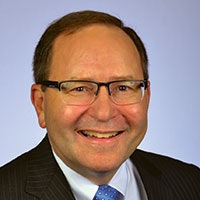 This year our Annual Meeting & OTO Experience occurs later than usual. This timing has allowed us to incorporate several "breaking news" panel presentations that we feel will be of significant interest to our attendees. In addition to the outstanding program assembled by Mark K. Wax, MD, Annual Meeting Program Coordinator, and his dedicated team on the Program Advisory Committee, we have included presentations covering the CMS Medicare payment proposed rule for CY 2019; the FDA Symposium on Sleep Disordered Breathing; the transition to Phase II of our Clinical Data Registry, Reg-entSM; and the preview of our new patient-focused website ENThealth and how it integrates with your practice.
At the meeting, a CMS Representative will provide insight on the agency's "Patients Over Paperwork" initiative, and specialty leaders will present the proposed changes by CMS to the Medicare Physician Payments. They will also be available for questions and answers following the presentation. The presentation on our new ENThealth website will include a demonstration of the features, content, and navigability as well as how you can use the upgraded "Find an ENT" feature to promote your practice through the patient-centric information contained on the site.
From the outset, a primary goal of Reg-ent was quality reporting. For the 2017 reporting year, 66 percent of those reporting MIPS measures through Reg-ent scored at a level to receive the superior classification. We are now positioned to move to Phase II with expanded opportunities for clinical trials, specific disease study, inclusion of hospital and ASC data, and linkage to private payers. We invite you to attend a special session detailing these opportunities, which will be followed by a "Users Group" conference.
There has been considerable anxiety generated around the CMS proposed rule for 2019 based on significant changes that would dramatically affect current practice by otolaryngologists. The most significant of these includes a 50 percent reduction to the lowest valued CPT code when the 25-modifier is appended to an E/M service. This proposal is designed to mirror the existing 50 percent reduction applied to usage of the 51-modifier signifying multiple procedures. Suffice it to say, no matter whose projections you look at, there would be a significant negative financial impact for almost every otolaryngologist if this proposal is implemented.
There is also a proposal to collapse E/M services from the current five levels for new and established patients to two levels, with an alternative proposal establishing three levels. CMS also proposed to create a G code for specialties, such as otolaryngology, that submit a higher proportion of upper-level codes than the overall fee schedule median. A stated goal of this change is to lessen physician administrative burden, thus improving wellness. CMS has also asked for an in-depth look at the pricing for the balloon sinus kits used for Balloon Sinus Ostial Dilation as well as comments concerning the number of sinuses that can be dilated per balloon. There also are several lesser issues that could affect our specialty. The proposal that has the potential to have the most significant mid- to long-term effect, however, lies in the QPP area of the rule. CMS proposes to remove intellectual property protections from the QCDR measures. This could markedly slow the progress in establishing quality measures that define care.
Your Academy staff has worked for two months preparing cogent and actionable responses to these proposals that we feel have merit. I would like to thank all the specialty societies and practicing otolaryngologists who collaborated with us during our research phase of this process and were instrumental in crafting our response. We also worked with other medical specialty societies outside of otolaryngology on issues affecting the broader house of medicine.
This month we start a new feature in the Bulletin. "What We Are Doing for You" will feature activities that the Academy engages in on members' behalf. The inaugural article describes the journey we had in dealing with The Joint Commission recommendations from the survey sent out in May, to our phone call with The Joint Commission in June, and their subsequent determinations received in August. I encourage all of you to read this good news that should lessen the burden of compliance, both economically and psychologically, in both the office and hospital settings.
As I close this month's column, I would like to thank Gavin Setzen, MD, for the exceptional leadership he has shown during his presidential year, using his considerable knowledge and judgment to identify and promote key projects that will help ensure our success into the future.