Published:
August 29, 2018
---
OTO Experience: Your marketplace for products, services, and education
This is not only your marketplace, but a source of education because you'll be able to learn firsthand ways to improve the care you provide your patients.
---
Located inside the impressive Georgia World Congress Center in Atlanta, Georgia, the site for this year's OTO Experience will be in halls B2 – B4. You have an open invitation to visit the exhibit hall from Sunday – Tuesday, October 7 – 9, of the Annual Meeting to absorb all the innovation from the presentation of tools, equipment, and services created exclusively for the otolaryngology community. This is not only your marketplace, but a source of education because you'll be able to learn firsthand ways to improve the care you provide your patients.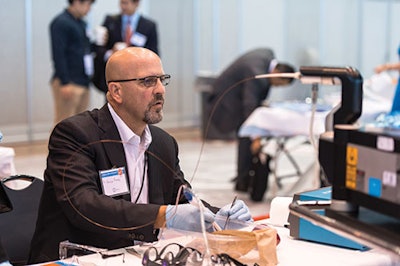 It all starts Sunday, October 7, with a return of the ribbon-cutting ceremony. Gather at the top of the escalators on Level 2 of Building B before 9:30 am (ET) to witness Gavin Setzen, MD, AAO-HNS/F President, cut the ribbon with oversized scissors to kick things off. As you walk in the OTO Experience, prepare to visit over 250 exhibitors to see what's new in robotics, surgical tools and procedures, aesthetics, imaging and video, scopes, scanners, and even diagnostic technology. All products and services have a familiar theme of quality and efficiency to help you improve patient care.
For a hands-on experience, make your way over to the Mobile BioSkills Lab, located at booth 1033. You can't miss the large trailer that can accommodate eager learners and surgical procedures on cadavers, including implant training. On Monday afternoon look to the Hands-On Demonstration and Training Lab at booth 1140 for a session on eustachian tube balloon dilation. Next to that is the return of our ENT OTC Pavilion, established to highlight companies that offer over-the-counter solutions without a prescription. Here you can find offerings to care for nasal irritations and congestion, tinnitus, sleep apnea, and earwax impaction. One of our exhibitors has natural herbal solutions for common complications in the ear, nose, and throat.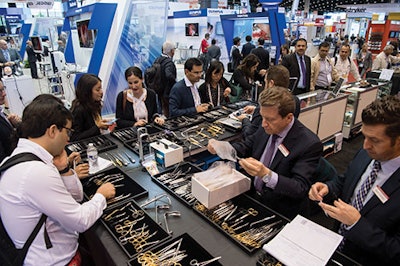 The new and improved AAO-HNSF Practice of the Future Pavilion can't be missed. Located at booth 2423, this pavilion will show you what's new in the waiting room, examination room, and operating room, and what's being used to train residents and physicians. New to the pavilion is our very own AAO-HNS/F store. Here you can purchase Academy-branded t-shirts, sweaters, sweater vests, and coffee mugs, complete with our new logo! Visit www.entannualmeeting.org/academy-products/ to learn more.
Also returning is the popular Portrait Studio located at booth 2845. We have expanded this area to better accommodate you as you come for your professional headshot photos. This is a free service to AAO-HNS members, complete with makeup artists to help you look your very best. To the right of this area is our Product Theater at booth 3149. Come learn about maxillo-mandibular fixation techniques, therapy for balance and dizziness, and other hearing and ear issues that affect a large segment of your patients.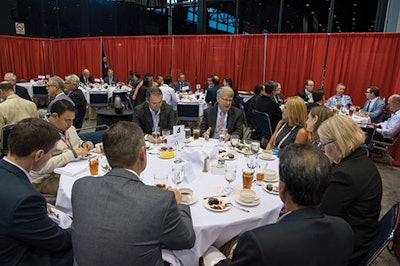 When it's time to eat, you can return to the OTO Experience where lunch will be available in Hall B4. Concession carts will be located in the back of Hall B3 and will include JD's BBQ, Nathan's, Cappuccino Express, and King of Pops, set up to provide you with some tasty alternatives. If you prefer a hot lunch with a side of education, register for a Lunch with the Experts session. This is located just to the left of the Hall B2 entrance. Enjoy a hot lunch while you learn from an industry expert on various topics in our specialty.
Right up front in the exhibit hall will be an area dedicated for exhibitors and physicians to bring equipment and tools they wish to donate to MedShare. The AAO-HNSF is proud to be partnering with MedShare, a 501(c)(3) humanitarian aid organization that emphasizes improving the quality of life of people, communities, and healthcare facilities and hospitals in low-resource areas around the globe. MedShare delivers vital medical supplies and equipment to more than 100 deserving countries to better the lives of patients.
On Sunday, October 7, the OTO Experience will host a live broadcast of the ENT Doctor's Show. Sirius Radio will be returning for another session, bringing insights to the show and conducting interviews.
The OTO Experience will be open Sunday, Monday, and Tuesday, so be sure to plan your schedule to allow for multiple visits over the course of the Annual Meeting. We can't wait for you to see the latest and greatest our vendors have to offer.