---
The AAO-HNSF 2018 Annual Meeting & OTO Experience is coming!
Mark your calendars now for the preeminent global meeting devoted to sharing new advances in otolaryngology-head and neck surgery, October 7-10, 2018, in the Georgia World Congress Center in Atlanta, GA. Registration opens next month in May.
---
Mark your calendars now for the preeminent global meeting devoted to sharing new advances in otolaryngology-head and neck surgery, October 7-10, 2018, in the Georgia World Congress Center in Atlanta, GA. Registration opens next month in May.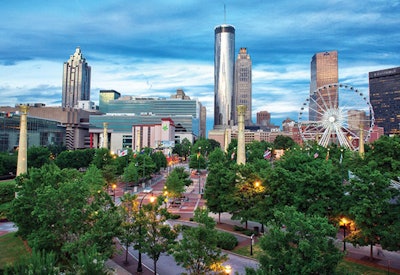 This year's Annual Meeting & OTO Experience plans to bring together thousands of delegates from more than 80 countries across multiple disciplines to Atlanta, the city with southern charm and world-class sophistication. The Annual Meeting provides a series of unique and dynamic education experiences, designed to broaden and enrich the understanding of otolaryngology-head and neck surgery and give a foundation for continued learning. Learn the latest advances in the specialty from an exciting mix of education offerings and over 300 clinical and basic science poster abstracts.
Pre-conference workshops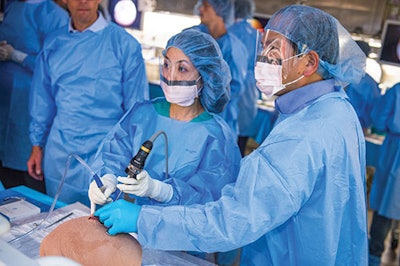 The Endoscopic Ear Surgery Workshop is a hands-on endoscopic ear surgery course suitable for practicing otolaryngologists and senior otolaryngology trainees. While key surgical techniques are described and demonstrated by well-known international and U.S. faculty, the main emphasis of the course provides hands-on dissection experience using fresh-frozen cadavers and state-of-the-art equipment.
The Thyroid, Parathyroid, and Neck Ultrasound Workshop is designed to introduce the practicing surgeon to office-based ultrasound examination of the thyroid and parathyroid glands and related pathology. The distinction of normal from malignant lymphadenopathy is emphasized with a demonstration of the comprehensive examination of lymph node basins in cervical zones I-VI. The process of ultrasound-guided FNA of thyroid nodules and enlarged lymph nodes is demonstrated in didactic lecture format. In addition, skill sessions allow the surgeon to learn varied techniques of FNA of lesions in phantom models.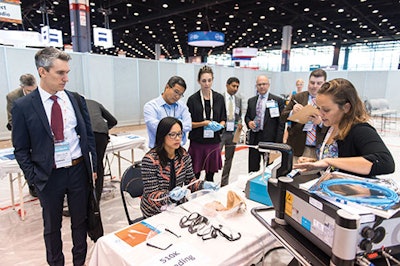 Education program format
International Symposium
Expert Series (previously known as Instruction Courses)
Masters of Surgery Video Presentations
Panel Presentations (previously known as Miniseminars)
Scientific Oral/Poster Abstracts
NEW! Flash Talks
NEW at the

The OTO Experience, your personal otolaryngology marketplace with innovative products and services, continues to evolve and is the place where over 250 exhibitors are present with offerings to help you improve the care you provide to your patients. For the first three days of the Annual Meeting & OTO Experience, you'll engage firsthand with the amazing tools available as well as receive unparalleled education from the interactive demonstrations on the show floor.
What's new this year? On a tools level, there are advancements in robotics, mobile x-ray imaging, and even regenerative medicine solutions. These can be found in various booth spaces in the exhibit hall, and more can be found in our enhanced Practice of the Future Pavilion and our new Physician Wellness Pavilion. This new pavilion focuses on products and services that speak to the health and well-being of surgeons and physicians. We are providing solutions to help keep you at your best so you can continue to administer high-quality patient care.
On an educational level, we have enhanced some of our feature venues. With the success of Lunch with the Experts, we have increased capacity by adding additional experts, giving more opportunities to gain insightful knowledge from leaders in the industry. Our Mobile BioSkills Lab is also expanding, with the capability to invite more participants for actual hands-on training using the same tools you utilize on a daily basis. To get the most out of your OTO Experience, plan to visit multiple times throughout the Annual Meeting. Don't miss out on the added educational value waiting for you!
Host an alumni reception
The Annual Meeting is the perfect place to reconnect with colleagues from your alma mater. This year's receptions take place Tuesday, October 9, from 6:30-8:00 pm (ET) in the Omni CNN Atrium. Don't miss the chance to host your alumni reception in this unique venue featuring a 15-story glass-enclosed atrium with sweeping views of the world-famous CNN Center. Make sure your institution is represented by reserving your spot today. This year's event will feature:
Co-branded selfie frames with your institution name and Annual Meeting graphics and hashtag
Photo prop station including hats, wigs, selfie sticks, and more
Professional photographer
Centrally located bar
10 drink tickets included per reception zone
Explore Atlanta
There is no time like the present to visit the South's largest city. In the middle of an urban resurgence, around every corner is a new attraction, restaurant, or shopping opportunity. If you haven't visited in a few years, you haven't really seen the new Atlanta.
With more than $2.5 billion in development, Atlanta's skyline is changing as frequently as the seasons with new attractions, chef-driven restaurants, and high-end shopping throughout town, giving the city a fresh new look and taste begging to be explored.
Atlanta is also one of the most accessible cities in the world and home to the world's busiest and most efficient airport, with more flights from more locations coming into Atlanta than any other airport in the world. Unrivaled airlift and more options make it convenient for attendees from any location.
Visit www.entannualmeeting.org for the latest conference information.