Published:
April 25, 2016
---
More new and value-added events and activities
The 120th Annual Meeting & OTO EXPOSM has several new and stimulating activities planned for 2016.
---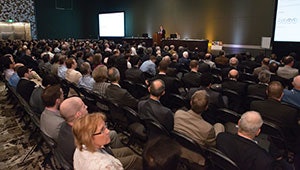 The 120th Annual Meeting & OTO EXPOSM has several new and stimulating activities planned for 2016.
NEW TO THE MEETING

SATURDAY
AAO-HNSF Hands-On Salivary Endoscopy Course
This one-day course held Saturday, September 17, will address current advances in minimally invasive salivary gland surgery. The morning will feature didactic lectures by leaders in this cutting-edge field. Following lunch, attendees will be given the opportunity to practice these surgical techniques on cadavers with expert feedback.
SATURDAY
AOA Business of Medicine Workshop
In partnership with the Association of Otolaryngology Administrators (AOA) this workshop was developed to cover the topics of ENT coding, value-based medicine, compliance, and top ENT business strategies. The program is scheduled for Saturday, September 17, from 12:30 pm to 5:00 pm.
SATURDAY
Community Giveback Program
With a greater emphasis on giving back to our host city, the AAO-HNS/F is proud to be partnering with the San Diego Neighborhood House Association in our first Community Giveback Program. The Neighborhood House Association is an organization that helps underserved children and families in the community by providing a wide array of services. Physicians may volunteer to take part in the program that will take place the afternoon of Saturday, September 17.
SUNDAY THROUGH WEDNESDAY
International Symposium
This track, which is included in the education program, will focus on topics generated by our international colleagues. The symposium will have a dedicated room with programming running Sunday through Wednesday. The symposium will kick off with an official ribbon cutting ceremony at 1:00 pm on Sunday followed by the Global Otolaryngology opening session.
SUNDAY THROUGH TUESDAY
Lunch with the Experts
This event will provide an opportunity for conference attendees to interact with otolaryngology legends during lunch breaks, Sunday through Tuesday. Held in the lunch area of OTO Experience, an intimate atmosphere will be created for peer exchange and discussion.
MONDAY
OTOs on the Run (5K run)
Plan for an early morning run on Monday, September 19, at 6:00 am by participating in the OTOs on the Run (5K run). The run will provide attendees an opportunity to appreciate the beautiful vistas of San Diego while contributing to the Foundation.
MONDAY
Legends Lecture
Eugene Tardy, Jr., MD, will speak on medical aspects of the Lewis and Clark expedition. The lecture is scheduled Monday, September 19, 2:15 pm-3:15 pm.
MONDAY
Simulation Demonstration Reception
For those who are interested in simulation, this is the place to be. There will be a simulation display competition from the experts in the field. The reception will take place Monday, September 19, 5:30 pm to 7:00 pm. If you are interested in presenting your simulation, please check the Annual Meeting website for details on how to submit an abstract providing details about your simulation project.
OTO EXPERIENCE
Simulation center in the exhibit hall
Medical simulation is the modern-day methodology for training healthcare professionals through the use of advanced education technology. Here a collection of simulation devices will be clustered to hone physicians' skills.
EVERGREEN
'Green' venue
The AAO-HNSF is proud to hold the 2016 Annual Meeting & OTO EXPOSM in the San Diego Convention Center. This center is committed to supporting and encouraging sustainable practices. Their highly successful conservation and recycling efforts have earned them LEED Silver Certification from the U.S. Green Building Council and dozens of state and city awards for eco-conscious initiatives throughout the years.
RETURNING FAVORITES
In addition to the new items, the 2016 Annual Meeting & OTO EXPOSM will continue to provide these popular value-added events and activities:
SATURDAY
The highly rated ACS Ultrasound Course: Thyroid and Parathyroid Ultrasound Skills-Oriented Course will be presented again this year on Saturday, September 17.
SUNDAY
Sunday night's President's Reception is a must-attend event featuring local cuisine from Southern California and breathtaking vistas of the San Diego Bay.
SUNDAY AND TUESDAY
International Members have always been a major component of the Annual Meeting. With San Diego as the venue, the Academy hopes to draw large numbers from our non-U.S.-based colleagues. The AAO-HNS/F President Sujana S. Chandrasekhar, MD, has selected Brazil, India, Nicaragua, and Singapore as the 2016 International Guests of Honor. The International Guest of Honor recipients will be acknowledged during the Opening Ceremony and paid tribute during the International Reception Tuesday, September 20, at 8:00 pm.
MONDAY
The AAO-HNS Career Fair provides the opportunity for candidates in all subspecialties and levels of training to speak face-to-face with hiring representatives from healthcare facilities around the country. HealtheCareers is the only true single source for all of your healthcare recruitment needs, providing unparalleled access to job seekers across all disciplines and specialties. Employers can leverage this opportunity to personally engage with numerous qualified job seekers at one time.
TUESDAY
Don't forget to attend the annual Alumni Receptions on the evening of Tuesday, September 20. These receptions provide yet another opportunity to visit with your friends and colleagues from your own and other institutions while enjoying a lavish selection of delicious appetizers and treats.
This year's Annual Meeting & OTO EXPOSM is not one to miss! Join in the excitement by registering and booking your hotel room today at www.ennet.org/annual_meeting and we'll see you September 18-21 in San Diego.